EMMETT, Idaho — The Gem County Sheriff's Office, volunteers and family members continue to search on and around the Payette River for a man reported missing after falling off a float tube Saturday, June 11.
The sheriff's office said Monday afternoon that the missing man is 21-year-old Everette Jackson. He was visiting from Louisiana, and was floating the river with a group of friends on a pair of tubes that had been tied together when he missed the take-out point. A witness told investigators that he fell into the water and never came back up.
Jackson's family has been notified, and some have joined volunteers, sheriff's deputies and firefighters in the search. The Gem County Sheriff's Office said the search is ongoing from 8 a.m. to dusk each day.
"We have had several of Everette's family members here assisting with the search," Sheriff Donnie Wunder said Friday. "We send out our ongoing support and care for the family during this time."
Chris Stewart is among the many volunteers who joined the search Thursday.
"We live in a community that cares. We live in a community that takes action, and in people the focus right now is just to find this young man, Everette, and to bring him home to his family," Stewart said.
On Wednesday, the search stretched from the Gem County Sports Complex to New Plymouth.
"Mentally, I'm drained; physically, I'm tired; but I'm not giving up," said Meagan Jackson, Everette's sister, who was in Emmett on Wednesday.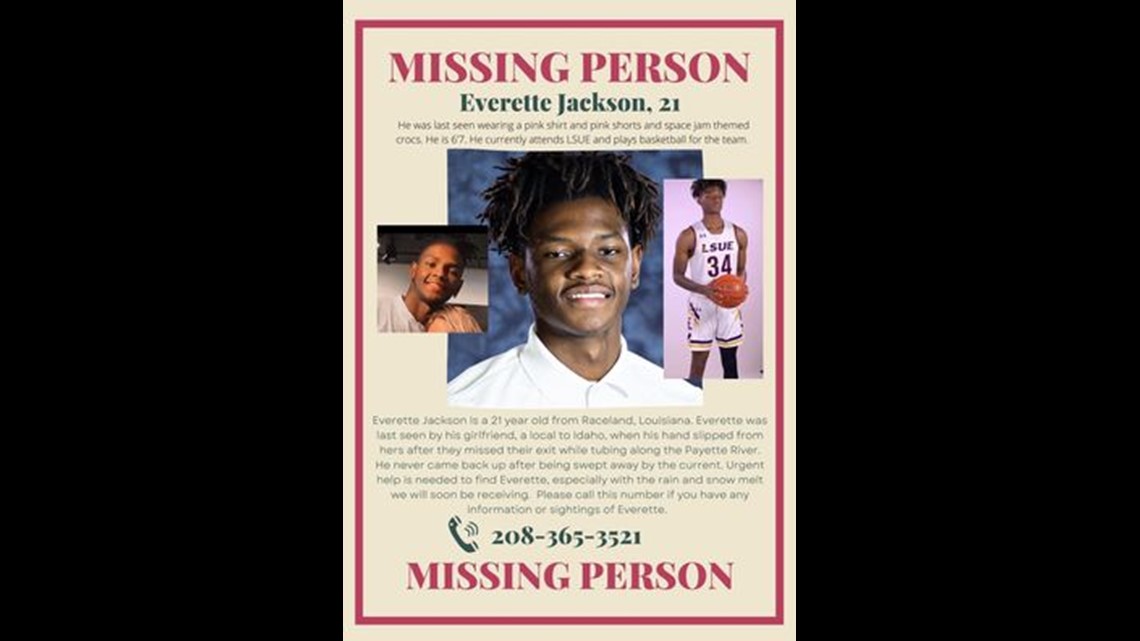 As of Tuesday, officials say they had two helicopters and three boats out for the search, but that afternoon they called off the search until Wednesday because of wind and very poor visibility when it comes to seeing anything that might be in the river.
"It's just like chalk looking through chocolate milk. It's so so dark right now," Wunder said Wednesday.
Wunder said when Jackson went floating Saturday, the river was flowing at a rate of more than 10,000 cubic feet per second, several times higher than what's considered ideal for tubing, especially when it comes to safety.
"Then Sunday, we got all the rains and Monday the water went clear up to 13,200 cfs," Wunder said.
The search on Monday was focused west of the Washington Street bridge in Emmett. The bridge is near a common put-in area for river tubers. The sheriff's office has asked people to stay clear of the river as crews search by jet ski and jet boat.
"The Payette River is currently flowing at a rate that presents a danger to anyone not using a motorized craft," the Gem Co. Sheriff's Office said in a news release emailed to KTVB.
As for helping with the search, the sheriff said those who don't already have experience with rescues and with operating a boat should stay away from the river.
As of 9 a.m. Monday, the Payette River at Emmett was flowing at a rate of 12,300 cubic feet per second, which is above normal for this date at that location, according to the U.S. Geological Survey's National Water Dashboard. As Wunder mentioned, the flow rate increased to more than 13,000 cfs later Monday, but had dropped to 11,300 cfs Tuesday morning. As of Wednesday night, the flow rate has dropped to 8,000 cfs, which is still above average for this time of year.
As the river starts to recede, crews keep looking, and Jackson's family doesn't give up hope that their loved one, a man his sister calls "the glue to our family," will be found.
"I have hope, we're a strong spiritual family so we believe that he's there, that he will be found and we can bring him back home," Meagan Jackson said. "He's very family oriented, family's everything to him. He's just altogether a blessing to us, that's why we need him back."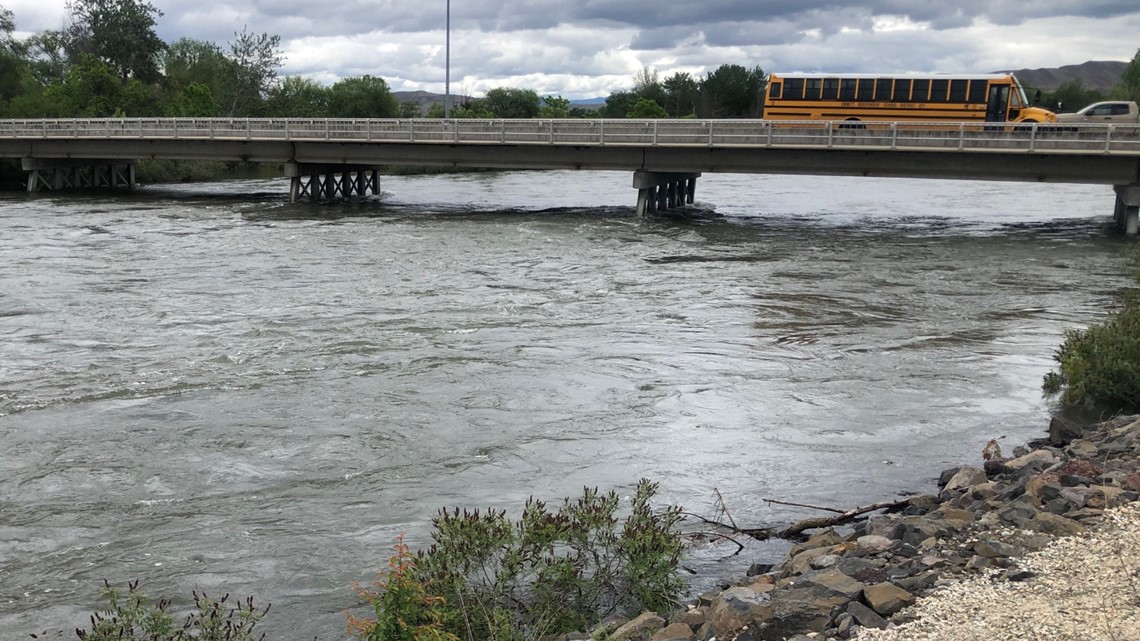 This is a developing story that will be updated as new information is gathered and confirmed. Check back for updates.
See the latest news from around the Treasure Valley and the Gem State in our YouTube playlist: