BOISE, Idaho — As Idaho students close the book on this school year, school leaders are already looking to next year - and beyond.
Boise State University President Dr. Marlene Tromp gave an address to business leaders and the Boise Metro Chamber to talk about students and the future.
During Tuesday's speech, Dr. Tromp touted a number of accomplishments, including:
In-state student enrollment is up 20% this year
The six-year graduation rate for first-time full-time students has more than doubled since 2005
Highly ranked online programs
Highest veteran enrollment in the state
Top-ranked name, image, and likeness (NIL) program for athletes
One topic that stole the show during her speech was Dr. Tromp's recent visit to Japan for the G7 Summit.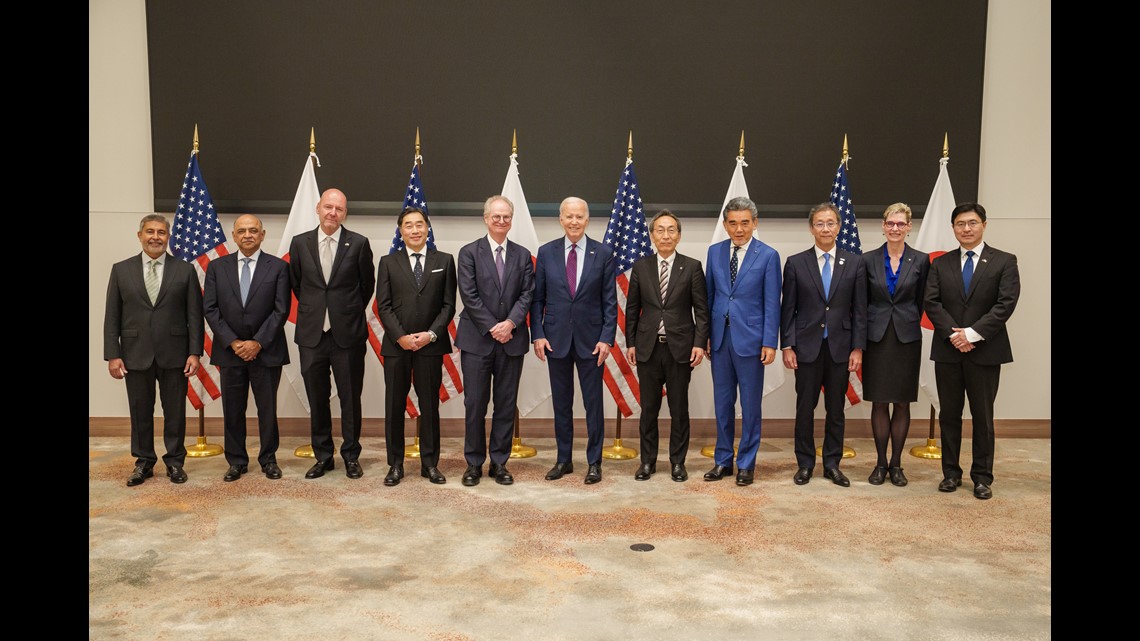 Dr. Tromp stood alongside world and university leaders during the Group of Seven (G7) Summit in Hiroshima, Japan for the announcement of an international semiconductor research initiative.
"We're partnering with one of the greatest companies in the world - Micron Technology, and some of the top research universities in the U.S. and Japan to produce and accelerate new programming in semiconductor research," Dr. Tromp said. "I think it is going to be absolutely transformative."
Dr. Tromp talked about the 'UPWARDS for the Future' initiative during her address to business leaders Tuesday.
Micron, alongside 11 research universities from the U.S. and Japan are forming a network to focus on workforce development and research to advance the two nations in the semiconductor industry.
"This partnership takes everything to the next level," Dr. Tromp said. "It's an opportunity for us to work together on an international stage to advance what they're doing, and to advance what's happening with our students. So, we can drive forward an effort, not just for Micron, but for everyone in the state of Idaho."
The partnership comes in the wake of the 2022 CHIPS and Science Act, a $280 billion package to bolster the semiconductor industry and research.
"The idea behind this thinking is, how can we advance us semiconductor manufacturing? This is what Congress recognized with the CHIPS and Science Act, that the U.S. had left other nations to develop their strength in that area. During the pandemic, we felt the pinch of that, it slowed the production...anything that had computer chips in it, because of the way that the supply chains were disrupted during the pandemic," Dr. Tromp said. "So, the federal government recognized that we had to make, as a nation, a new investment in semiconductor research and in semiconductor development so we could advance on that front as a nation."
Micron and its partnership will fund more than $60 million into the initiative over the next five years.
Universities will participate in student exchanges, summer research and fellowship programs, and provide faculty support through the partnership.
"I think it's going to really help change what's possible in the state of Idaho," Dr. Tromp Said. "I think it's going to change what's possible for our students, as we elevate this entire industry in partnership with these other 10 universities."
Some of the other American universities involved include Purdue, University of Washington, Virginia Tech, Rochester Institute of Technology, and Rensselaer Polytechnic Institute.
The UPWARDS for the Future initiative is expected to reach 5,000 students per year.
See the latest news from around the Treasure Valley and the Gem State in our YouTube playlist: