IDAHO COUNTY, Idaho — The father of an Idaho NFL linebacker stepped up to help rescue a hunter who was badly hurt in an accident in a remote mountain area above the Salmon River.
According to the McCall Fire Department, 62-year-old Jeff Harrison of Michigan was elk hunting with a friend and Hells Canyon Outfitters of Riggins when the incident happened Sept. 28. As his party was packing out a bull elk, the mule Harrison was on broke into a run.
Harrison was thrown from the mule, suffering broken ribs, spinal fractures, internal bleeding and damage to his lungs. The injured man was able to call Idaho County dispatch from a satellite phone and ask them to send in a rescue helicopter.
But according to McCall Fire, a winter storm blast had grounded all helicopter and rescue operations. Harrison's guides stayed with him overnight as the group waited for rescuers to reach him.
Harrison was able to place a call to family members, telling them he might die before he could get help.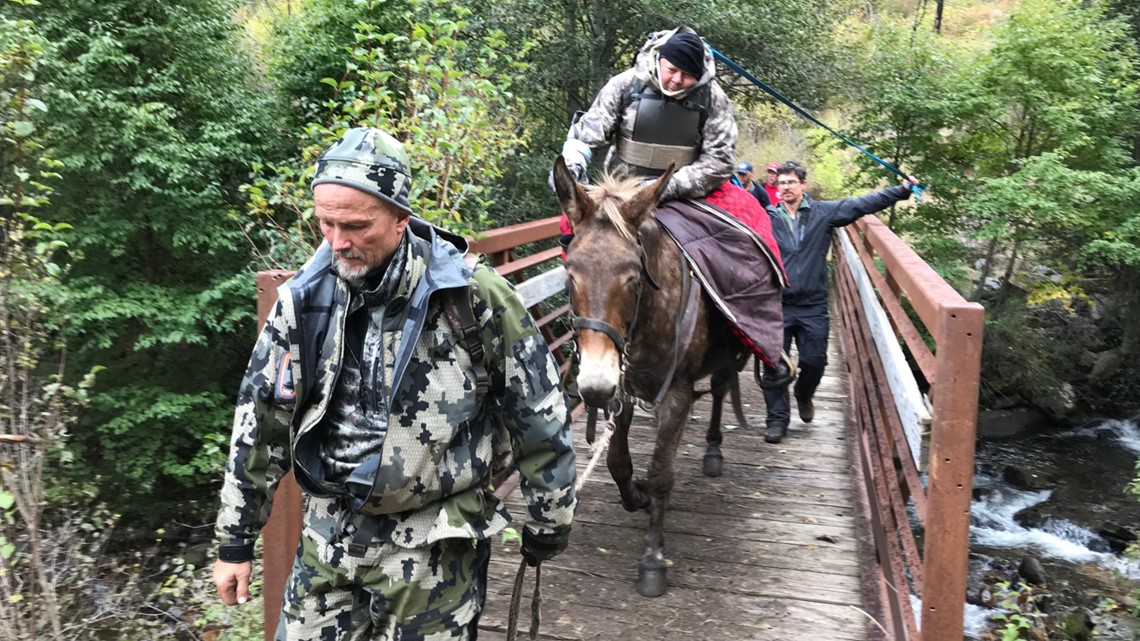 Rescuers met up at the Patrick Butte trailhead at the Lake Creek bridge and mounted mules and horses, then rode three hours into the mountains to reach the injured hunter. The pack string was led by Darwin Vander Esch, the father of Dallas Cowboys linebacker and Riggins native Leighton Vander Esch.
The group reached Harrison, who was medicated and stabilized before being balanced on a mule's saddle using straps to hold him upright.
The rescuers and Harrison then rode three hours back out to the trailhead, where an ambulance was waiting. Harrison was taken to a hospital in McCall, then transferred to a Boise trauma center for more treatment.
McCall Fire called Vander Esch and his mule Brandy "critical" to the rescue effort.
"I have a 6 o'clock kickoff to watch, so we need to be down the hill by then," Vander Esch joked to Harrison and the rescue team.
Harrison is still recovering from his injuries.
"That's just hunting," he said, according to McCall Fire. "It's not the first time I've thought I wouldn't make it out of this one."