VALLEY COUNTY - One of two horses found stranded on a remote mountain in Valley County has been rescued, thanks to the extraordinary efforts of a group of volunteers.
One of the rescuers, Ryan Miller, posted a video to his Facebook page showing Tuesday's daring helicopter rescue.
"We never would have gotten the horse out of there," said Robert Bruno, President of Idaho Horse Rescue. "Without those guys, that horse would be dead in a few days I suppose."
In the video, the helicopter drops a rope to rescuers on the the ground who attach it to the tranquilized horse in a sling. The helicopter then carries the horse off the mountain.
"You get pretty excited and nervous at the same time," said Bruno. "You get your adrenaline going and everyone gets all excited and choked up and so forth."
Idaho Horse Rescue is now taking care of the horse, which is expected to fully recover. But the rescue happened just in the nick of time.
"He's is poor condition, he definitely wouldn't have lasted another week or even a few days." Bruno said. "We pulled a rabbit out of our hats on this one. It was a miracle."
The other horse has not been seen for several days.
"Unfortunately, there is no sign of the white horse," the Valley County Sheriff's Office said in a Facebook post Monday night.
"We don't know much," said Bruno. "They stuck together for a long time for a year and we suspect it's dead because they wouldn't separate for some unknown reason. They would stick together."
The two horses were found together several weeks ago in a remote area near Boulder Lake. Because of deep snow, the area is only accessible by snowmobile on the ground. Several volunteers have been taking hay and water to sustain the horses until a rescue attempt could be mounted.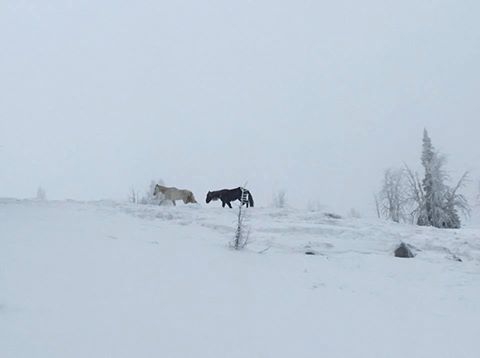 Idaho Horse Rescue and the sheriff's office led the rescue efforts, which were complicated by the weather and remote location.
"Pilots have flown over the top of them, however there was a period of time where nobody was able to check on them due to weather conditions which made it impossible to fly," the sheriff's office said. "The brown horse has been sighted several times and we can not confirm that the white horse is deceased, he may be down in the trees, as that is where he was when we made contact with them last Sunday."
The sheriff's office added that the helicopter rescue was made possible because of a large amount of donations.
Bruno adds the main focus is nursing the horse back to health and letting the courts decide what will happen next.
Once the horse is healthy enough, Alex Owen Horsemanship will rehabilitate the horse and re-train it to be around humans again.
But for now, Bruno says there is a lot to be thankful for.
"It's a good day," Bruno said. "It's why we do this, so we can save these guys."