BOISE, Idaho — Idaho's unemployment rate rose to 3% in August, up from 2.8% in July, marking the first time it has been at or above 3% since November 2020, according to the Idaho Department of Labor.
The total number of people employed in Idaho increased by 121, making it 938,190. However, unemployment increased by 1,753 (6.4%), totaling 28,955 people out of work.
In August, Idaho's workforce increased by 1,874 people (0.2%), bringing the total number of workers to 967,145. Idaho's workforce is made up of people over the age of 16 who are employed or looking for work. In August, that 62.4% remained employed.
Idaho's nonfarm workforce grew by 1,900 in August, bringing the total number to 854,600. The private educational services sector saw the biggest growth rate at 3%, followed by construction, federal government, local government, other services, and professional and business services, which all increased between 0.6% and 0.9%.
Job declines in August: Durable goods manufacturing (-1.2%), financial activities (-1%), transportation, warehousing and utilities (-0.9%), and state government (-0.6%).
In August of last year, was 2.8 percent. During the same time, the labor force increased by 1.4%, which corresponds to 13,092 people.
Nationally, August unemployment rose to 3.8 % from July's 3.5%. Also, unemployment increased by 514,000 making total unemployed 6.4 million.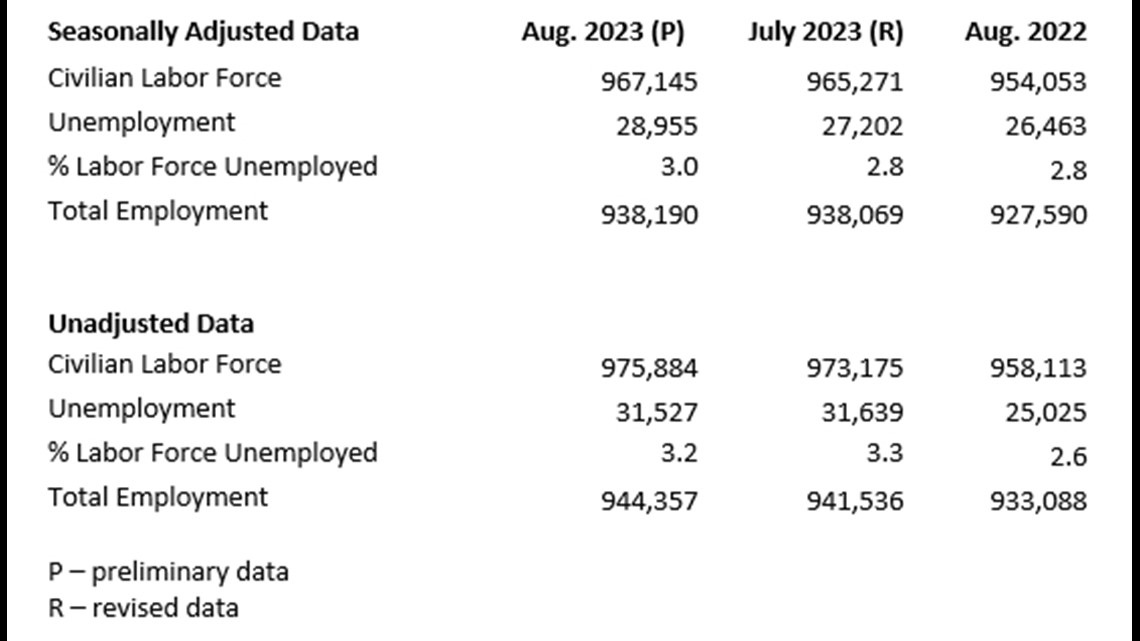 See the latest news from around the Treasure Valley and the Gem State in our YouTube playlist:
HERE ARE MORE WAYS TO GET NEWS FROM KTVB:
Download the KTVB News Mobile App
Apple iOS: Click here to download
Google Play: Click here to download
Stream Live for FREE on ROKU: Add the channel from the ROKU store or by searching 'KTVB'.
Stream Live for FREE on FIRE TV: Search 'KTVB' and click 'Get' to download.