BOISE, Idaho — This article originally appeared in the Idaho Press.
Located on West Main Street in downtown Boise lies KIN. With a dark, modern aesthetic and small elements of elegance, the basement restaurant has been a quiet creative outlet for artists of all kinds for three years, providing an outdoor space for local bands and performers and offering the walls of the restaurant up for artists to hang their work.
When guests arrive, they're greeted through a secret door and ushered in to look at the featured artists' work, cocktail in hand. At KIN, food is theater, and the show lasts almost three hours.
This is the first year Idaho has been represented in the James Beard awards final by not one, but two chefs — Kris Komori from KIN and Sal Alamilla from Amano in Caldwell. Komori has been a semifinalist for the awards five times in his career.
The James Beard Foundation awards are annual awards presented to chefs, restaurateurs, journalists and authors in the United States.
Even though this is the 39-year-old's first year as a finalist, Komori sees the award as one for the whole staff. So, he's bringing the whole KIN team to Chicago for the awards. Winners will be announced on June 5.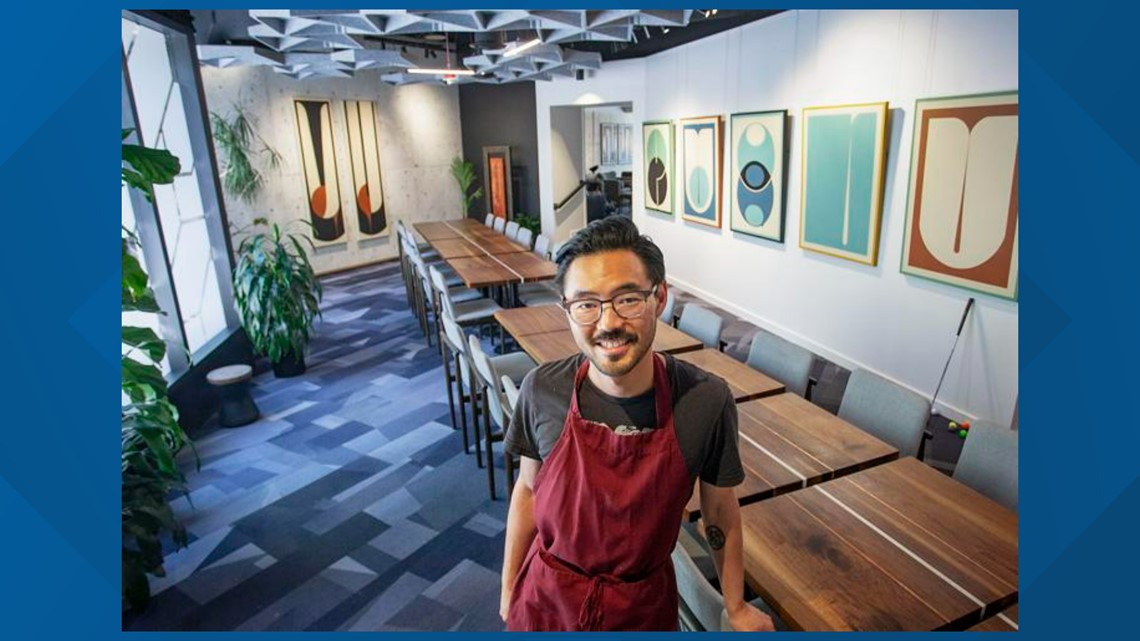 "It's much more about the whole community than it is about us," Remy McManus, co-owner of KIN, said. "We're just a family. But it doesn't mean just family within these walls: it means as a community we're a family and we want to support Boise."
Komori looks at the food he makes as connective cuisine, meant to bring people together, whether it be for an evening, or a lifetime.
The staff at KIN all agree: Komori's spot as a finalist is well deserved.
"He's an incredibly talented individual. But more than his talent as a chef, he has an incredible work ethic that is unparalleled," McManus said. "The dedication, the ability to push yourself beyond the limits of your capabilities — he has that. He has a drive to not only make himself better but make those around him better."
Komori often works 80- to 90-hour workweeks, spending time researching food, creating menus and working with farmers to get local ingredients, McManus said.
"He (Kris) gives all of us the credit and takes really very little for himself," Erika Claassen, pastry chef, said. "He wants to give all of us the credit but I mean, he did this … he's facilitated the environment to make this happen."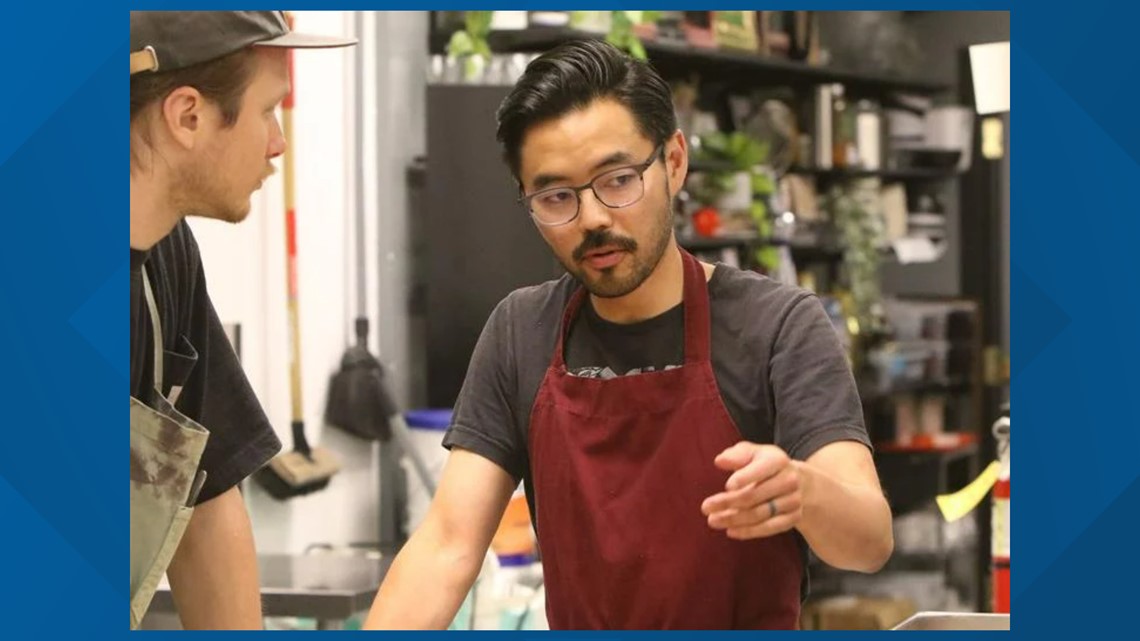 Komori's place as a finalist in James Beard is a "rising tide that lifts all ships," cook Kevin Huelsmann said. If Boise's food scene is booming, KIN is doing well.
KIN has a structure that stands out in Boise, with a menu that changes every five weeks and a new artist featured on the walls every three menu cycles. One of those three menu cycles features food that is inspired by the artist, often mimicking their technique or pulling from the artist's food memories.
"It's not like any other kitchen," Huelsmann said. "I don't know of many restaurants in Boise that do this."
The menu system provides staff with a "fun challenge," Huelsmann said.
"We don't take ourselves too seriously," Chef de Cuisine Matthew Chmiel said. "We take what we do seriously."
Each dish at KIN is inevitably based on a story, whether it be based on an artist or a theme chosen by the staff.
"We come up with a theme together," Komori said. "It creates this really cool creative culture."
The regular menu at KIN is $95 a person, and $40 a person for beverage pairing.
Seasonality is also incorporated in the creativity of KIN, Komori said. The menu KIN is currently running is inspired by James Beard, pulling inspiration from his life to create menu items. The restaurant normally collaborates with smaller farms to source food, but for this menu, they worked with Simplot.
"He always talked about good, local, seasonal food and that was like well before the whole movement happened in the 70s, but then he opened a culinary school up and in order to make money for it he took endorsement money from big food processing plants," Komori said. "It's a funny thing to build a dish on but there's good and bad things about some big processing plants. We were predominantly small local farms directly delivered to us, but we thought it'd be a good chance to work with a big food processor."
Komori's ever-changing menu gives staff the chance to flex their creative muscles and do things differently than they have before.
"It's really good for us because you get to see how different people relate to food," Huelsmann said. "People who are not making food all the time, their relationship to what they loved when they were growing up, what they liked cooking ... it's different."
It's those things that inspire Huelsmann and KIN staff to create dishes. For that, and the opportunity to work with Komori, this kitchen is a good one to be a part of, Huelsmann said.
"I don't know of another kitchen job like this, that checks so many boxes and allows you to be so flexible and creative, and still get paid well," Huelsmann said. "I think it finally feels like what we've been striving for for so many years, is actually happening now."
The bar at KIN is also unique, often using unused ingredients from the kitchen to create new drinks. No other bar in Boise collaborates with the kitchen like KIN, bar manager Tyler Cook said, which is why Komori continues to be recognized.
"Kris is a good human being," Cook said. "He's kind, he's got a good heart, he goes out of his way to help the staff and elevate the community."
Komori making it to the finals for James Beard recognizes his food, but Huelsmann says the honor is deserved for what Komori does outside of the kitchen: his leadership and interaction with the community.
"He's never been one who is chasing accolades," Huelsmann said. "He sees the value for the community. It's recognition for us too. We have younger cooks coming in the kitchen, and that's a really big, cool thing to be a part of."
Komori is such a good chef because of his ability to collaborate, McManus said.
"Most chefs that you see believe that they are so good that they don't necessarily collaborate," McManus said. "Without collaboration and the ability to collaborate and accept judgment or criticisms, Kris wouldn't be as good as he is."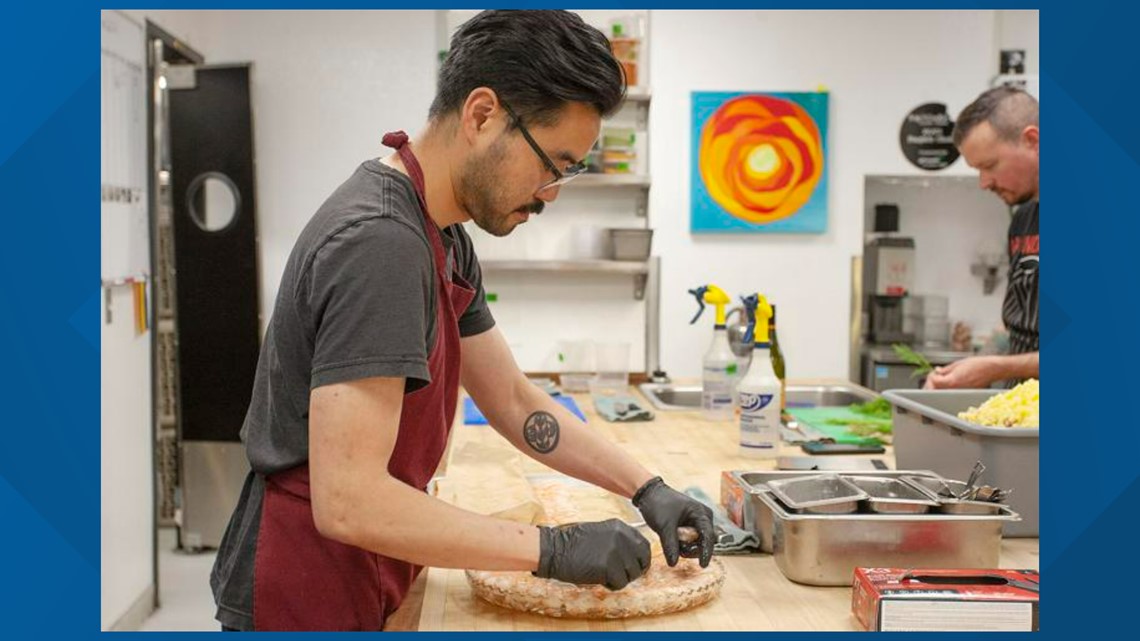 Komori grew up in Surrey, British Columbia, and Eugene, Oregon. He earned a biology degree at the College of Idaho and was in the process of applying to medical school when he realized he was signing up for something he didn't want to do. So, he started learning the craft of cooking.
While attending culinary school in Vermont, Komori's path was a winding one. He worked as a front-of-house manager, in cooking lines, butcher shops and farms, often working several jobs at a time.
"I think all those experiences helped me quite a bit," Komori said. "I did it just because I knew people that needed help in those positions, and it seemed interesting to not just go down one path."
Komori met McManus in 2013 after moving to Boise from Portland. They started working together at State and Lemp, where he was nominated for James Beard awards three years in a row. Komori and McManus opened KIN together in 2020.
If you go: KIN is open Wednesday to Saturday, from 5 p.m. to midnight
Ahead this week: Fellow James Beard award finalist Sal Alamilla, chef at Amano in Caldwell
See the latest news from around the Treasure Valley and the Gem State in our YouTube playlist: