BOISE — August 2020 update: Pfc. Michael Salerno was finally laid to rest on April 27, 2019, at Saint Dominic's cemetery next to his parents in the Torresdale neighborhood of Philidelphia, about three miles from where he and Jean grew up.
He was laid to rest with full military honors. Jean was presented with an American flag, which now resides with her at her home in Boise.
The original story from Veterans Day, 2018 follows:
A Marine in his service uniform walks a pace behind a woman with an armful of paperwork as they make their way to the front door of a modest corner home in suburban west Boise.
It's an approach that usually carries with it the weight of regret, something those on the other side don't want to hear. The U.S. Marines made a march like this, all across the country, more than 24,000 times during World War II.
It meant a father, a son, a brother, had been erased from families and neighborhoods.
Rawnhurst, Philadelphia was no different.
"It was early in the morning when he left, it was early in the morning," said Jean Roman, recalling a day in February 1943.
Jean, just 12 years old at the time, remembers when her brother, Mike, nearly 19, left home to become Private First Class Michael L. Salerno, U.S. Marine Corps.
"And that was it," she said. "We didn't see him anymore."
In a matter of months, Mike was sent west to the war in the Pacific. His first battle came in what is considered among the toughest in Marine Corps history, the Battle of Tarawa. It was an atoll in the Gilbert Islands, a thin strip of land with an airstrip nearly 5,000 miles from the coast of California.
The U.S. attacked on November 20, 1943, with Salerno's K-Company hitting the southwest corner known as Red Beach One. But the Japanese hit back, and in the span of 76 hours, the Marines lost 1100 men, one of which was Pfc. Salerno.
"This was the first one," said Jean's granddaughter, Angela Bobbitt, shuffling through a folder of paperwork.
A telegram told the family about a month later.
"We deeply regret to inform you that your son, Pfc. Michael L. Salerno, United States Marine, is missing in action," Jean read from the telegram sent to her family in January 1944.
The Marines accomplished their mission. But after the war only about half of the Americans killed on Tarawa were recovered. They identified all but 94 of them. Sadly, Salerno was one of the 94, just remains without a name. For 75 years he remained missing to his family.
"It's just so important to Grandma, you know?" Angela said. "In reading these it's just real, it's not like it never was but it's just reality now. It's not just 'I wonder what, I wonder where.'"
That wonder went away two months ago.
A DNA sample sent in two years ago matched a Marine buried in Hawai'i's National Memorial Cemetery of the Pacific.
"I cried, I screamed," Jean said about the day she got the phone call. "I called everybody up that I knew."
On September 27 remains known as X-267 were finally identified as Michael Salerno.
"A national memorial cemetery called The Punchbowl, you been there?" asked Hattie Johnson, the woman who knocked on Jean's door. "That's where your brother's been, he's been there since 1949."
That identification is how Johnson, head of the Marine Corps Casualty Office in Quantico, Virginia, found herself at Jean's kitchen table in Boise.
"These are all the awards that Pfc. Salerno received," Johnson said, taking a cardboard placard pinned with a handful of medals out of an envelope.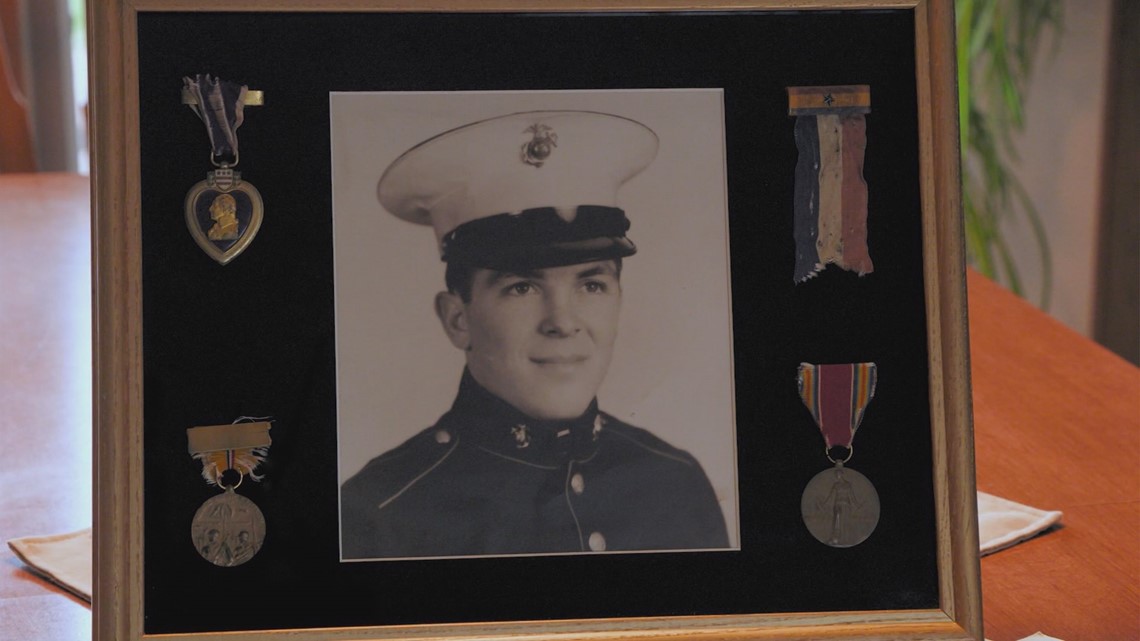 In the same home where her kids and grandkids, for the past four decades, would learn of their uncle through stories, they would now learn of his demise during a debriefing.
"So, these are his skeletal remains," Johnson said, pointing to a picture in the middle of a three-ring binder.
"He was killed by blast injuries," she continued. "What you see in red is missing, so all of this is missing."
An explosion blew away most of his body, a revelation almost impossible for Jean to imagine.
"Not too much of him," Jean acknowledged, rubbing her face with hand, the reality of what it was like on that beach that day sinking in.
"He was just a kid," she said. "He was just a kid."
To call it closure seems cliche. However, for Jean and her family, when Pfc. Michael Salerno died that day in battle, their fight to bring him home finally finished after 75 years.
"I'm proud of him though," Jean said. "But I wish he was here."
At least they know where he'll be from now on.
"We always wanted to bring him home, we always did," Jean said. "And we're finally gonna do it."
Jean says they plan to bury Mike in April, next to their mom and dad in a family plot just outside of Philadelphia.
78,000 Americans are still missing from WWII, Johnson said, and they will likely only recover and identify about 30,000 of those.


Join 'The 208' conversation: