BOISE, Idaho — Winter is finally here in the Treasure Valley with multiple snow storms rolling through parts of Idaho in the last week. With more winter weather on the way to the Treasure Valley, we want to see more of your amazing winter weather photos.
If you'd like your photos to be featured on our Facebook and Instagram pages, on KTVB.COM, or on-air, you have a few ways to submit photos to us.
The newest way that you can share your winter photos with KTVB is simply texting them to us! You can text your photos to (208) 321-5614, and from there, we'll be able to include them in our on-air coverage.
This phone number is also the KTVB newsroom phone number, so if you call instead of texting, you'll reach a member of the newsroom staff.
Snow falls in Treasure Valley, Idaho mountains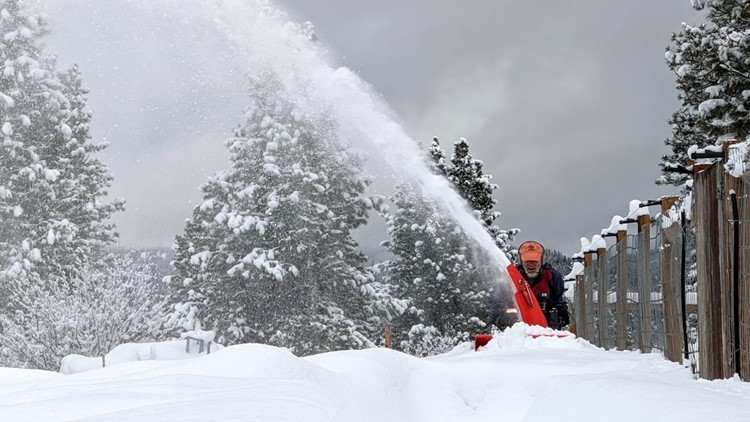 Another way that you can share your winter weather photos is use #7winter or tag KTVB7 in your winter photos on Instagram. We're always looking for more photos to share on our Instagram page and would love to see more submissions that use #7winter.
We also change our main hashtag as the seasons change, so we'll begin using #7spring in a few months, then #7summer and #7fall.
While you're sharing photos with us on Instagram, make sure to give us a follow and join our nearly 53,000 followers that never miss seeing some of the best winter weather photos on Instagram.
The third way that you can share your winter weather photos is that you can join KTVB's very own Idaho Weather Watchers Facebook group, where hundreds of people share their own weather photos from all parts of Idaho.
Idaho Weather Watchers Facebook group was started earlier this winter with the goal of connecting people who enjoy Idaho's weather with each other and KTVB's meteorologist team. In this public group, everyone can share photos and talk about what kind of weather they're experiencing in their neck of the woods.
No matter which way you want to submit your winter weather photos with KTVB, we want to see and share your amazing photos from around Idaho on all of our social media pages and on-air.