HORSESHOE BEND — Highway 55 north of Horseshoe Bend is now open in both directions without restrictions, according to the Idaho Transportation Department.
Motorists are urged to be on the lookout for fire crews and helicopters working along the highway corridor.
A 15-mile stretch of Idaho 55 was closed down Wednesday afternoon while crews battled a brush fire burning next to the highway. Both lanes were shut down between Gardena and Smiths Ferry. The highway reopened Thursday with a pilot car guiding vehicles north and south.
The Idaho Department of Lands said the Mile Marker 73 & Highway 55 Fire was reported at about 4 p.m. Wednesday and started along the highway at milepost 73 north of Gardena.
The fire also knocked out power to about 2,700 Idaho Power customers in the communities of Gardena, Banks, Crouch, Garden Valley and Lowman.
An Idaho Power spokeswoman says 12 power poles were damaged by the fire and had to be replaced. Electricity was fully restored to the area by 12:30 a.m.
You can get the latest updates on outages by clicking here.
A Cascade Raft and Kayak employee told KTVB that he and other employees noticed the flames and tried to put them out with fire extinguishers, but the fire was already too big.
Brush fire blocks Highway 55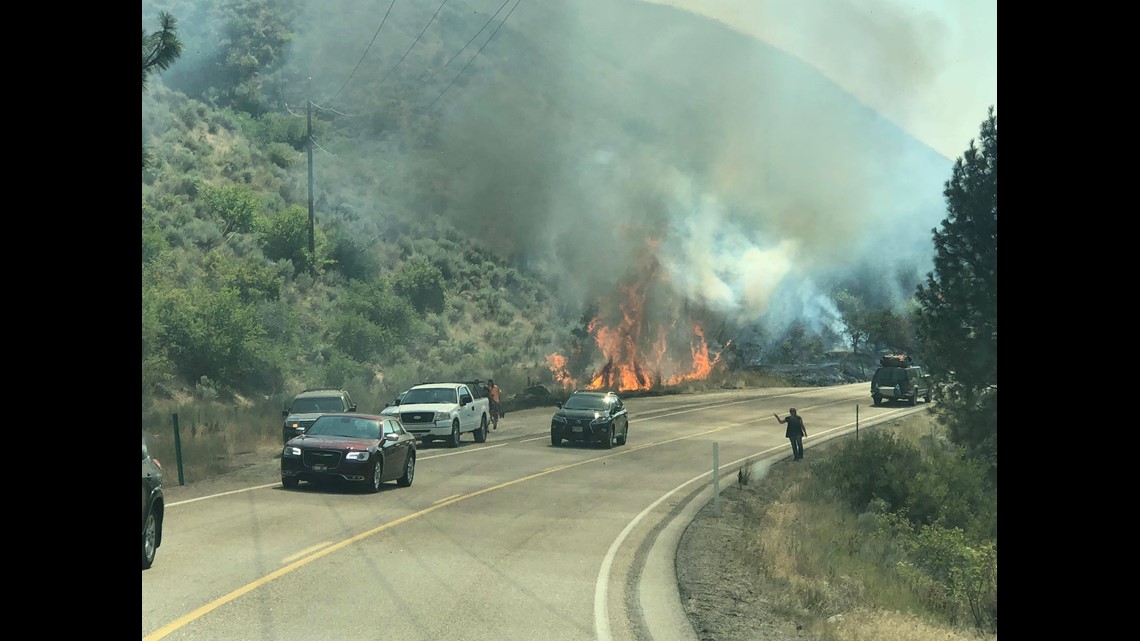 Even though one lane of the highway is open, drivers are asked to avoid Highway 55. Travelers heading to Stanley should take Highway 21 or go through Sun Valley.
If you have to take Highway 55, long delays are expected. Falling rock is also possible. Check the Idaho511 website or app before you go.
The fire is burning uphill and to the east, and was estimated at 4,480 acres Friday night.
One helicopter, three single-engine air tankers, one very large air tanker, one IDL engine, four Forest Service engines, several BLM engine resources, Garden Valley and Horseshoe Bend Rural Fire Departments are on scene. A Type 1 Team, two dozens and two additional crews arrived Thursday.
Crews had 60 percent containment on the fire Friday night, with full containment expected at midnight August 7.
The cause of the fire is under investigation, but the IDL says it is human-caused.