KUNA, Idaho — Right now, with the Treasure Valley's relative lack of public transportation compared to similar-sized metro areas, the best way and the only way to get around efficiently and safely, for most, is by car. But that's an expensive option for some and not an option at all for others.
"The big red triangle is the battery light. That's the OH NO!" Felicia Barlow says as she's showing me her 20-year-old car.
Barlow, an Idaho native, is a single mom who lives in Kuna. Like most people in the Valley, to get anywhere, she relies on her car. "For everything, absolutely everything."
But her car, named Ruby, has also almost 300,000 miles on her. And sometimes just doesn't feel like going anywhere.
"She definitely still has a lot of dash lights on, because not everything is fixed," Barlow said. "I actually just got her back from the shop last night. But about every six months, she's back in the shop again."
Luckily, she works from home, but Barlow is isolated when her car is in the shop. I asked her how she was getting around without it. "I wasn't. I had to use things like Instacart to bring groceries to the house." She went on to say, "I do have to go into the office if my internet goes down or anything like that. So that's always scary. If my car is unreliable, and I can't get in when I need to, then I get in trouble at work."
If Barlow lived in Boise or parts of Meridian, she could potentially try to take a Valley Regional Transit bus, but she lives in Kuna. And while there are ACHD Commuteride options, that's not as practical for errands and she would still have to get to the Commuteride pickup spot.
"Those of us that can't afford to live in the cities or don't want to live in the craziness of the city are getting pushed out by the growth that's happening down there for businesses and commercial properties," Barlow said. "We're moving to the outskirts. And there's just not easy access."
Barlow is not alone. Throughout the Treasure Valley, maybe a third of people even have a bus stop near their home. Other public transportation options, like a commuter train, are in the plans, but still far from a reality. With so little public transportation even available, it probably shouldn't be a surprise that so few Idahoans use it to commute.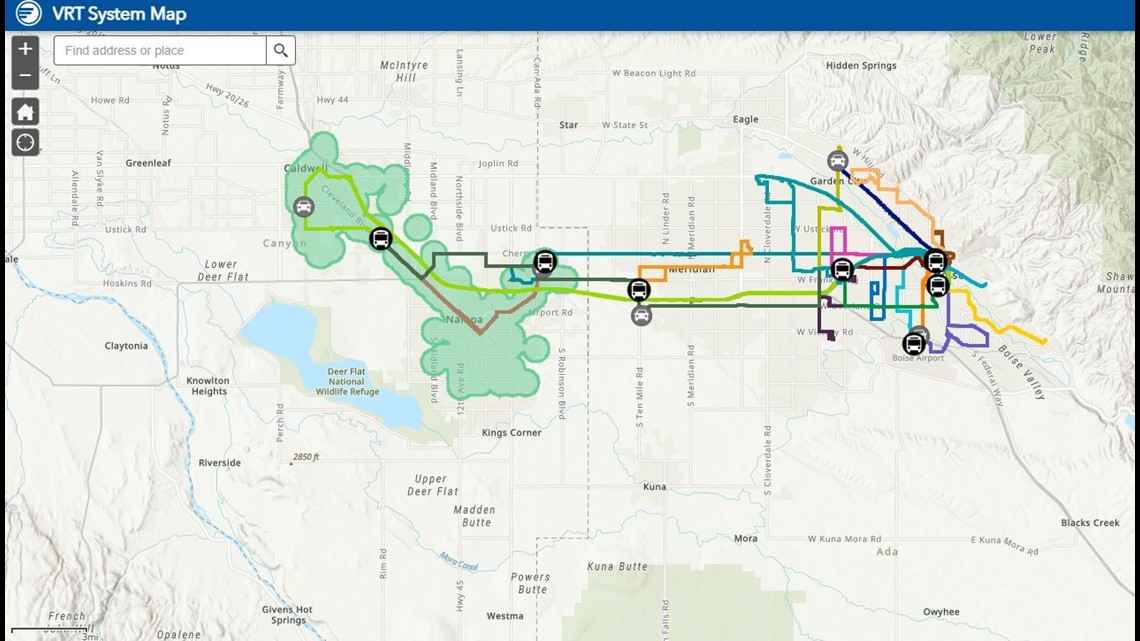 The latest stats from the U.S. Department of Transportation show that less than one percent of Idahoans take public transit to work, 0.8%. That's behind two of our neighboring states, Oregon (4.2%) and Utah (2.2%), and well behind the national average of 4.9%. So, how do we get to work?
Four out of every five Idahoans drive to work alone. Nine percent of Idahoans do carpool, but that's the only other notable way people commute, besides just not bothering and working from home (6.2%). And the rate of Idahoans driving to work alone (79.7%) is above the national (76.3%) and Utah (75.7%) rates and well above the Oregon rate of 71.7%.
As you might expect, that puts more stress on our roads and drivers, who get stuck in daily rush hour traffic. It's also just sometimes not an option for folks like Barlow, who said she would absolutely use the bus or train right now, if it was available. And she has filled out every survey she could letting local agencies know that.
"I'm so sick of filling out these surveys and seeing literally nothing happen. I could fill these out for 15 years now," Barlow said. "We still have this same bus system."
It's a bus system Barlow actually likes but needs to see expanded. That's something local transportation leaders are talking about, along with commuter rail. Barlow's heard people talk about it before.
"I liked hearing it 10 years ago," she said. "Now I'm ready to see it."