NAMPA, Idaho — Continued population growth in Idaho has led to a boost in housing and commercial development in Nampa.
Local officials Beth Ineck and Mike Peña discussed how this is affecting Nampa and the rest of the Treasure Valley at an economic forum hosted by the Nampa Chamber of Commerce Wednesday, according to a report in the Idaho Press.
Ineck, Nampa's economic development director, said the city's population — now at about 102,000 — has grown 3.7% since 2018. Over the past five years, growth has remained steady at about 3.8% annually, she said.
The number of jobs in Nampa is growing at an even faster rate. Nampa's employment growth is at 5.4%, which amounts to more than 2,000 new jobs added since 2018, Ineck said.
There has also been a jump in multifamily units, with nearly 500 new units built in 2019, contrasted with about 150 new units each year in 2017 and 2018.
Growth is contributing to rising costs for construction and housing, along with a labor shortage in the construction market that stems from 6,000 skilled workers in the industry leaving during the Great Recession, Peña said.
COMMERCIAL, AMAZON & ROADS
The number of outside residents who commute into Nampa for work has grown from about 20,000 in 2015 to nearly 25,000 in 2017, Ineck said, citing U.S. Census Bureau's "On the Map" data tool. In 2017, the latest year the data is available, over 9,300 Nampa residents stayed in Nampa for work, and another 27,800 Nampa residents commuted out of the city for work.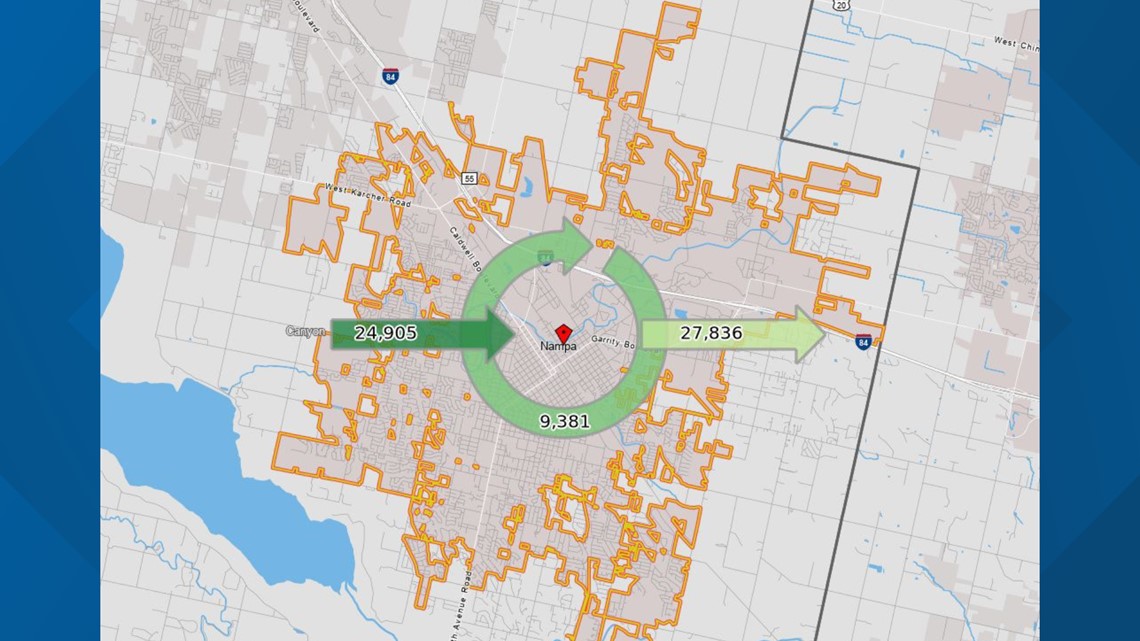 Amazon will bring an employment boost to Nampa next year when the online retailer opens its 650,000-square-foot fulfillment center, which is projected to create more than 1,000 new jobs. That would make Amazon Nampa's largest employer.
The Treasure Valley already has a low unemployment rate of 2.3%, so Peña said the Amazon development may put pressure on other local employers to raise their wages in order to retain workers, especially in the logistics field. Amazon offers a $15 minimum wage.
Amazon's building permit value is about $200 million for the fulfillment center, Ineck said. That's almost as much the total value of all permits issued in each of the past two fiscal years.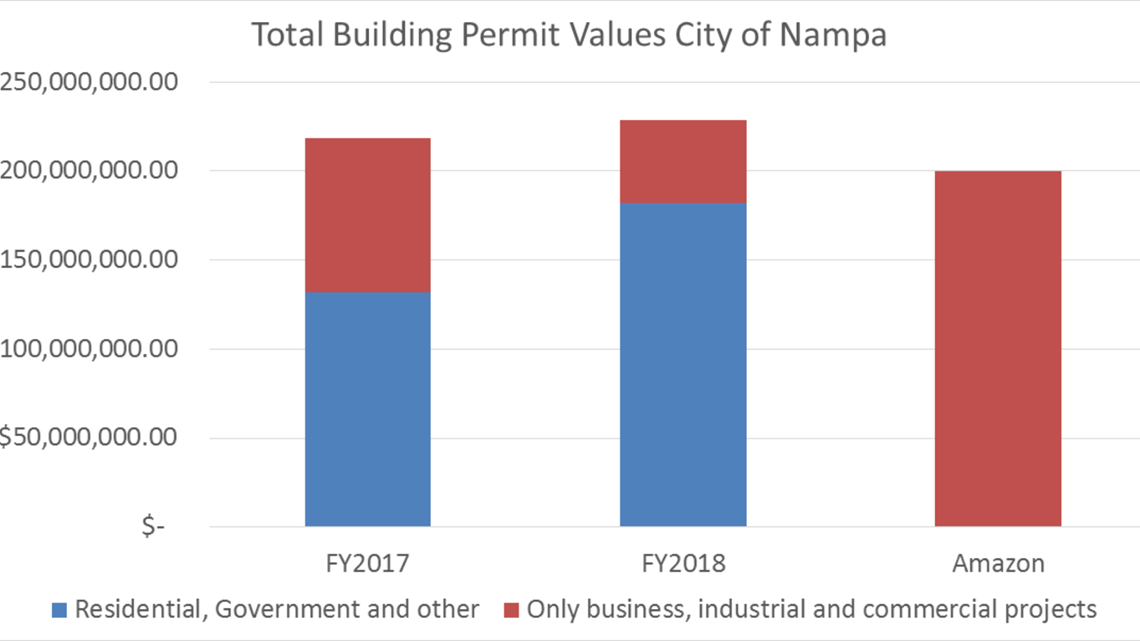 Over a 20-year span, the fulfillment center is expected to contribute $45 million in property taxes.
When it comes to the Amazon development, Ineck said residents appear to be most curious about how the center and more than 1,000 employees will impact traffic once it's open.
"The biggest question I'm asked is, 'Where will all those cars go?'" she said.
Amazon plans to invest $14.2 million in transportation projects in the surrounding area. That's about three times more than Nampa's annual $4.3 million budget for streets, Ineck said. Seventeen road projects near the Amazon development are planned for the next two to three years.
Though some big box stores are struggling, Peña said the small businesses in downtown Nampa are doing well. Peña said the vacancy rate in downtown Nampa is 2.7%, and Ineck said the city has participated in ribbon-cuttings for three new businesses this fall — Mesa Tacos + Tequila, Holy Cow and 2C Family Brewing Co.
"It's nice when you go to downtown Nampa and actually have to get on a waiting list," Peña said.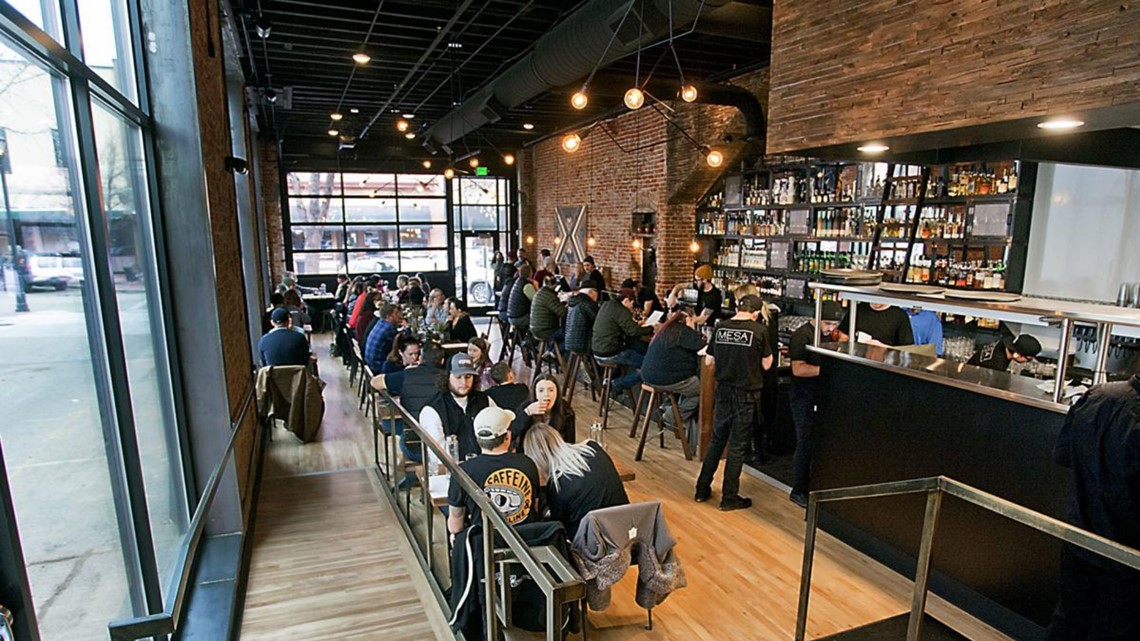 The city has been working to revitalize downtown for the past several years. Recently, Nampa's Main Street Program, the main effort to revamp downtown, received $100,000 from the Kevin and Mary Daniels Fund, which was named in honor of a former Nampa resident who serves as a trustee emeritus on the national Main Street board.
Some vacated department stores including Macy's, Kmart and Shopko continue to sit empty in Nampa, Peña said. He attributed that, in part, to "the Amazon effect" as consumers shift to online retail instead of brick-and-mortar stores. He anticipates some of these large buildings could be subdivided in the future.
Some of the larger retail buildings in the area are cutting down on unused space to make way for more needed uses, like multifamily housing. The Karcher Mall redevelopment, which had a groundbreaking Friday, is one of them, Peña said. The new owner plans to build multifamily housing in the mall's back parking lot.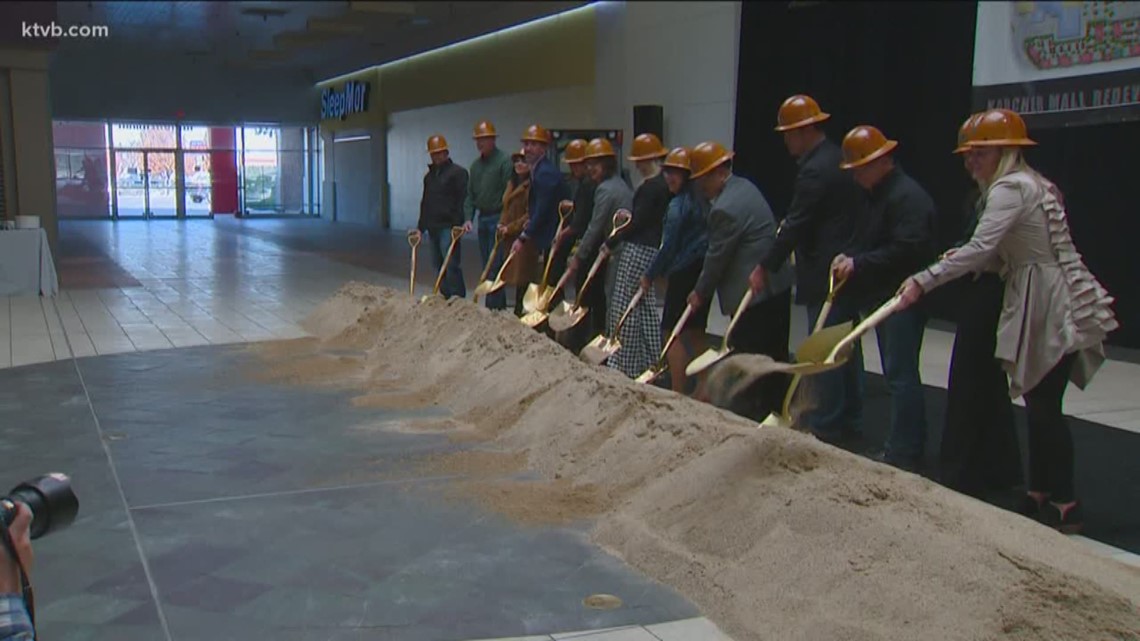 Overall, Canyon County's retail vacancy rate is 7.3%, he said.
Over 700 new apartment units in the works in Nampa, Peña said, a result of high demand for housing. Even with new units opening up, multifamily vacancy rates continue to be low in Canyon County at about 2%, he said.
The vacancy rate for single-family rental housing in the county is even lower at 1.9%. That amounts to just 39 vacant multifamily units and 11 vacant single family homes for rent, according to Colliers' data.
For multifamily construction to slow down, vacancy rates would need to stabilize around 5%, Peña said. Even then, he said average rents likely won't drop until vacancy rates reach about 7% or higher.
Nampa's average rent is about $1,000 per month, Ineck said. In order to keep rent at a third of household income, a resident would need to make $40,000 a year, she said.
A lack of affordable housing is an issue affecting residents across the Treasure Valley, and one Nampa officials plan to continue addressing in 2020, Ineck said.