NAMPA, Idaho — A reprieve on Idaho's agricultural labor shortage may be on the horizon with a recent bipartisan congressional bill that would give undocumented farmworkers a path to legal status and expand the H-2A temporary agricultural workers program, according to the Idaho Press.
The Farm Workforce Modernization Act was introduced Oct. 30 by U.S. Reps. Mike Simpson, R-Idaho, Zoe Lofgren, D-California, Dan Newhouse, R-Washington, and others, with bipartisan support from 24 Democrats and 20 Republicans. The legislation aims to provide "a compromise solution for American agriculture."
"My constituents have been asking me to fix our immigration laws since my first day in Congress," Simpson said in a statement. "There is perhaps no more important facet of immigration reform for Idaho and its economy than the agriculture workforce. I am proud to introduce the Farm Workforce Modernization Act alongside a bipartisan coalition of members in the first step towards solving this problem."
In an opinion column released Friday, Simpson wrote, "Today, farmers struggle to find the workforce they need to survive. When I meet with dairymen and potato farmers, maintaining a legal workforce is always their number one issue. The H-2A program, which allows temporary foreign workers, has doubled since 2012. Ask a farmer and they will tell you this program is flawed, cumbersome, and bureaucratic. But, for Idaho's family farmers, it is their only option. Even worse for dairy farmers, there is currently no option because there is not a year-round program available."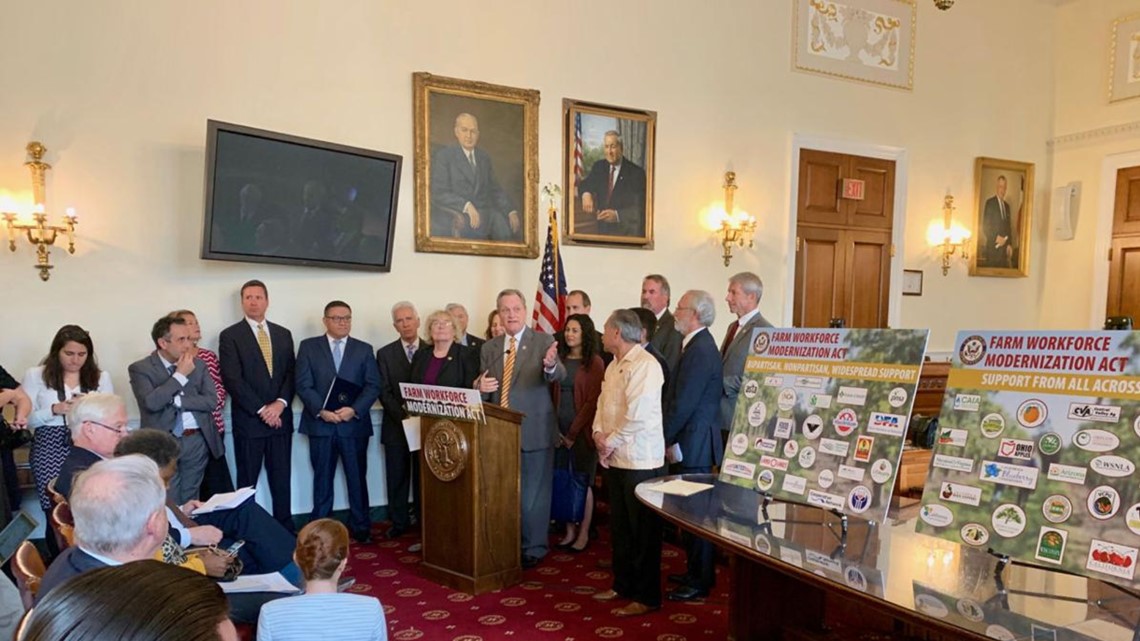 Rick Naerebout, CEO of the Idaho Dairymen's Association, said the association supports the bill for two main reasons: the earned legal status and deportation protection, and the year-round access to the H-2A program.
Naerebout said about 90% of the workers in the Idaho dairy industry were born outside the U.S.
"It will make a significant dent in the shortage," Narerebout said.
Kelly Henggeler, co-chair of the Industry Affairs Committee at Idaho-Oregon Fruit and Vegetable Association, said farmers have seen a severe shortage in the workforce for specialty crops like apples, onions, cherries, plums and peaches.
"We need some type of program that is going to give us a reliable, legal labor force, and we hope this bill will do this," Henggeler said.
Acres of apples in Idaho and Oregon have been left unharvested over the years because of the shortage of workers, Henggeler said.
"It is detrimental to our growers," said Henggeler, adding that the amendments to the H-2A program will be "positive and flexible" to growers.
Over 45 Idaho agriculture organizations, including the Idaho Hop Growers, have signed on in support of the bill.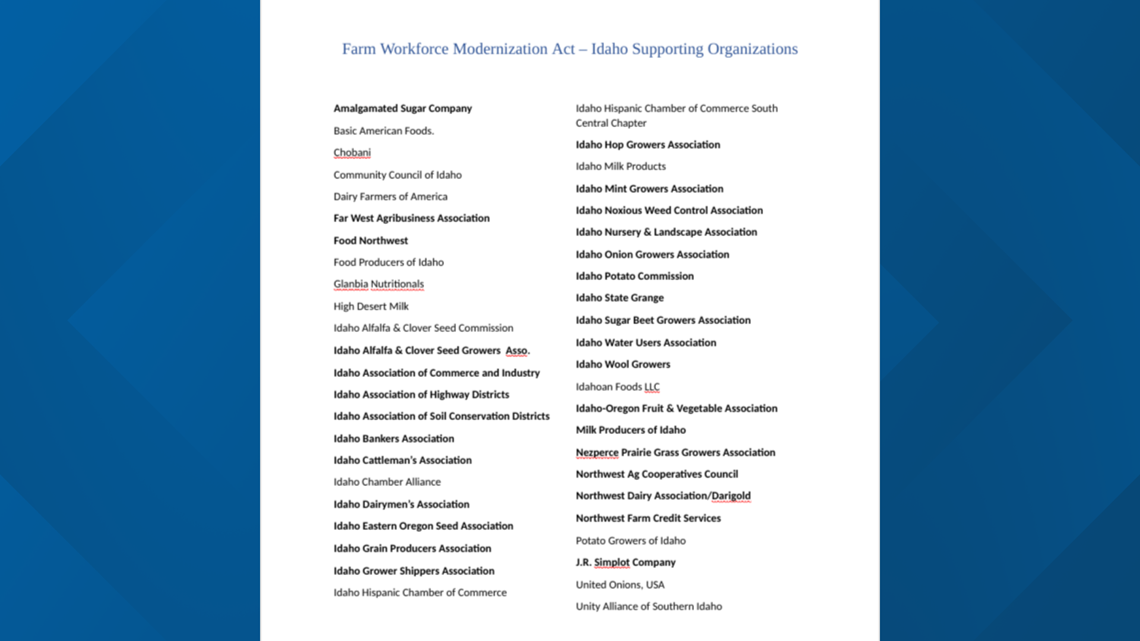 Michelle Gooding, president of Idaho Hop Growers Association and farmer at Gooding Farms in Parma, said the farm is invested in the H-2A worker program, which has helped them finish ahead of schedule and harvest more hops than ever this year.
"As an industry, we have (a) hard time finding labor in the times that we need it. There is just a lot to do, and that is something the H-2A labor force has helped fill for us," Gooding said.
The bill is "a great step" in minimizing some of the difficulties in navigating the H-2A program, she added.
VISAS AND PERMANENT RESIDENCY
The Farm Workforce Modernization Act would create a program that allows agricultural workers, their spouses and children to earn legal status. If the worker shows 180 days of agricultural employment over the last two years, they can apply for either a five-year renewable visa, which is renewed by working at least 100 days in the industry every year, or Legal Permanent Residency.
To apply for Legal Permanent Residency, workers must pay a $1,000 fee and have either worked in U.S. agriculture for 10 years, plus an additional four years after enactment, or worked in U.S. agriculture for less than 10 years but an additional eight years after enactment.
"It provides earned legal status for workforce and deportation protection for workers if they are here without status," Naerebout said. "We have tried to advocate for immigration reform for families who have helped build the workforce."
Naerebout added that, although Idaho has not seen the high numbers of deportations that other dairy states have seen, there is still "the fear of deportation that creates apprehension and fear within our immigrant communities."
"They are able to know that, through this legislation, they would be able to gain legal status and protect(ion) from deportation," he said.
CHANGES TO THE H-2A PROGRAM
In the past, under the H-2A program, employers would file petitions for each type of worker they needed. An employer needing workers for tilling, planting and harvesting would have to file three different petitions. The proposed legislation would allow the employer to file one petition for all different workers.
It would also eliminate the requirement to run job postings in the local newspaper.
The new proposal also calls for wage reform for H-2A program workers. It calls for removing the one-wage determination for all workers and, instead, changing wage requirements for each position. The document said some workers, such as machine operators, would see higher wages, yet others, like crop workers, would see lower wages.
The bill would also make efforts to ensure farmworker housing is available. The U.S. Department of Agriculture would triple the amount of funding available for loans and grants used for building farm labor housing.
The bill also meets the Idaho Dairymen's Association year-round labor needs. The bill would add an additional 40,000 green cards per year for agriculture workers. The visas can be used by employers to sponsor workers to fill permanent needs.
The bill would give employers access to a capped program for temporary three-year visas to hire employees year-round.
Naerebout said the association has concerns with the caps on the number of yearlong workers. The cap is 20,000 yearlong visas.
"We feel it is too low," he said. "If we could change anything with the bill, it would be that, but the United Farm Workers (of America) said that was as high as they were willing to go."
The bill summary says, "The Secretaries of Agriculture and Labor would be able to increase visa cap if market conditions warrant such increases."
Joel Anderson, executive director of Snake River Farmers Association, a Heyburn, Idaho, organization that helps agricultural employers hire through the H-2A program, said the organization has its own concerns with the bill.
He did not provide details, but added that he was "encouraged" by the bipartisan effort to try to address the labor shortage.