TREASURE VALLEY -- Most city planners agree that growth is good, but it can often be painful for those not prepared.
According to the Idaho Department of Labor, the Boise metropolitan area - which includes Ada, Boise, Canyon, Gem and Owyhee counties - is now one of the top 20 fastest growing metro areas in the nation. Population grew by 2.3 percent between 2015 and 2016. Since 2006, the Department of Labor reports the metro area has grown by almost 121,000, or 21 percent.
So KTVB wanted to find out how that is affecting students and education in the Treasure Valley. School district officials say student enrollment growth is related, in some degree, to availability of affordable housing for families. Districts in areas where there's a lot of available land are experiencing notable increases in students.
We compared enrollment growth between 2010 and 2016 in these six districts: Vallivue, Kuna, West Ada, Caldwell, Boise, and Nampa. Vallivue grew the most in those six years, while Nampa's enrollment decreased.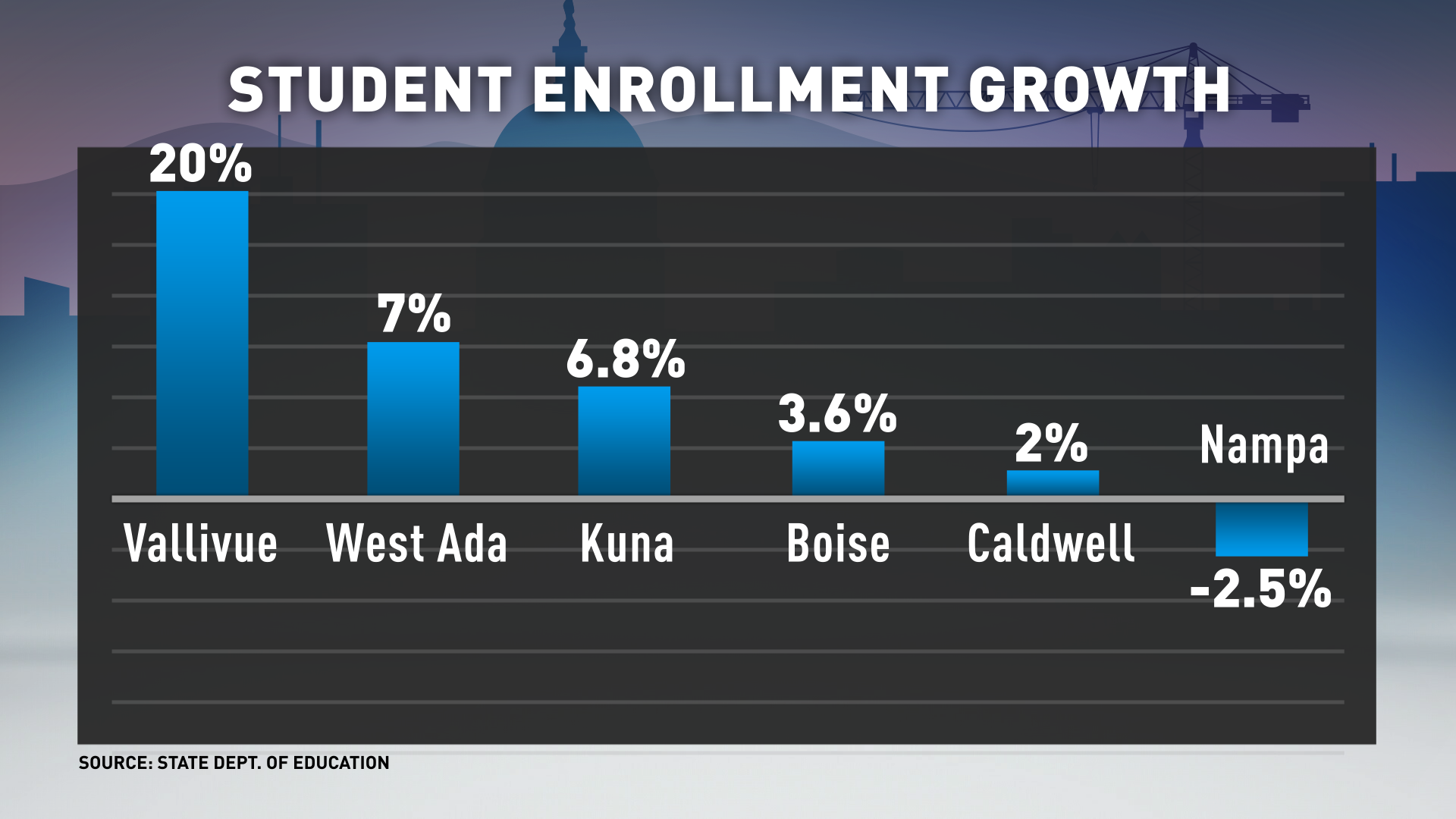 West Ada
An average day for Eagle High School science teacher Misty Sterk consists of setting up and teaching labs for her honors and college level courses, lecturing, grading papers and building relationships with students.
But in a growing, overcrowded school her day-to-day has changed.
"I feel like I'm not always able to do that with so many kids. And that makes me sad," Sterk said. "It takes me a little bit longer to grade and now since my classes are so large - I have 216 students - I have to edit some of the labs that might not be safe for that many students in a class."
"I feel like when I have that many I don't always get to meet their needs," Sterk added.
Eagle High is one of four high schools in the state's largest school district that are over capacity.
"Growth is the story of West Ada," district spokesperson Eric Exline said.
There are nearly 39,000 students spread across 55 schools - 33 elementary; 10 middle; 12 high schools.
"A couple thousand more and we'll be one of the 100 largest school districts in the country," Exline told KTVB.
Exline says West Ada School District has about 14,000 proposed home sites currently in some phase of construction in its 384 square mile boundary.
"People say, 'so where is growth the highest?' Uh, everywhere," Exline added.
High school is definitely not the only level impacted by a rapidly-growing area. Exline says the issues span all levels and kids come in equal numbers at all grades, but this year was heavier at the secondary level.
Elementary schools are either full or overcrowded on both sides of the freeway; a couple middle schools are over capacity, but the opening of Star Middle School will help alleviate that when it opens next fall; and Centennial, Eagle, Rocky Mountain and Mountain View high schools are all over capacity.
Exline says the 20-year trend shows the district gets 1,000 new kids per year on average. That can make for even more cramped hallways and classrooms at the beginning of the school year.
"When you get a big influx of kids what will happen at a high school is the first two weeks of school you'll discover all these new kids are there and now the master schedule [has] 37 kids in a chemistry class. Well that's not acceptable," Exline said.
So in the past and the future, the solution to deal with that growth is to build new schools regularly.
"So you have to go out to voters ask them to pass bond measures," Exline added. "You get these sort of overcrowding moments where they get way over until you can pass a bond and get a school built."
They also have to hire between 200 to 300 new teaching staff members every year to deal with growth or retirement.
"The in-between issues of how do you deal with overcrowded schools: you move portables in, sometimes you put kids, honestly, in odd teaching locations. On stages - we've done that before, in undersized classrooms - done that before. When you just sort of have run out of space in the building and you've moved in all the portables that you can. Portables are the first sort of line of defense between running bonds," Exline said.
That's something that affects students' school experience, he says.
"You're a ping pong ball in a tin can, right. There is no quiet place, there is no calm," Exline said. "All the common facilities get overrun by too many kids," Exline said.
District officials don't believe the overcrowding issues will get worse, necessarily, unless the rate of development skyrockets. But the issues will continue as more and more farm fields are developed.
"Someday this school district will have somewhere between 75,000 and 90,000 kids. As long as the economy is good, as long as this is a nice place to live, people will keep coming. You will keep getting kids at about that rate until the 50 percent of the remaining open land that can be developed is," Exline said. "When those are all homes - and they will be - all the comprehensive plans tell you that's what's going to happen."
Our strong economy and booming housing market is reflected daily in classrooms across the Treasure Valley.
"I wish it was more controlled growth. Because it's hard to plan after you have the students show up," Sterk added.
Vallivue
Several miles west in Canyon County, the rural Vallivue School District - with a record enrollment of nearly 8,800 students - is struggling to keep up as well.
"We're busting out the seams really," Vallivue School District State and Federal Programs Director Joey Palmer told KTVB.
What was expansive farmland is now becoming land developed. As subdivisions pop up, enrollment is expected to soar in a couple years.
"Over the past ten years we've been growing at three-percent growth. That's about 200-250 kids added each year. Well now with all these new subdivisions coming up and the economy and property values are doing OK, we're now projecting about four- to five-percent growth each year, which is about 450-500 kids per year. So we gotta have a place to put those kiddos as they're building the houses and moving here," Palmer said.
Gearing instruction toward each students' individual needs has become a difficult task.
"There are too many students per teacher. We're having to get creative with the rooms we do have," Palmer added. "The ideal education setting is where there's a teacher that can reach out to all the students in the classroom and differentiate instruction depending on each student's needs... Our students' education is affected when there's too many students per teacher."
Palmer says overcrowding at elementary and high schools has been alleviated by two new schools that opened just in the last two years. But now a new side effect of growth has popped up: while the increase in students is distributed at all grade levels, Palmer says they are inundated at the middle school level.
So they have to build another middle school.
In a district where nine of 13 schools are Title I and have high numbers of children from low-income families and 30 percent of their population is migrant, Vallivue is waiting until March of 2019 to ask voters to help them out in building a new middle school.
"We are worried about voter fatigue," Palmer added.
Building new schools
West Ada is mulling over running a bond in March 2018 to build a new high school. The district is also looking at building a new elementary school in north Meridian and expanding on a couple current schools south of the freeway and in Star in the near future.
To keep up with the rapid growth, many districts across the Valley consistently ask their voters to pass plant facility levies which take care of capital improvement projects, building maintenance and purchasing new school sites, as well as supplemental levies for operational, supplies and curriculum needs.
"They should be called essential levies. We need them, otherwise we're in dire straits," Palmer added.
District officials say the plus side to Vallivue and West Ada growing is the value of property in their boundaries is growing in unison.
"Growth does help pay for itself because you can run bonds without the levy rate going up," Exline added. "We really do rely on our community to be able to operate the kind of school system that we have."
That's part of the reason the West Ada school district isn't planning to split. If they did, the cost of bonds for new schools would be spread over smaller property tax bases she tax levy rate could go up and voters may be less likely to say "yes" to creating a new district.
The West Ada School District says because of their size they're able to offer a range of specialty courses, as is the Boise School District. While growth is a challenge and many districts do struggle to keep up, there are advantages.
Boise
Boise School District superintendent Don Coberly published this graph showing a shift in enrollment. In the early 2000's, Boise's enrollment shrank as West Ada's exploded due to families moving out west into the suburbs in search of more affordable housing.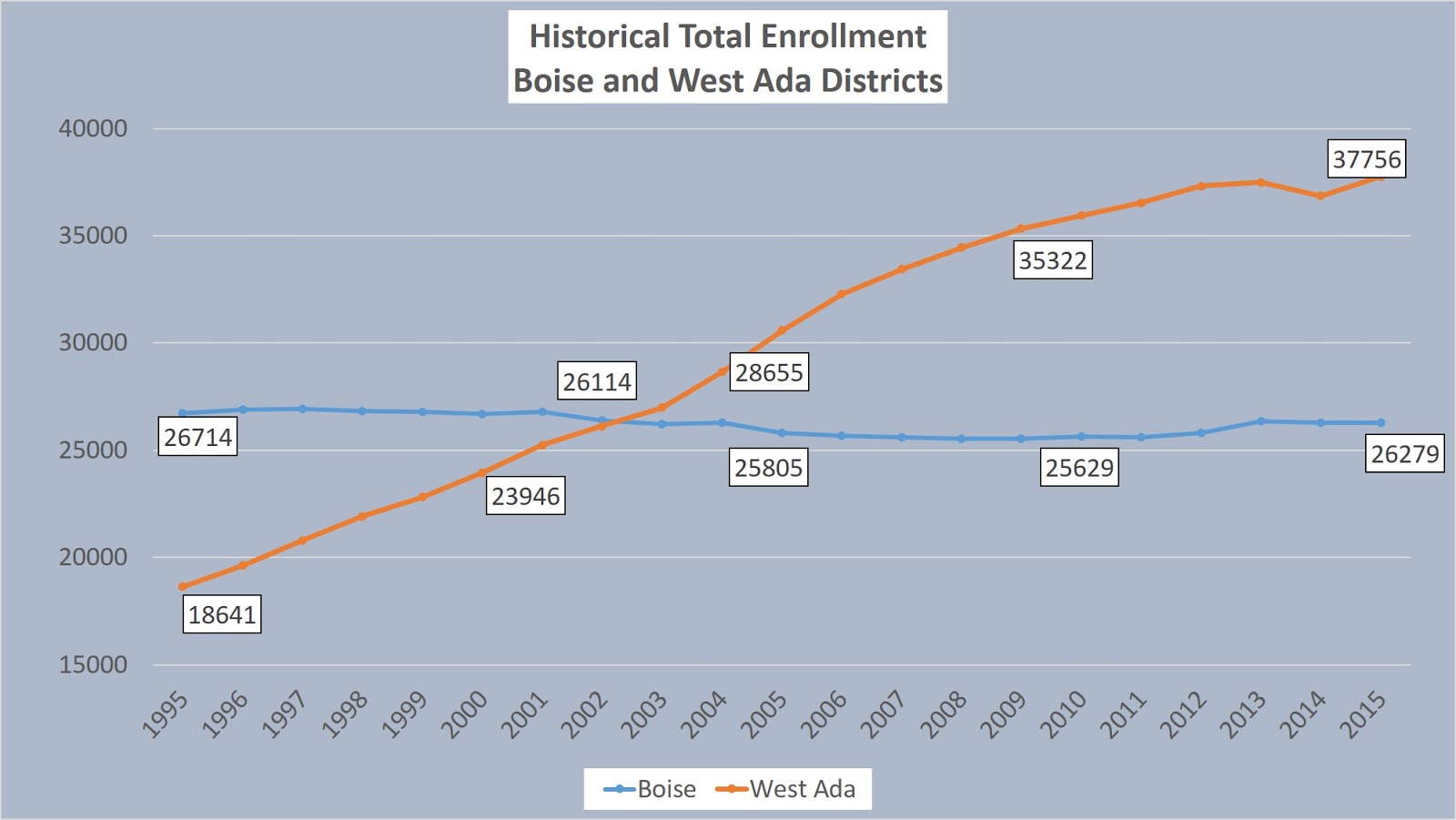 Boise School District spokesman Dan Hollar says some schools in the district are growing at a steady and manageable rate while others have flat to no growth. There is new construction in southeast Boise, so the district is adding onto Timberline High School and will build a new elementary in the Harris Ranch area.