BOISE, Idaho — Few people in the Treasure Valley walk or cycle to work. According to the U.S. Dept. of Transportation, it's around just four percent.
"I think some people would see that number and say, 'Oh, people don't want to bike. People don't want to walk. People don't want to take public transit.' But it's really more about availability," said Joe Jaszewski, who's a longtime cyclist, advocate and current Chair of the ACHD Pedestrian Advisory Group. "We haven't invested much in public transit here."
Jaszewski said people aren't biking and walking because local agencies haven't built enough sidewalks and bike lanes to keep up with the growth.
"I think we've been dealing with decades of a mindset that everyone's going to have a car. And I think that that works up to a point in terms of population size, and we're getting to that point with our population that traffic's not going to get better," he said. "We're not going to add another lane to State Street or another lane to Eagle Road, and magically traffic is going to go away."
And it's only getting worse. According to the Community Planning Association of Southwest Idaho, at last check, every week, 30,977 cars drive around and through one of the busiest spots in the Treasure Valley, the I-84 and 10th Avenue Interchange in Caldwell. And that weekly number has increased by about seven percent every single year, up from 23,809 cars in 2017.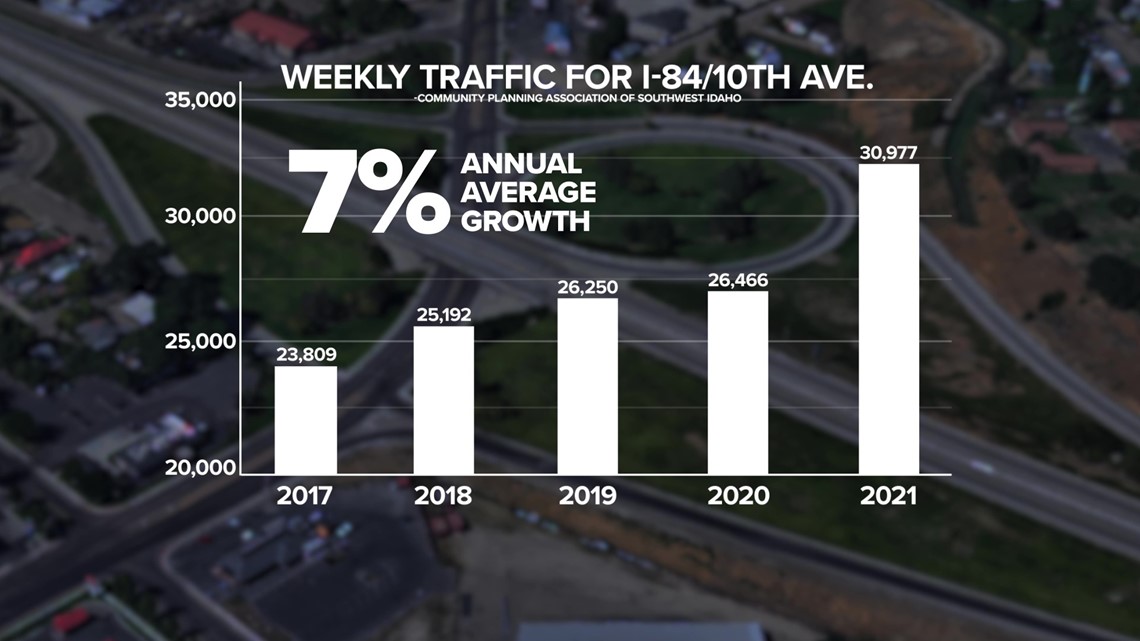 More cars mean longer commutes, with some folks telling me they're spending three hours in the car every day just getting to and from work. That's alarming, and it's how Jaszewski believes the mindset changes, by people just getting fed up.
"It's going to be pretty tough to change the mindset, but it's already happening," he said. "People hate driving on Eagle Road. People hate commuting down State Street in the morning and getting back in the afternoon. I-84 is no fun either."
Ample sidewalks and bike lanes can ease traffic by making public transportation more accessible. That would potentially take cars off the road, but only if people actually use those paths and buses. The number of people bike or walk to work right now make up a small fraction of Idaho's population, and less than one percent of Idahoans commute on the bus.
Is public transportation worth the tax dollars already funding it? And why would we throw more money at public transit or bike paths, when they're already not being used enough?
"What's interesting is we don't require that of roads. We will build roads based on future projections of traffic and populations," Jaszewski said. "They will expand highways based on those things, but we don't when then when it comes to building bike lanes. We say, 'Oh, there's no bikes here. What do you need a bike lane for?' Well, how many bikes would be here, if there is a protected bike lane?"
Jaszewski added that there are options.
"We just have to get there mentally and get over the hump of thinking that everybody's going to be driving a car," he said. "We're too big for that now."