HAZELTON, Idaho — An Idaho Department of Fish and Game employee was killed and multiple other people were injured in a pileup involving four semi trucks and two smaller vehicles near Hazelton Tuesday afternoon.
According to Idaho State Police, the chain of crashes happened after a sudden duststorm sprang up during heavy winds and rain, completely covering the westbound lanes of Interstate 84.
Three semi trucks and a Fish and Game pickup, driven by 52-year-old Douglas Megargle of Jerome, slowed to a stop because of the lack of visibility. At about 2:47 p.m., a Mack truck driven by 58-year-old Filimon B. Miranda of Twin Falls crashed into Megargle's stopped pickup.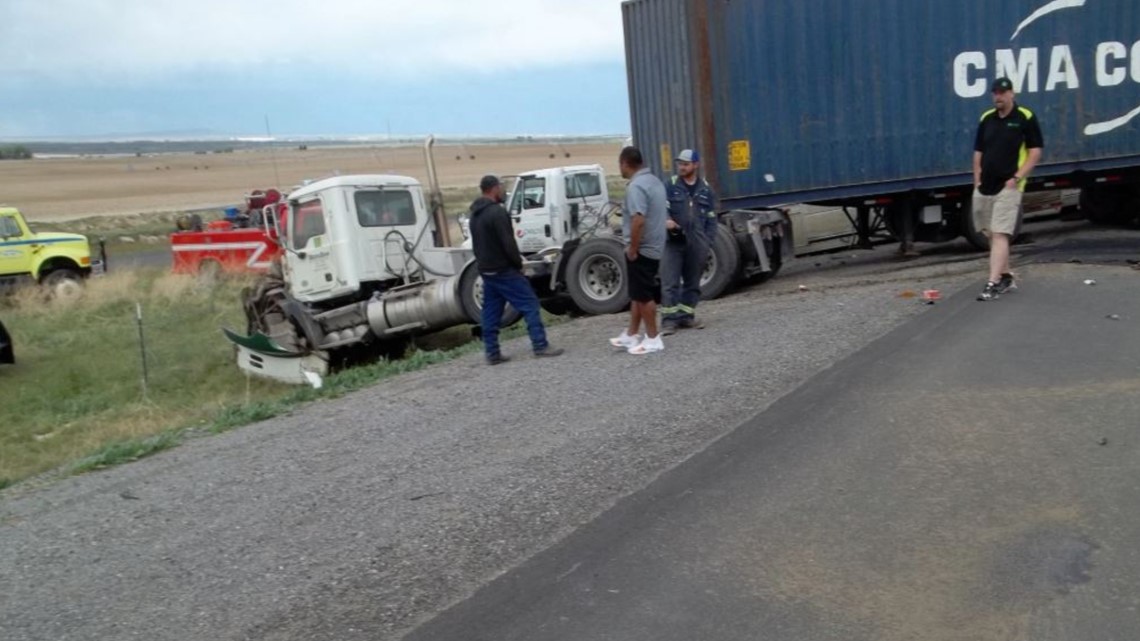 The impact sent Megargle's pickup spinning out of control and smashing into one of the stopped semi trucks. Miranda's semi then struck another one of the other stopped semis, pushing it off the road and through a fence, then hit the third semi.
Another westbound driver, 72-year-old Wilma L. Benefiel of Mesa, Arizona, also failed to stop, crashing her SUV into the back of Megargle's pickup.
Megargle died from his injuries at the scene. His passenger, 60-year-old Sally Rose of Jerome, was taken to a hospital in Twin Falls, then airlifted to Portneuf Medical Center in Pocatello.
Miranda was taken to St. Luke's Magic Valley Medical Center in Twin Falls by ambulance and 31-year-old Kyle Hoskins of Jerome, who had been driving one of the semis that stopped, was taken to the same hospital in a personal vehicle.
Fish and Game said Megargle, the Magic Valley Regional Fisheries Manager, had worked at the department for 22 years. Rose is the Offices Services Supervisor for the Magic Valley Region and an 18-year Fish and Game employee, according to the department. She remains in the Intensive Care Unit.
Both Megargle and Rose were on duty when the collision happened.
"As friends and colleagues, our thoughts and prayers are with Sally, and with Doug's family, during this difficult time," Fish and Game Director Ed Schriever said in a release. "Doug was a respected fishery professional who I have personally worked with for many years, and I am heartbroken about this tragedy. Sally is a leader among our administrative support staff, and we will do everything we can to support her recovery."
Everyone in all of the vehicles was wearing a seatbelt when the crash happened, police say.
The pileup blocked westbound I-84 for five hours.