BOISE -- The secret is out: The hidden gem is no longer hidden.
Idaho's appeal is drawing out-of-staters here in droves - particularly Californians. It might seem more apparent now for a number of reasons, but we've been talking about whether Californians are taking over Idaho for years.
KTVB's Morgan Boydston went out into the community to get a feel of what Idahoans and California transplants think about Californiacation.
The Golden State exodus has been landing on Idaho's soil for decades. Because there are so many of them here, we wanted to hear from you about whether Californians are welcome in Idaho. As we found out, it depends who you talk to. And do Californians feel like they're welcome? Some tell us people will give them eye-rolls when they tell where they're from, others might make a sarcastic comment, but for the most part California transplants tell us they do feel welcome because we live in such a welcoming community.
"The first reaction is just always the same; it's 'ew'," Patrick Crewdson, who recently moved to Boise from San Diego, told us, "because we're invading. Because no one wants to live in California because it's so expensive. So it's cheap here so why not live here?"
"The quality of life here is exceptional," April Neale, from Calabasas, Calif., said. "Not one negative experience. I can't believe what an incredibly gracious and lovely place this is."
"[It's] cheaper, way cheaper. You can't live in California, are you kidding me? It's like for the same price of a brand new apartment you can get a 70-year-old apartment in California that's infested with cockroaches," Crewdson said, "I was just interested to go somewhere where I could be more outdoorsy."
"We were living paycheck to paycheck just on rent down there, and now we have a house, we were able to pay for our wedding. So it's a lot different," Marina Strong, who moved here with her husband four years ago, said. "Someone when we first moved here actually told us not to tell people we were from California. But then I kind of feel like the more people we talk to they're like, oh yeah, we're from California too. We've never had any bad reactions."
"We make all of these different lists so people are moving here," Kerri Ohara, a a realtor with Better Homes and Gardens Real Estate 43 North, who specializes in relocations, told KTVB. "They want to move to Boise because they want to be part of what Boise has to offer."
"It started not feeling like home. It just didn't feel like it did 20 or 30 years ago in Los Angeles. And the opportunity was here," Neale added.
Now Idaho is feeling like home for a lot of Californians. If you look at the numbers, of all the people moving into Idaho from out of state, most of them hail from California. The U.S. Census Bureau 2016 American Community Survey shows about 80,000 new Idaho residents in 2016; of those, 17,000 (21 percent) were from California. Washington state followed with 9,300 people.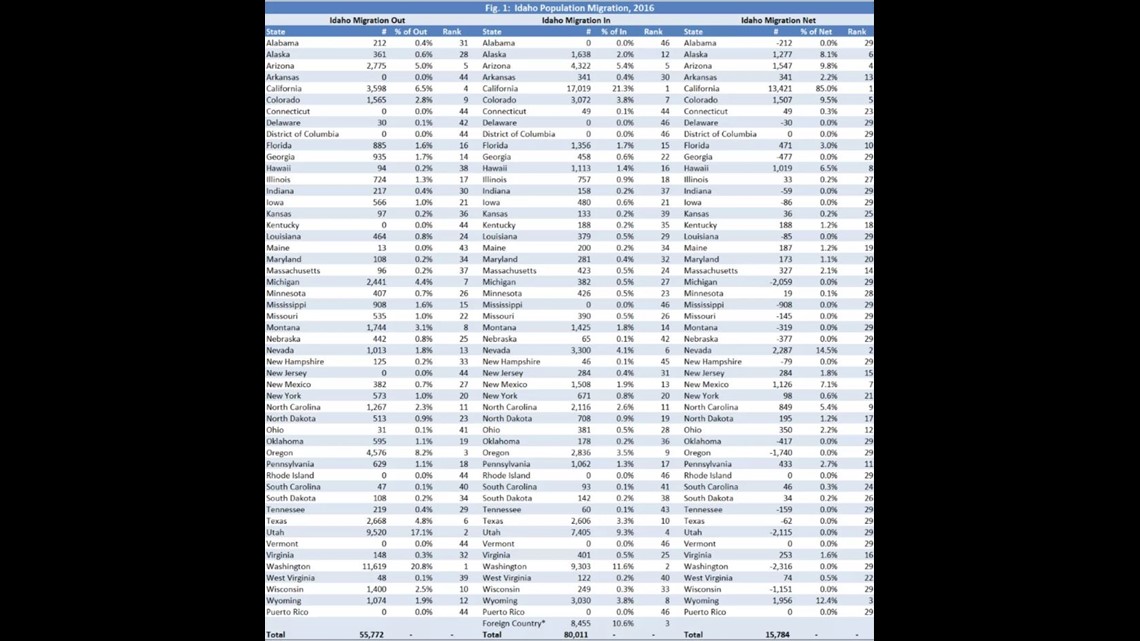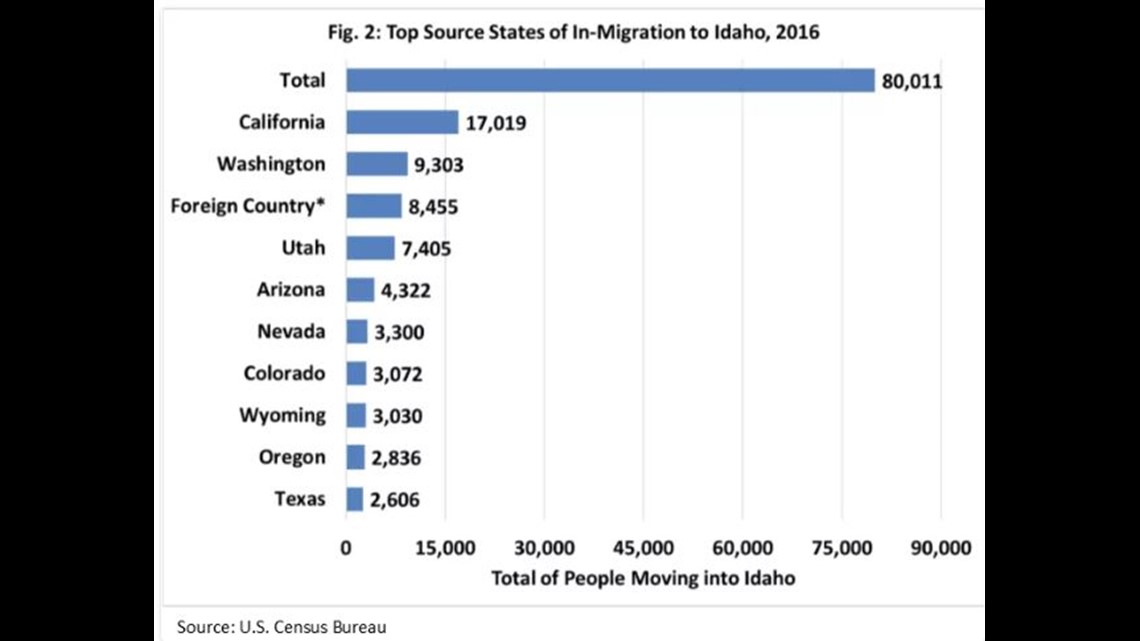 When we asked folks if all these Californians are welcome in Idaho, we heard mixed responses.
"Do they feel welcome? Yes, I would think so because they move in and they treat it like they've lived here their entire lives. But the problem is they're stepping on a lot of people's toes who have lived here their entire lives," one native Idahoan, Justin Johnson, said. "What we notice is there's a huge surplus of them that come here... It creates a lot of animosity towards Californians from Idahoans, and vice versa."
Johnson's advice for Californians moving to Idaho: Dump that California license plate.
"Do your research first, know what you're going to walk into. Do attempt to assimilate within the culture; you've got to leave some of those bad habits of California behind: the speeding, the tailgating."
"I'm OK with it. I think they need to remember they left California for a reason so don't come to Idaho and try to make Idaho like what they're used to. But I think Idaho is a great state and I'm happy to share it with anyone who wants to come and see it," native Idahoan Trina Bowen added.
"Whatever group happens to be the highest in transition somewhere is always going to be the group that gets picked on. It's just the nature of the beast," David Wali, who moved to Idaho from California three decades ago, told KTVB. "The Northwest and West has always had a kind of anti-California twist to it. You see it in Montana, Oregon, Washington, we saw it here in Idaho when I first got here."
Wali says the growth and influx of Californians seems more in-your-face now because of social media and technology.
"But you definitely see it from multi-generational Idahoans that say, 'Hey, wait a second, you're coming to my town,'" Wali added.
"There's a lot of negative things you can associate with California," one California transplant, Kieran Macintyre, said.
"I feel like the people that are moving here don't have a respect or a reverence for the land that - it almost brings tears to my eyes - the people who were born and raised here. Because that's what makes Idaho, Idaho," native Idahoan Debbie Florence said. "I feel like we're losing our small town values, we're losing our space, we're losing our land."
Florence believes for the most part, natives want Californians to stop coming.
"They keep driving up our rental prices, our housing prices," she said. "If they came here and perhaps didn't have a sense of entitlement, if they came here and didn't try to impose their values on us, maybe if they weren't driving up our cost, maybe if it wasn't affecting us so badly then it wouldn't be so bad," Florence added.
"Well, certainly they're welcome. We've been talking about this for the last 50 years and, you know, we've heard people talk about Californication and all that kind of stuff but I think that we've brought a lot of talented people in, gives some diversity to our population," Idaho native and former Idaho Supreme Court Chief Justice Jim Jones told KTVB, "Sometimes you feel like maybe some of the things they bring with them are not great but it's a country that I think is better served by diversity so I welcome them."
A closer look at the data shows people moving into the Treasure Valley from California are most likely from the Los Angeles-Long Beach-Anaheim metro area. In a top-10 list of metro-to-metro areas compiled by the U.S. Census Bureau and provided to us by the Community Planning Association of Southwest Idaho (COMPASS), there are four other California metro areas, including Riverside-San Bernardino-Ontario, San Francisco-Oakland, Hayward, San Diego-Carlsbad, and Sacramento-Roseville-Arden-Arcade.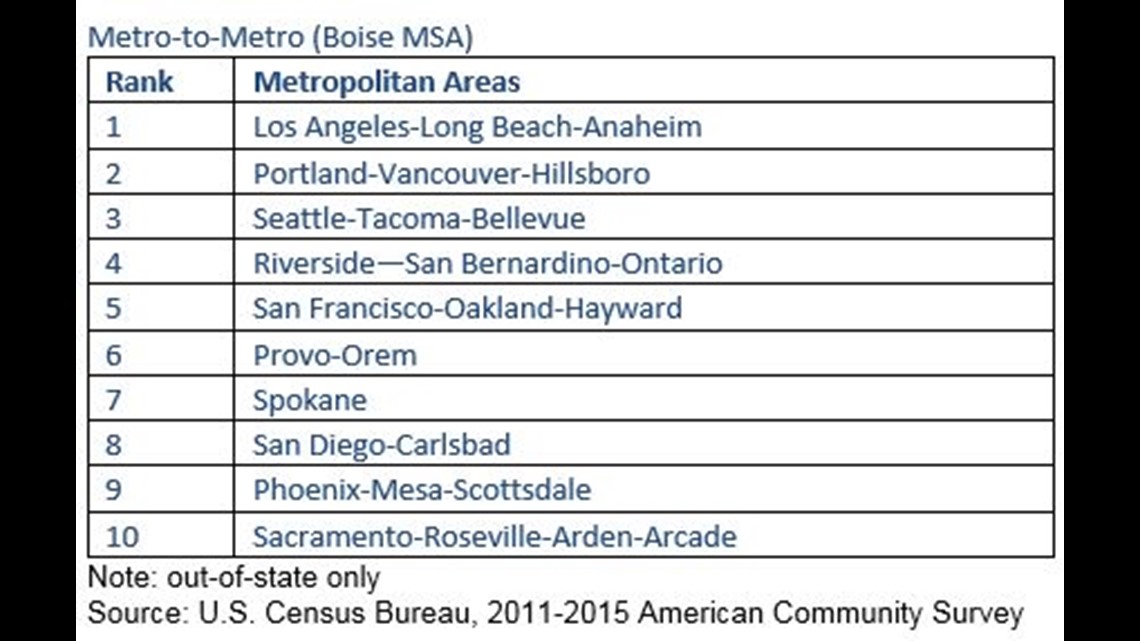 Last year alone, Idaho Transportation Department data shows 11,797 people surrendered their California licenses and identification cards in Idaho - up from the year before when there were 10,682 surrenders. The age group surrendering the most California ID's for Idaho ID's were folks 61 years of age and older followed by people ages 21-30 years old.
Data shows Ada County saw the highest influx of California transplants last year, followed by Kootenai and Canyon counties.
When you talk to Idahoans - native or not - about why some aren't embracing Californians with open arms, they cite increased housing prices and cost of living. There's a perception Californians are bringing in more cash after selling a home in the Golden State.
"I don't see all cash. I see people coming in from all different walks of life in California," a local Realtor with Boise Regional Realtors, Kerri Ohara, said.
Californians are raising the demand, but Realtors say they're not the sole reason costs are creeping up.
"No, we don't have any inventory. Inventory is our bottom line," Ohara said. "Our inventory has been under two months now for a long time. So no matter who is looking, whether it's somebody from California or someone from Texas or someone from Boise looking to move to Meridian or Meridian to Boise, we don't have that much to offer."
On top of the lack of homes, there's a lack of space on the roads, with increased traffic.
"I would say the traffic is the biggest thing," Adrien Stephens, who was born and raised in Idaho, said. "It is just incredible how much traffic we have."
And many feel they're bringing bad driving habits.
"They still drive like they're in California, bob and weave. So it angers a lot of us off because we like to take it slow," Johnson added.
In the counties with the most Californians moving in, a look at ITD data shows California transplants made up 34 percent of the people swapping their state license plates for Ada County plates in 2017. Of the 4,768 license plates surrendered in Ada County in 2017, 1,626 were California plates.
Californians accounted for nearly 29 percent of people trading in plates in Kootenai County; of the 1,862 surrendered out-of-state plates, 542 were California plates. Thirty-six percent of out-of-state plates surrendered in Canyon County were California plates, with 472 of the 1,320 plates from the Golden State.
Another big issue Idahoans raised is seeing a historically red state turn blue. Democrats turned out in record numbers for the May primary election, but political experts say: don't expect the political playing field to change.
"Idaho is a really, a pretty strong conservative base so it would really take a lot of people moving here to really shift that very quickly," Boise State University School of Public Service assistant professor, Jaclyn Kettler, told us.
Dr. Kettler says conservatives from California are likely migrating here to escape California's politics and regulations and settle somewhere that aligns with their views and values.
"We're not just having people from Bay Area move to Ada County that are liberal. We are having conservatives from Orange County move to northern Idaho or Canyon County. So there is diversity in that population that is moving here but a good amount of them are leaning conservative," Kettler said.
Growth and the pace at which it's happening is upsetting to a lot of native Idahoans.
"it's changing and it's changing fast and it's just too much of a culture shock for a lot of Idahoans," Johnson told KTVB.
"Change and growth can be good but I don't want our state to be destroyed," Florence added.
"I know it's a big change but we need to embrace that because it's not going to stop," Stephens said.
But like it or not, with growth change is bound to happen.
"We're not trying to like take over and make it into another California. We love Idaho, we love what it has to offer," Strong said.
"I can completely empathize with Idahoans feeling encroached but I would hope they think some of the people moving here are nice," Neale said.
"Most people in Idaho who have been here their whole life are worried about the face of Idaho changing. And when I talk to these people that are moving here: why are you moving here? And that's one of first questions I ask: why Idaho? Why do you want to be here? And they go down and they talk about how they grew up in California when there was an orange grove and an avocado field, etc, etc. and they saw the face of their state change as laws were changed and as political views maybe have changed," Ohara told KTVB,
"People that are moving here - that in my experience, from what I'm hearing from them - is that they're moving here because they want to be part of Idaho, they want to be part of the mindset here."