MIDDLETON, Idaho — Thousands of people are weighing in online after teachers in Middleton faced disciplinary action for dressing up as Mexicans and a border wall on Halloween.
Photos of the group costume were posted to the district's Facebook page, then later deleted.
Middleton School Board Chairman Tim Winkle says the costumes were part of a team building activity after school hours. Some of the teacher posed with cardboard wall sections on which "Make America Great Again" was written.
Others put on ponchos, sombreros, and fake mustaches in an attempt to depict Mexicans.
Middleton School District investigating teachers' offensive costumes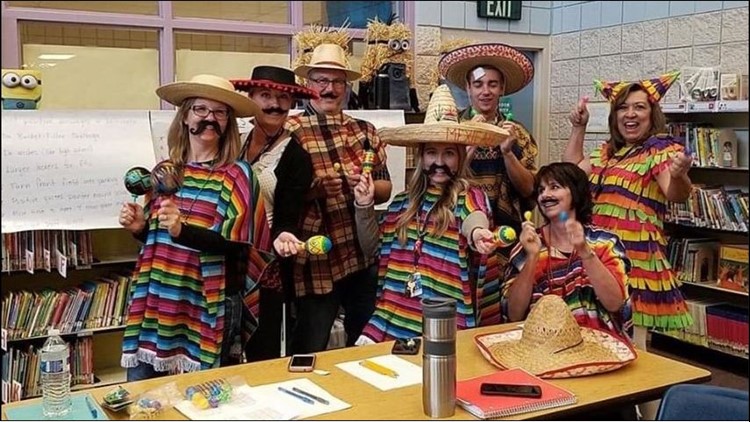 The costumes sparked immediate backlash. The 14 staff members involved were placed on administrative leave Saturday, and an investigation is ongoing.
More than 9,000 people have signed a MoveOn.org petition condemning the costumes and calling for district-wide training.
"With the disturbing images of teachers from the Middleton School District donning bigoted messages and racist stereotypes being highlighted on the districts social media pages we invite the Middleton School District to reconnect with why they became educators in the first place," the petition reads.
"The gross display of dehumanization of Latinx children and the outrageous harm caused by trusted adults that they learn from and look up to cannot be ignored and swept under the rug with a simple apology. More is required of the teachers and administrators to repair the harm caused to their students, to their community, and to Idaho."
Not everyone believes the teachers should be removed, however.
More than 10,000 people signed a petition on Change.org to reinstate the staff members. The full text of the petition is below.
As we all know on Wednesday evening photos that included Middleton Heights staff were posted. Unfortunately, the photos were very controversial. However, we believe it's been blown out of proportion, as this was a team building exercise done after school with no students present or involved. We fully believe in our staff at Middleton Heights and don't feel that this should cost the men and women involved their jobs and cause further stress to our children. These men and women are a huge part of our children's lives and the love and support they give them should not be overshadowed by what happened.
Meanwhile, students will be returning to school Monday after a turbulent week.
When kids return to the classroom at Middleton Heights Elementary School there will extra administrators, and increased security, according to a message posted on the school district's website.
The school district's crisis team will also be on hand to provide support to students, staff and parents.
On Wednesday there will be an all-staff meeting for the purpose of cultural sensitivity training. The training will continue throughout this school year and at the start of each school year moving forward.