BOISE -- The Cloverdale Road overpass will remain shut down "indefinitely" after a fiery seven-vehicle crash that killed four people and shut down Interstate 84 in Boise for hours on Sunday.
According to the Idaho Department of Transportation, the overpass was damaged by the fire and will remain closed until full repairs can be made. ITD says it is safe to drive on the interstate under the overpass.
The department expects to remove and replace the damaged section, which could take months to complete. ITD will develop an emergency contract to make repairs as quickly as possible, officials said.
The Ada County coroner has not yet released the names of the people who died in the crash. Forensic identification is scheduled to take place over the next several days.
"I ask for your patience during this process as it may take several days before identification can be released," Coroner Dotti Owens wrote in a release.
Mountain Home Air Force Base said in a release Monday that three of the people involved were airmen stationed in Mountain Home. The 366th Fighter Wing will release more information as it becomes available, officials said.
Officials have not said whether the airmen are among the dead, or were merely injured in the wreck.
The stretch of interstate - between Eagle and Cole roads - reopened Sunday afternoon, 13 hours after the crash sent two people to the hospital and caused damage to the Cloverdale overpass.
Idaho State Police say a commercial vehicle and an SUV had slowed down near the Cloverdale overpass due to construction when a second commercial vehicle hit them from behind.
Four other vehicles were also involved the chain-reaction crash, which caused at least one vehicle to catch fire.
Ginger Bradburn was on the road at that time and says she narrowly missed colliding with one of the commercial trucks involved.
"The headlights were staring at me in my passenger side," Bradburn said. "I don't know how it didn't hit me. I don't know how it should have."
Fortunately, Bradburn was able to quickly move out of the truck's path.
"Then all of the sudden I hear crashes," she said. "I looked in my rearview mirror and I saw flames. There were car parts all over the road."
Police say they are working with the Ada County Coroner's Office to notify family members of those killed in the crash.
Fiery I-84 crash in Boise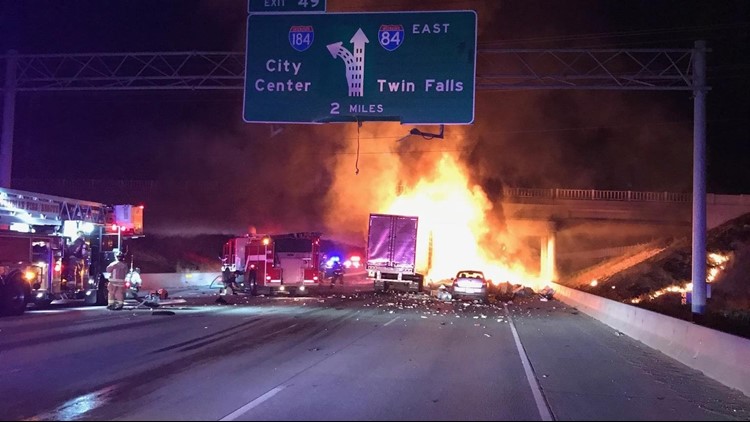 Both eastbound and westbound lanes were blocked for several hours as police investigated the crash.
The westbound lanes reopened by about 5 a.m., but the eastbound lanes remained closed from Eagle Road to Cole Road until almost 1 p.m. Sunday. The closure caused major backups on I-84 between the Meridian and Eagle exits. Adjacent streets, like Overland Road were also backed up due to the diverted traffic.