MOSCOW, Idaho — Idaho Legislature's budget panel approved a $1 million request for University of Idaho security.
The University of Idaho will receive $1 million from the state of Idaho for extra security costs that followed the deaths of four students. Now, a state lawmaker on the budget committee that approved this funding request is speaking out.
The Idaho Legislature's Joint Finance-Appropriations Committee unanimously approved the one-time, supplemental funding for the university two weeks ago. The $1m is separate from the funds Idaho Governor Brad Little allocated to the homicide investigation.
The request to the JFAC listed costs for support from Idaho State Police, a safe shuttle service, increased security, counseling services, and a campus vigil.
Idaho state Senator Janie Ward-Engelking was one of the budget committee's unanimous votes in favor of the funding.
"I think everybody in the state was horrified that this happened on one of our university campuses," Ward-Engelking said. "This doesn't happen in Idaho, but it did."
She supported granting this request from the university because she believes the services it provided are what was needed on campus.
"I thought the university did a really nice job of being flexible at trying to provide the right fit for every student and ensure they felt safe," Ward-Engelking said. "I thought they did a really nice job."
Not only did she watch these events unfold as a state lawmaker, but she is a grandmother as well. Two of the senator's grandchildren attend the U of I.
"We were certainly very concerned when the incident happened in Moscow," she said. "We were very worried, but I feel really good about what was done to ensure the students' safety."
The university shared a list of how the $1 million in funding has been used and will be used through the end of the school year in May.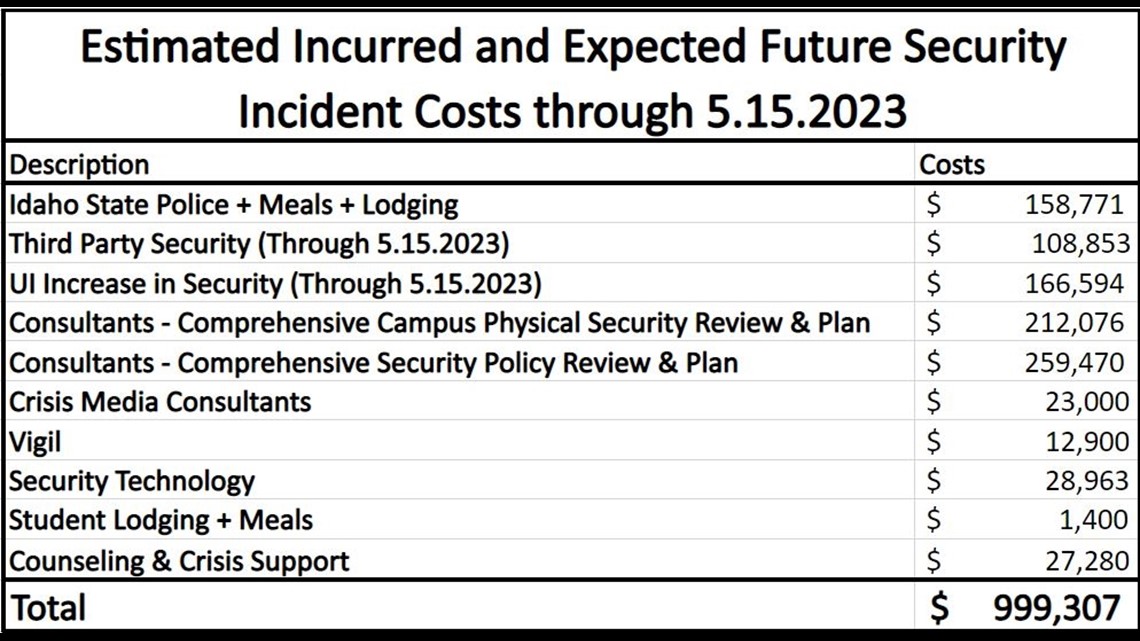 Hundreds of thousands of dollars went toward Idaho State Police, their meals and lodging; third party security, increased campus security, crisis media consultants and consultants for a review of campus security and policies. The university's expenditures also include counseling and crisis support provided to students and staff.
The UI said the vigil it hosted on campus cost $12,900. A university spokesperson said that amount is typical for large events drawing in thousands of people. They add, the vigil incurred expenses for security personnel and equipment, mental health professionals and event materials.
HOW TO ADD THE KREM+ APP TO YOUR STREAMING DEVICE
ROKU: add the channel from the ROKU store or by searching for KREM in the Channel Store.