CALDWELL, Idaho — Brad McIntyre said when he and his family sat down to set goals for their family farm in Caldwell, their first priority was God, and their second was "providing the community with a healthy product that would benefit their life and their health."
The family's pasture sells beef, pork, poultry and eggs to the local community. They also grow alfalfa and vegetables, and have been diversifying by selling protein over the past few years, Brad McIntyre said.
At the Caldwell Camber of Commerce Noonbreak Lunch on Tuesday at the College of Idaho, Stephen Parrott, of the Canyon County Agri-Business Committee, presented the family with a plaque.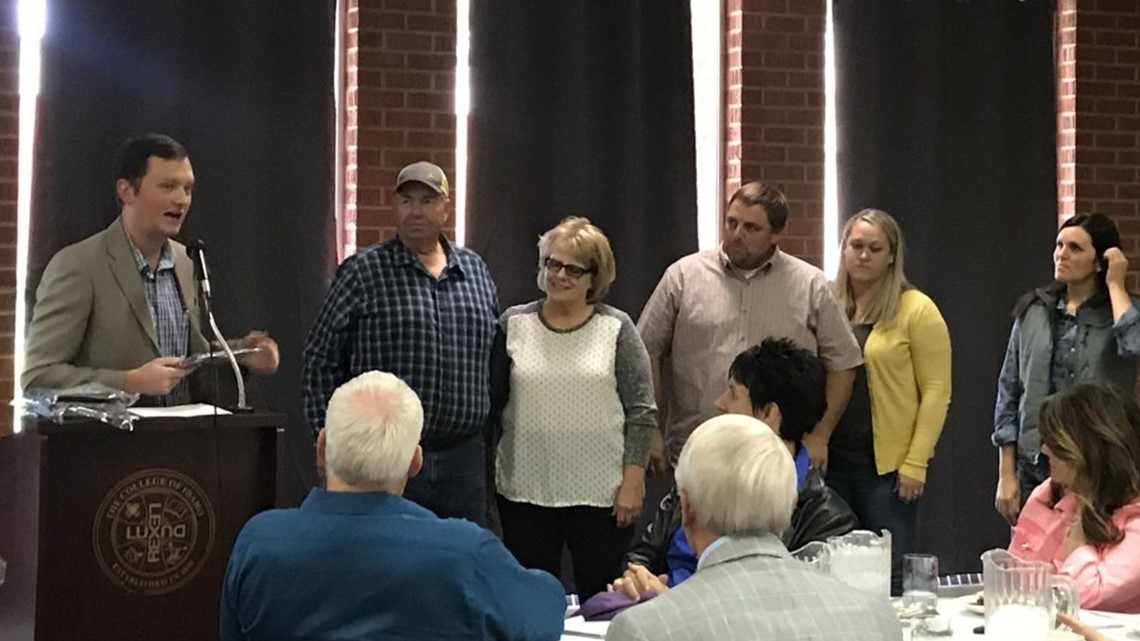 "We want to thank you guys for being good advocates for agriculture," Parrott said.
The McIntyre farm spans three generations. The farm is run by Loren and Kathy McIntyre, two of their sons and their wives, Brad and Jill, and Ben and Maria, and a host of grandchildren and other relatives.
"I am very honored to receive this recognition," Loren McIntyre said. "It has to do with a lot of other people, especially our kids. They worked hard on the farm, and (are) one of the parts that helped make us who we are today. We have a lot of grandkids that are working on the farm. It keeps them where they need to be, always learning."
Brad McIntyre added that the recognition did not come "without a lot of hard work and heartache sometimes."
"It is a great love that we have, and we love sharing with the community," he added.
Brad McIntyre said raising poultry has been a complete learning experience, one that's come with struggles and rewards.
"We feel fortunate to be here and leave something better for the next generation," he said. "Just as our father has done for us, we hope to do that for our children."