BOISE -- Sofia Huerta was just six years old when the United State's Women's Soccer team won the 1999 World Cup, beating China in penalty kicks.
Even if you're not a sports fan, you remember that iconic scene: Brandi Chastain taking the final kick, blasting the ball past the Chinese goalkeeper, the instant look of shock, followed by the infamous ripping-her-jersey-off moment, both fists up in the air.
PHOTOS: Boise's Sofia Huerta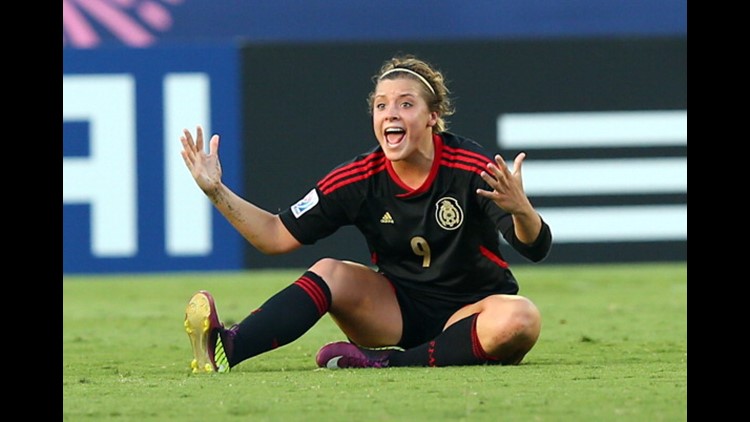 Chastain would become an instrumental component in Huerta's collegiate and professional career.
Growing up in Boise, Huerta was a multi-sport athlete, competing in track, basketball and soccer. She was a member of the Les Bois Soccer Club (now FC Nova).
Huerta, a two-time Idaho High School Gatorade Player of the Year with Centennial High School, was recruited to play at Santa Clara University.
Chastain, a Santa Clara alumni herself, is married to legendary head coach Jerry Smith and has been a volunteer assistant coach with the Broncos for seven years.
A four-year starter, Huerta scored 45 goals in her collegiate career and led SCU to three consecutive NCAA tournament appearances.
Huerta was an All-American in 2013 and 2014 and the West Coast Conference Player of the Year in 2014, among numerous other accolades scattered throughout the SCU record books.
When she wasn't selected to train with the United States U-20 team during her sophomore year of college, Huerta found a home with the Mexican National Team.
Huerta's father grew up in Mexico and has dual citizenship, giving her the opportunity to play for Mexico on the international stage.
In 2012, she traveled to Japan and scored three goals in the under-20 World Cup (where she played a majority of the tournament with a broken elbow).
Though Mexico didn't advance, the international experience would prove to be instrumental, as Huerta was called up to the senior national team in 2013.
That same year, Mexico faced the United States in an international friendly at RFK Stadium in Washington D.C.
Huerta came into the game in the second half, playing against U.S. greats, including Abby Wambach, who currently holds the record for the most international goals scored ever (man or woman), two-time FIFA player of the year Carli Lloyd, and former U.S. goalkeeper Hope Solo.
Though Mexico suffered their worst loss against the United States, 7-0, it was, again, the international experience that would prove invaluable.
In late 2014, after 13 appearances for Mexico, Huerta announced she would not play for Mexico, instead setting her sights on getting a call from the U.S. senior national team.
It was at Santa Clara where Huerta met Julie Johnston-Ertz, her current Chicago Red Stars teammate and member of the 2015 Women's World Cup championship team.
Johnson-Ertz was drafted by the Chicago Red Stars of the National Women's Soccer League (NWSL) in 2014. It was that funnel that led Huerta to Chicago in 2015, drafted 11th overall in the NWSL draft.
To date, Huerta has played in 63 NWSL games, has scored 19 goals and recorded 9 assists.
She was named the NWSL Player of the Month in May 2015 and was nominated for the NWSL Rookie of the Year award in 2015, finishing in third place.
In the 2016 NWSL offseason, Huerta was loaned to Australia's Adelaide United, where she scored eight goals in 12 games and was named the team's MVP.
During a phenomenal season with the Chicago Red Stars in 2017, U.S. national team coach Jill Ellis took notice and invited Huerta to a national team training camp.
Impressed with what she saw, Ellis asked FIFA for a change of affiliation in July 2017.
Technically, FIFA still recognized Huerta as tied to Mexico, even though she had not played for the red, green and white since 2014.
Per FIFA rule, players can request a one-time change of affiliation.
Huerta was granted that change in September 2017 and made her debut one day later against New Zealand, where she recorded her first assist on an Alex Morgan goal.
Today, Huerta has four caps with the national team. With the 2019 Women's World Cup just one year away, there is a chance we could see an Idaho-born player see playing time on the world's biggest stage.
If Huerta sees playing time against Mexico, she would be the first player to ever play against a country she once represented.