BOISE, Idaho — A Boise veteran and a member of Idaho's congressional delegation are stepping up to try and help our nation's heroes.
Jeremy Kitzhaber is a retired U.S. Air Force veteran of 22 years. As a result of his work in the military with chemicals and radiation, he was diagnosed with a terminal form of abdominal cancer.
Last year, KTVB talked with Kitzhaber as he worked to pass legislation to eliminate the nationwide military widows' tax, which offset payments for military widows and widowers. The tax dealt with payments surviving military spouses received from survivor benefit plans and DIC payments, or dependency and indemnity compensation.
The tax offset the two payments, preventing some spouses from receiving both payments they should have been eligible for.
Kitzhaber's wife is one of those who would have been affected by the tax after he passes away from his stage 4 cancer. He worked countless hours to lobby support from Congress and military widows to pass a bill to eliminate the tax. At the end of 2019, that bill was signed into law and the widow's tax will now be phased out over the next three years.
"As soon as they got enough votes to pass, I started shaking and I started crying," Kitzhaber said. "Tears ran for a few minutes and then the excitement started building back up and it was more like 'I can't believe we actually did this. We passed a bill in Congress.'"
He was recently honored with the VFW's national "Beyond the Call" award for his work on the legislation.
Boise veteran Jeremy Kitzhaber presented with national VFW "Beyond the Call" award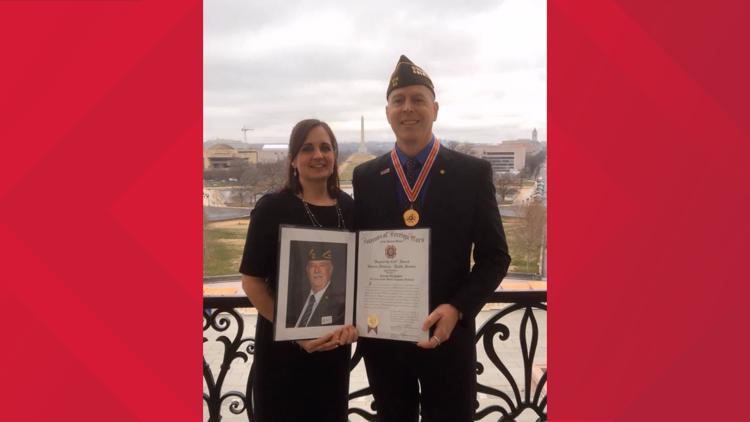 But his work doesn't stop there. Kitzhaber is now turning his attention to trying to change a bill that affects payments for medically retired combat veterans.
Sen. Mike Crapo (R - Idaho) introduced a bill in March, S. 3393, that aims to help fix the same issue.
"The goal of this bill is to get fairness for our veterans, particularly in this case, for those who have been injured in combat," Crapo told KTVB by phone.
Retired veterans injured while serving in the military should be able to receive both retirement pay and disability pay for their combat-related injuries. But currently, those who served less than 20 years have their retirement pay offset by the amount of their disability pay. That means some medically retired combat veterans aren't getting the full compensation they're entitled to.
"I've made working with our veterans on many different fronts one of the highest priorities of my office for years now," Crapo said. "We've worked very closely with our veterans across Idaho and frankly across the nation on issues as they come up. When they raised this issue, it was very clear that I wanted to be heavily engaged.
"We intend to make sure that this gets the strongest consideration and attention we can get it as soon as we can," Crapo added.
The offset affects more than 42,000 retired U.S. combat veterans.
"To me, it's kind of a slap in the face," Kitzhaber said. "You serve all this time and you get nothing for it if you don't make it to the finish line and the finish line here is kind of that 20-year mark."
While Kitzhaber isn't directly affected by the policy, he has friends he served with who are, which is why he is joining the fight to change the law.
"I'm just trying to help out my fellow veterans," he said. "If I can do it a little bit at a time, I will. If we can do it all at once, great, but it's time Congress addressed the pay offsets."
The Senate bill was co-introduced by Crapo and Sen. Jon Tester (D - Montana). Because it's a bipartisan bill, Crapo does not expect much push back on it. The next step is to get the bill out of committee to be heard on the Senate floor, which Crapo is hopeful they can do soon.
A similar bill, H.R. 5995, has been introduced in the House.