BOISE — UPDATE: The Boise Fire Department on Wednesday said Tuesday's fire at The Knitting Factory Concert House was accidentally sparked by a contractor cutting metal duct work. Officials said the spark ignited combustible materials inside the ducting. The flames escaped the duct, burned the wood floor joist on the second floor and into the wall.
About 60 percent of the popular music venue The Knitting Factory's interior was damaged after a fire broke out inside Tuesday evening.
The damage was caused by smoke, water and flames, officials said.
The Knitting Factory is currently shut down. The concert house was scheduled to host the performer Lizzo Thursday night; that show will be moved to the Revolution Concert House in Garden City instead, the venue posted on their Facebook page.
"First and foremost we would like to thank the Boise Fire Department for their quick and diligent response to yesterday's fire at Knitting Factory Concert House," the post read. "They worked tirelessly throughout the night to ensure the safety of our building and those surrounding it. We are truly overwhelmed with the outpouring of support from the community! At this time we are continuing to work with the Boise Fire Department and should have more information in the coming days."
The fire was reported just after 5 p.m. on 9th Street in downtown Boise.
"I was literally picking up tickets and two minutes later there's firetrucks," said Knitting Factory DJ Austin Graveley.
For many, the concert venue is a Boise staple where people go to enjoy music.
"It's where I cut my teeth, and started my DJ career," Graveley said. "I'm so glad it didn't happen during a show. I'm so glad everybody is safe."
Two lanes of 9th Street South were blocked between Front and Myrtle streets as crews worked, but have since been reopened.
A Boise fire official said three people were treated for minor smoke inhalation at the scene. No firefighters were injured.
Two-alarm fire at Knitting Factory Concert House in Boise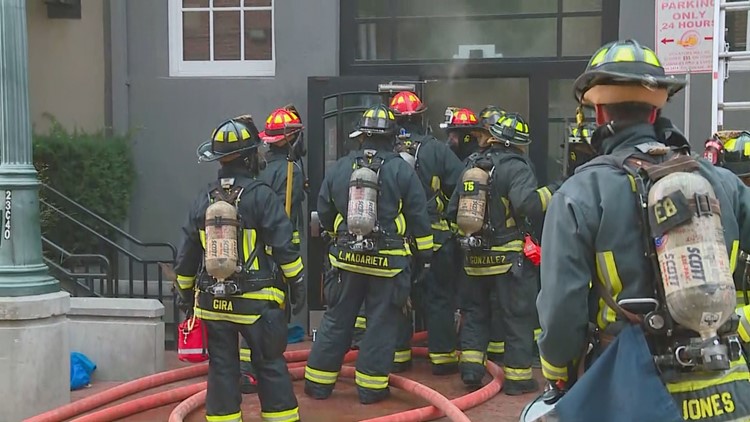 There was smoke inside surrounding businesses, and power was cut until further notice to other businesses as well.
Power was restored Wednesday afternoon to Ha'Penny Bridge Pub, Happy Fish Sushi & Martini Bar and Bonefish Grill, but the businesses hadn't reopened yet. Daniel Rhodes, managing partner for Ha'Penny and Happy Fish, said he expected them to be back open on Friday.
There are still a lot of questions about what caused the fire.
"We understand there was some work going on, some construction going on and a fire broke out so they called 911," said Division Chief of Special Operations Paul Roberts.
The cause of the fire is being investigated. Fire officials say they know the fire was burning underneath the wood floors and in wall spaces, but haven't pinned down the exact location of origin.