BOISE COUNTY — A pair of Texas billionaires, the Wilks brothers, are buying up private land across southwest Idaho and blocking access to public lands in some areas.
KTVB has been hearing from hundreds of you on social media: Many are enraged, or asking questions, or siding with the private property owners.
Boise County provided a map showing all the areas owned by DF Development - the company owned by Dan and Farris Wilks. The brothers are billionaires from Cisco, Texas who made their bucks in masonry and later the hydraulic fracking industry.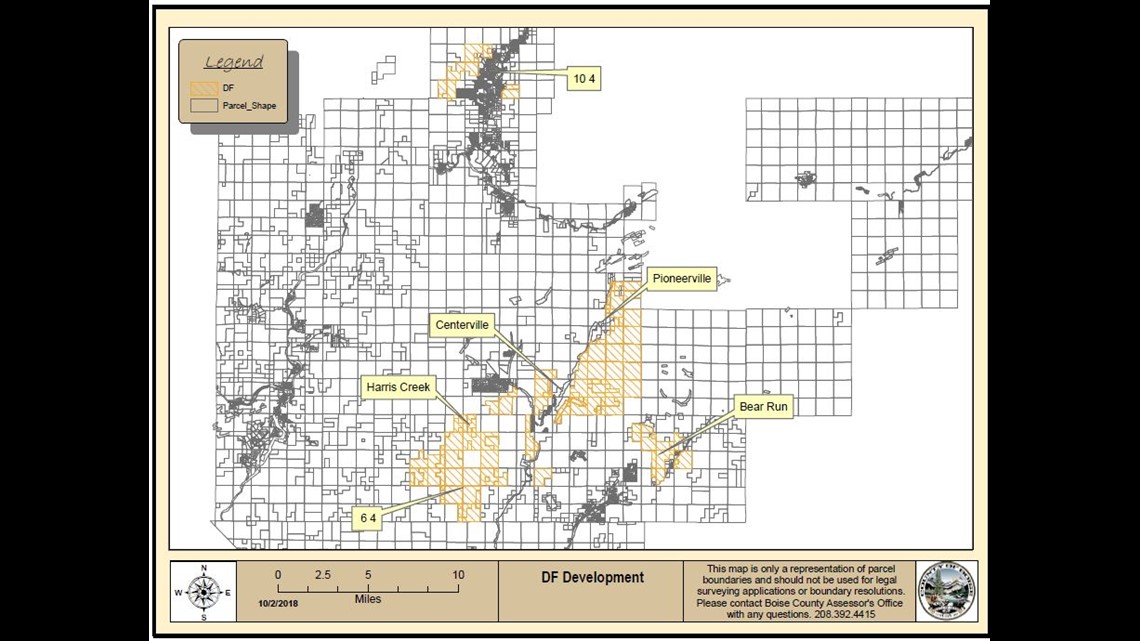 DF Development put up gates over a Forest Service road that runs through their private property in the Boise National Forest and leads to public lands. The gate is open, but a sign on it says "Private Road" and "No Trespassing".
NFS 374, known as Boise Ridge Road, is a popularly traveled road for hunters and recreationists past Bogus Basin. Thousands of acres around the road are DF Development land. Meridian-based Hoff Companies is another large private landowner along the road, and other surrounding land is listed as US land, USFS (United States Forest Service) and State land.
Not only are there thousands of acres surround NFS 374, DF Development owns parcels of land all over Boise County: up near Harris Creek Road, east of Pioneerville, surrounding Centerville, and even north of Crouch.
They don't just own land in Boise County; they own hundreds of thousands of acres across Adams, Valley and Idaho counties as well.
The Boise County Assessor told KTVB the Wilks own roughly 33,000 acres there - mostly bought in one single transaction in 2016. That's roughly 3 percent of the 1.2 million square acres that make up the county.
Tracing the history of the majority of DF Development land shows timber companies owned it: First, it was owned by Boise Cascade, who tells KTVB they sold all of their timberlands nationwide to Forest Capital Partners in 2004 as part of a "corporate restructuring". Boise Cascade says Forest Capital sold the land to Western Pacific Timber in 2005, who in turn sold to Potlatch Corp. in 2007 (now PotlatchDeltic) which is a diversified forest products company out of Spokane. Georgia-based Southern Pine Plantations purchased some of the land in Idaho from Potlatch in 2016, according to the Boise County Assessor, and just months later DF Development scooped it up in Valley, Adams and Boise counties.
Public access was allowed on the land under previous owners.
The biggest question that remains: do the Wilks have the right to put these gates on a Forest Service road running through their property, blocking people's access to public land?
The Forest Service told KTVB's Morgan Boydston the agency has what's called "perfected access" up to certain points on that private property, but there are a couple segments along the road they're still trying to figure out their access.
The Forest Service determined the road is not what's deemed a "cost-share" road, meaning different agencies didn't pitch in to maintain it. But whether the Forest Service maintains NFS 374 through the Wilks property or beyond is yet to be confirmed.
Many on social media brought up "prescriptive easements," which attorneys tell us Idaho law does recognize. Those easements can be tricky to prove and you need a lot of factual evidence to satisfy an establishment of a prescriptive easement. They are easements created by use: there's no signed or recorded document, and they come about when someone has been notoriously, openly, and continuously using the land for years, among other requirements.
If a prescriptive easement is argued in this situation it would likely have to be taken to court.