NAMPA, Idaho — Signs discouraging panhandling in the city of Nampa have stirred up a debate throughout the community and in City Council.
The question some people are asking about the signs is, are they even legal in the first place?
Attorneys with the Idaho Attorney General's Office told KTVB there is no state law that specifically deals with panhandling, but Idaho Code 50-308 delegates the right to regulate things like panhandling to cities.
That's where the concern in Nampa comes into play over their city codes.
"When the signs came out, I noticed they said, 'No Panhandling' and my question was, 'Is panhandling illegal?'" said Kenton Lee, a Nampa resident who brought up his concerns to the City Council. "I didn't think it was. And if it's not illegal, then why are the signs able to say 'No Panhandling?'"
That's the question Nampa Mayor Debbie Kling and the City Council are now trying to answer.
"We do have this on the City Council agenda for Monday night, our legal counsel is going to give us a brief on that so that it's clarified and I think that's very important," Kling said.
Once the attorney decides what is or isn't legal under city code, the council can discuss it, and how, to move forward on the issue.
In October, the city council unanimously voted to approve $1,800 be used to fund ten panhandling signs. Nine of them are already in place around various parts of the city. The tenth has not yet been put up.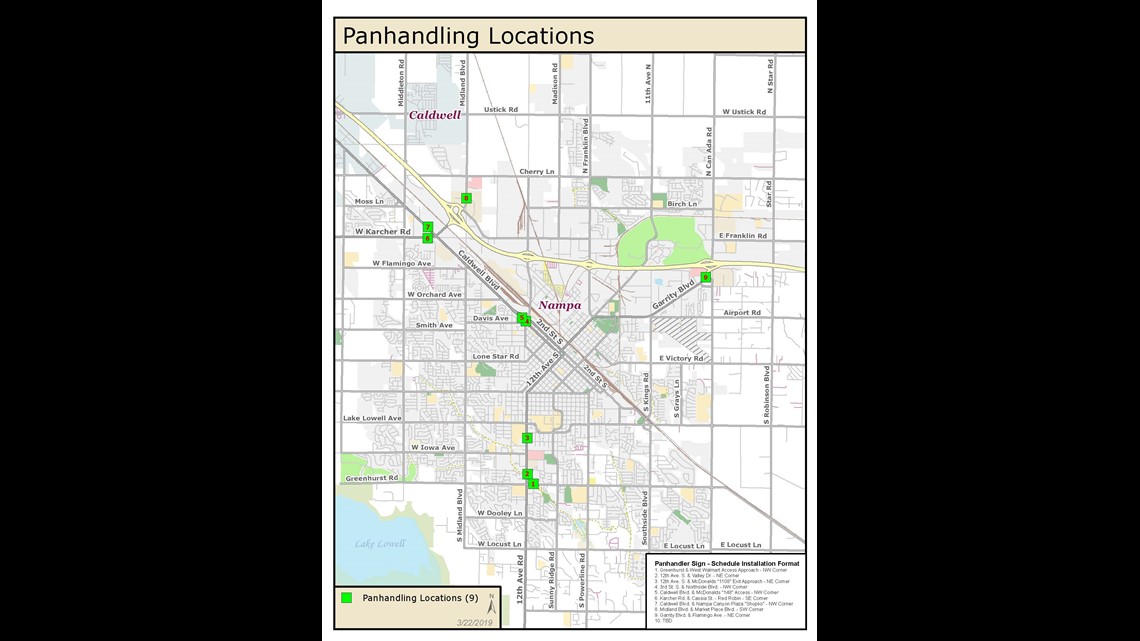 Kling said the idea to put up the signs came from a council member.
"So we had a council member with the City of Nampa who actually was traveling and saw some panhandling signs and really liked the verbiage on them and thought it might be good for our community to encourage not having panhandling," she said.
"So the intent with the panhandling signs was to discourage panhandling and to encourage people to give to their local charities," Kling added.
This way, she said, those charities can help those panhandlers.
The idea comes after discussion at the same council meeting where council members brought up a Texas study that showed a large majority of panhandlers use the money they get on drugs or alcohol.
Lee said that's why he first took issue with the anti-panhandling signs.
"It really rubbed me the wrong way," he said. "I know a couple of people – a couple of my friends – struggle with poverty and it's for reasons other than drugs and alcohol."
"I was really frustrated with how this whole situation came forth because I thought it wasn't treating panhandlers fairly by assuming they're using this money for drugs and alcohol," he continued. "And I don't like our community having a really fear-based approach to these people. I wish rather that we could take the time to listen to these people, find out their story and figure out the best way to help them."
Lee said as a resident, he doesn't really feel panhandling in Nampa is really a big problem.
"I think there are some instances of panhandling," she said. "It isn't something that I think has been a huge problem but we have had some, and our council member that brought this forward had seen some panhandling and had recent discussions with a council member who had also seen panhandlers."
Kling said the idea was more of a preventative measure than fixing a major problem.
She added it was based on some response she got on social media from the public after asking what they think about panhandling.
"I think the one prevailing thing that I'm hearing a lot of is that we want to keep our community of Nampa the way it is," she said. "We don't want to become like some of the major cities that are dealing with some issues around homelessness and panhandling."
Kling said the issue has opened a great community dialogue on both sides of the issue and she's enjoyed listening to the public's feedback about it.
She said it has also been a learning experience.
"The panhandling signs themselves have created some controversy," Kling said. "And I think possibly a step that we skipped as we walked through putting these signs up was talking to the community first – talking to the panhandlers and identifying what the need is and the why behind it."
She said that is something for the council to keep in mind in the future - to make sure they are getting community feedback as part of the process.
The city attorney will discuss the issue of whether panhandling and the signs, are legal at the next city council meeting on Monday, April 6 at 6 p.m.