NAMPA, Idaho — Amazon officially confirmed Thursday afternoon that a major warehouse project in Nampa will function as a fulfillment center for the retail giant.
The site, located at Franklin and Star roads, has long been rumored to be the future home of an Amazon distribution center. But city leaders and the company stayed mum on the construction, dubbed "Project Bronco."
Now, Amazon says the 650,000-square-foot facility will open in 2020. The distribution center will create more than 1,000 full-time jobs, the company vowed.
Idaho Governor Brad Little praised the company's investment in the Treasure Valley.
"Amazon's investment in Nampa will add job opportunities for our citizens and create a ripple effect of economic activity throughout the region," Little said in a statement. "The investment demonstrates that Idaho's workforce and economy continue to attract the ideas and businesses that thrive in a knowledge-based economy. We are proud that Amazon chose Idaho to expand and do business."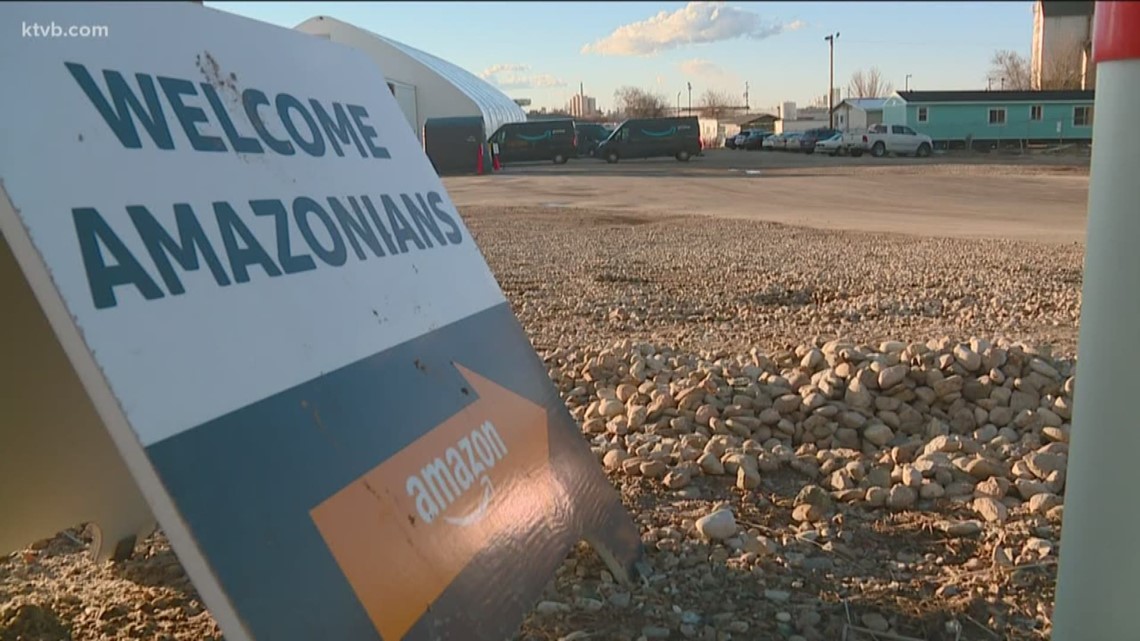 Nampa Mayor Debbie Kling also signaled her approval.
"It's such a relief to actually have an announcement that it's Amazon," she said. "It's been the big question that everybody's been asking so it's there and we're excited.
"I would like to thank Amazon for choosing Nampa to locate their newest fulfillment center," Kling added. "Their investment in local transportation improvements and a competitive employment package represents a significant opportunity for our community. The City of Nampa will do everything we can to support the expedited construction timeline and we look forward to being part of the Amazon family."
When asked what the new Idaho warehouse means for Treasure Valley and all Idaho Amazon customers, Kling said the goal is to hopefully get orders even more quickly.
"They're really looking to enhance overnight, single-day delivery. Very quick deliveries," she said. "And so if the product is in this fulfillment center, which hopefully it is, it will be very fast."
Customer orders for products including books, toys, and electronics will flow through the distribution center. Amazon says all jobs will pay a minimum $15 per hour, with comprehensive benefits including full medical, vision, and dental insurance as well as a 401(k) with 50% match.
Kling is hopeful that will help some people closer to home because currently, around 2,000 people drive from Nampa to Boise to work - many for a wage lower than $15 per hour.
A traffic impact study required by the City of Nampa indicates the fulfillment center will add more than 7,000 vehicle trips and 350 truck trips per day, which many people have voiced concerns about.
According to Kling, both Amazon and the city are working to accommodate that growth.
"Amazon is making a considerable investment in the infrastructure to support what they're doing here with their build and we greatly appreciate that," she said. "We are looking at Garrity and the timing flow of our lights and looking at a couple roundabouts in the nearby area. We have actually quite a bit to get done within the next short while."
KTVB reached out to Amazon for comment and the company sent a statement:
"Regarding your questions regarding our Nampa, Idaho fulfillment center, there are a variety of factors that we take into account when deciding to launch a building such as customer demand, a dedicated and talented workforce and great local support – and we've found all of those in Nampa, Idaho and surrounding communities. We are thrilled to be a member of the Nampa community and thankful for the support we've received from city, state and community leaders. Our Nampa, Idaho fulfilment center will give us the opportunity to create over 1000 great jobs. We are always looking for more ways to better serve our customers, and our fulfillment center in Nampa will allow us to reach more customers throughout the great state of Idaho."
Amazon plans to have the center open in 2020, though an exact date was not given.