BOISE, Idaho — What do Idahoans think about major policies and debates across the state?
Boise State University's School of Public Policy aimed to answer the question above in the eighth year of their statewide survey. Researchers gave a special presentation of their findings at the Idaho State Capitol on Friday.
From Nov. 10 to Nov. 17, 2022, 1,000 adults living in Idaho were surveyed on a collection of focused questions aimed at giving an accurate picture statewide on views and beliefs on things like education, the economy, progress as a state and outlook into the future.
The methodology of the survey is important, so before diving into the results, KTVB received an explainer from Dr. Matthew May, Survey Research Director, School of Public Service:
"It is a representative sample of the entire state, 1,000 Idaho adults, and our margin of error is +/- 3%," May said. "That means we can be fairly confident that if you asked everybody in the state the exact same question, the overall answer would have been within three points +/- what our survey says."
You can find the full report here, but the first key finding shows there is increased pessimism among Idahoans in terms of the direction the state of Idaho.
"I think the thing that was most surprising to us about the survey was the rising concern that we're seeing among Idahoans for what the future may look like," May said. "For the first time in our eight years history of the survey, we've seen the question right direction versus wrong track fall within the margin of error, in terms of the gap between those two positions. So, meaning that is more or less statistically tied. So, we are seeing less optimism, more concern about what economic conditions in Idaho may look like in the future, and a sizable portion of Idahoans are saying that they are concerned about meeting their monthly expenses each month."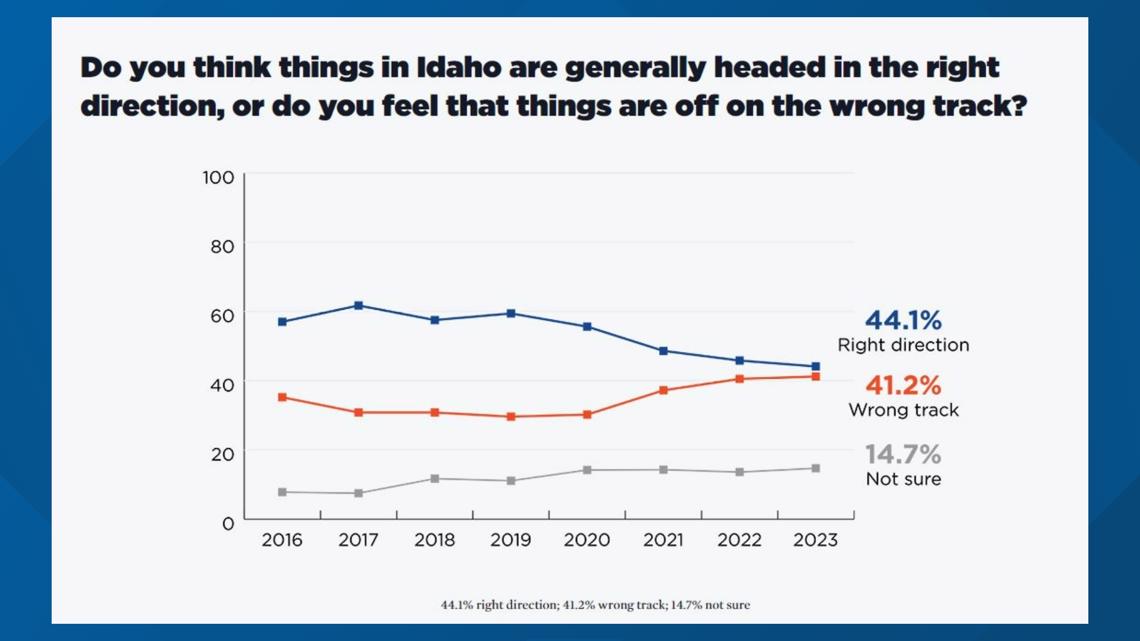 When asked, 'rank the issues that you want lawmakers to tackle,' Idahoans ranked legislative priorities in the following order:
Education
Jobs and the economy
Housing
Healthcare
Taxes
72% of surveyed Idahoans ranked education as the top legislative priority.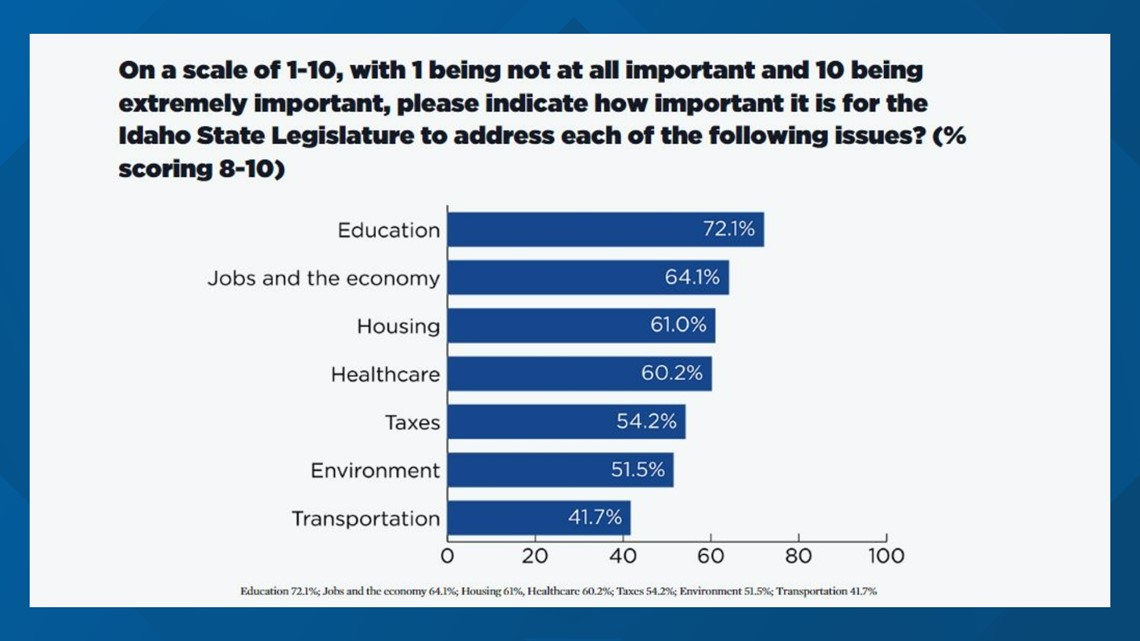 The survey also asked an opened-ended question about what the top priority for public K-12 education should be, with the results varying from academics (24%), to teacher support (17%) and academic quality (13%).
Concerns about classroom content, like critical race theory, came in at about 10% with some other factors added in.
How about the conversation on property taxes across Idaho. Feel like they are an issue?
An increased amount of response from previous years indicates at almost 56%, Idahoans think property taxes are too high. About 32% believe they are about right.
Property taxes can be correlated to growth in areas across Idaho.
Survey question, 'would you say that the state of Idaho is growing too fast, too slow, or about right?'
67% say growth is too fast, and about 23% say it is about right.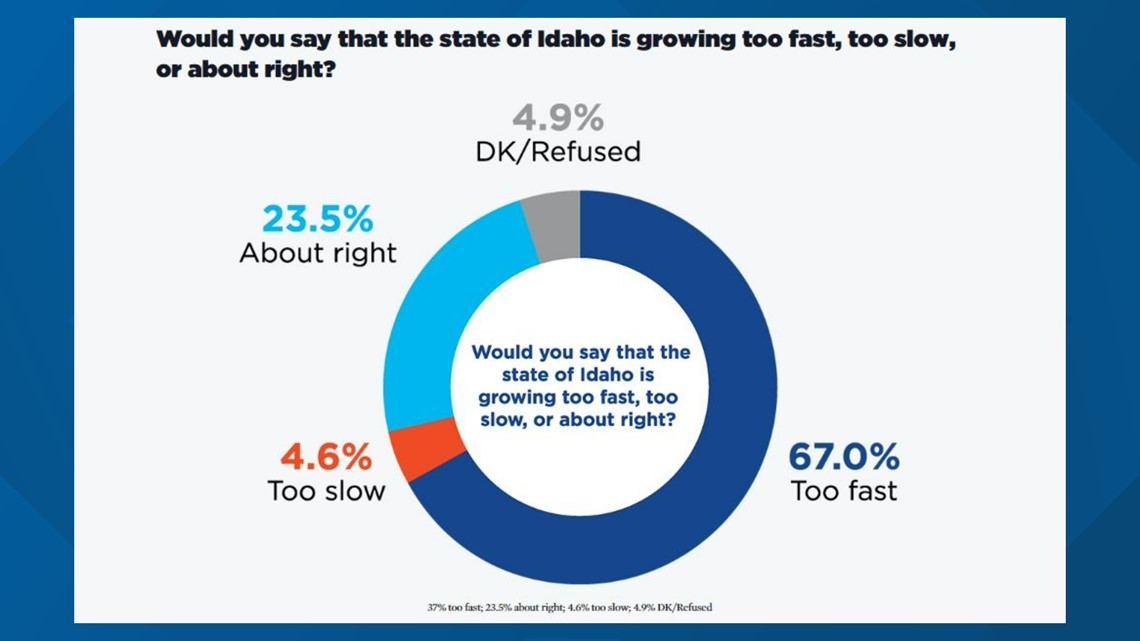 An interesting finding in the survey was thoughts on getting rid of the sales tax on groceries.
This has been a legislative conversation for years, but we have yet to see something get to the governor's desk on it, though. To be clear, the grocery tax would apply on food items like fruits, veggies, meat, bread, and dairy.
82% of those surveyed across Idaho favor the idea of eliminating the grocery tax. 60% strongly favor the policy idea, while about 22% somewhat favor it. This is across all political spectrums, meaning Idahoans have a strong message on that policy.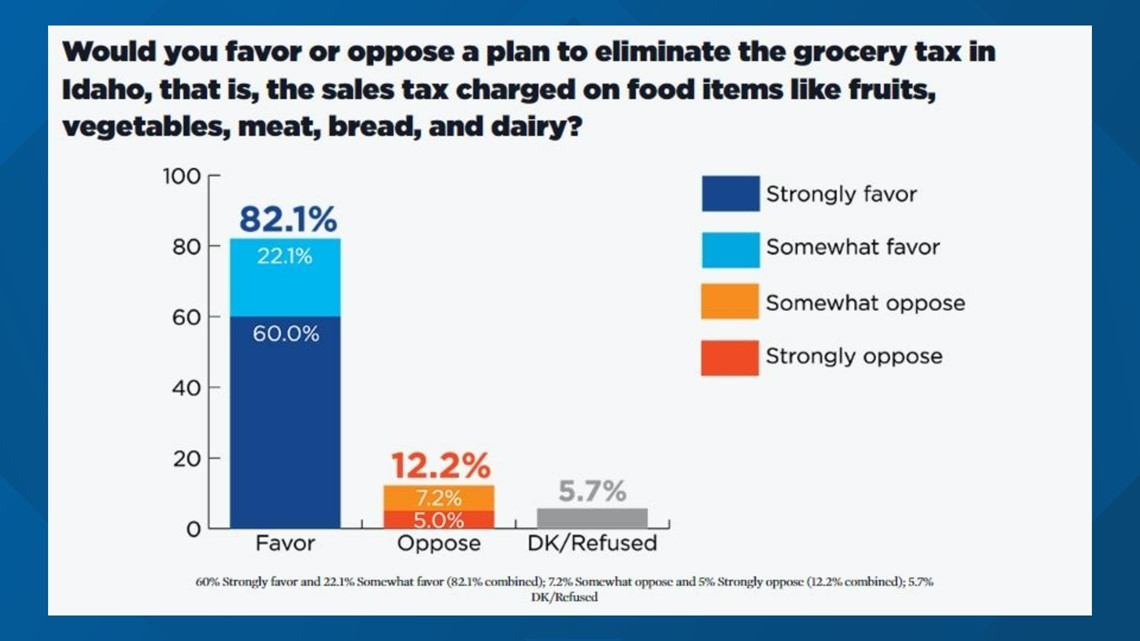 Boise State University conducts the survey to help inform lawmakers in the Gem State, stakeholders and the general public, according to May.
"We do the survey every year because we think it's important that policymakers, decisionmakers and leaders throughout the state know what Idahoans think in general," May said. "We try to just provide information on a range of policy issues that are likely to come before them each legislative session, so that they can fold it into their calculus – or not – so that they can use it to aid their decision-making processes."
For more key findings or to download the entire survey, click here.
Join 'The 208' conversation: