Why it took 383 days to find a man dead in his own living room
9Wants to Know examined records to investigate why it took more than a year to find a missing man's body in his own living room.


A neighbor's call to 911 started the investigation into the whereabouts of 68-year-old Charles Frary -- or Chuck, as his family knew him.
Ten days after that 911 call, Chuck's own children filed a missing persons report.
But the effort to find the missing man dragged on for more than a year in the midst of miscommunication between city agencies and a lack of preparedness to handle what they describe as Denver's worst hoarding case on record.
The search for Chuck never extended far from his home. Turns out, it didn't need to: 383 days after that neighbor's call for help, Chuck's remains were discovered in his living room.

His autopsy revealed his body had mummified. He was likely dead in his home all along.
They repeatedly delayed the search, citing a lack of proper protective gear that was not ordered for 12 months after police first entered the home, according to city records.
9Wants to Know learned of additional details from neighbors and family members that apparently went overlooked by police investigators -- details that Chuck's children feel could have provided insight into how their father became lost at home.
Chapter one
:
'Bad living conditions'
9Wants to Know examined records from the Denver Department of Public Health and Environment and city police to investigate why it took the two city agencies more than a year to find this man's body in his own living room.
City records show that Chuck Frary's home at 4401 W. 50th Ave has been on their radar for at least a decade.
In 2007, the department opened the first case looking into the house after receiving a complaint that parts of the wood exterior were falling apart. The records show the city came to no conclusion. The case was open nearly a year, but records show very little was ever done to improve the inside or outside of the home. The records do not indicate that the city ever made contact with Chuck during that time.
Chuck Frary's children said their father showed increasingly severe signs of mental illness over the last 30 years and pushed them away. They rarely, if ever, were allowed into their father's house.

"You go to his house; you'd knock on the door," said Kevin Frary, one of Chuck's sons. "He comes out, he doesn't let you in the house, so we didn't know he was living as bad as he was, really."
In May 2012, the city opened another case regarding Chuck Frary's house after a member of Neighborhood Inspection Services filed a complaint alleging "bad living conditions," with no additional detail included in the report.
City records indicate the case was closed after multiple attempts to talk to Chuck, because "no one ever at location."
The case was closed in June 2013.
The next time the city's public health department was contacted about Chuck Frary's house was in October 2017. The request came from a Denver police detective, who indicated he already believed Frary was dead inside, and likely buried in trash.
Chapter two
:
'The situation was extremely bad'
That was eight months after police records show one of Chuck Frary's neighbors, Cheryl Lanaster, called 911 asking for someone to check on Chuck on Feb. 4, 2017.
"I don't know if he's gone, or died, so that's why I called," Lanaster told 9Wants to Know.
Police responded to the call, with help from the fire department. Denver police Cmdr. Barb Archer said the officers had difficulty entering the home because the doors were forced closed by large amounts of apparent trash and debris.
"The fire department pushes it open further enough so that an officer can kind of crawl inside and do a cursory look through," Archer said. "The situation was extremely bad."
Denver police determined that the house was too full of debris to do any further investigation inside the home at that time. It's unclear whether they spoke to other neighbors, and the family said no one was contacted by police about this Feb. 4 incident.
Instead, one of Chuck's son's, Brian Frary, told 9Wants to Know a man who identified himself as Mike Galusha was the first person to inform Chuck's children that the 68-year-old was missing or may be dead.
"He knocked on my door like at 9 o'clock at night. It was weird," Brian Frary said. "He just said he was a neighbor of my dad's and they haven't seen him in months, so they thought he was missing."
That visit prompted the family to call police. They returned to Chuck's house on Feb. 13, 2017, and again the next day to help the family look around. The family filed a missing person's report.
Again, officers chose not go deep inside the home due to the amount of garbage but apparently did open the door to look around.
"The family members and the officers kind of crawled through the house a little bit," Cmdr. Archer said. "(Police) weren't able to get deep inside the residence, again, due to the amount of trash and piles of debris."
Family members, however, say they entered the living room, where Chuck's body was ultimately discovered but did not see him.
"We go there and we look, and we say 'he's not here' and then we start searching everywhere else," said Jeff Frary, another of Chuck's three sons. "Again that's where they say they found him -- he wasn't there that day in our opinion."
Despite the condition of the home, police did not contact the Denver Department of Public Health and Environment in February 2017.
Instead, city records show that police did not attempt to contact DDPHE until the following July.
On July 26, 2017, a detective wrote in notes provided to 9Wants to Know that "this residence may contain a deceased man, and I'd like to address it as soon as possible."
However, the detective called the city's helpline, 3-1-1, and the director of public health inspections, Danica Lee, said her office did not receive that information.
"You guys never received that call. Any explanation about what happened there?" 9Wants to Know reporter Jeremy Jojola asked.
"No I wasn't able to find any information about what occurred there," Lee said.
"So I guess there was a black hole that happened between the detective, 311 and your agency then," Jojola said.
"I can't speak with a whole lot of certainty about what might have happened," Lee said.
It wasn't until October that Denver police and residential health investigators connected on Chuck's case for the first time.
Chapter three
:
'Unfit for human habitation'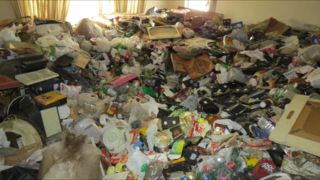 Denver police and health inspectors entered Chuck Frary's house on Oct. 26, 2017. Despite some in-depth notes included in city records, both police and city health investigators agreed that this search was not a thorough search of the house.
"At the time of the site visit we were really able to establish scope and severity of the house," said Danica Lee, director of Public Health Inspections. "And I have to say it's one of the most severe hoarding cases that we've investigated."
The city posted an order to vacate outside the house calling the residence unfit for human habitation. Investigators determined that they would return later with more protective equipment.
"We did not have the appropriate protective equipment to really go in and do a thorough investigation within the home at that point," Lee said. "This was a case that really challenged the resources and the program that we have."
It wasn't until Feb. 16, 2018 -- more than a year after police first entered Chuck Frary's house, city records show -- that the protective equipment was "reviewed and ordered." The next site visit was scheduled for Feb. 22.
On Feb. 22, residential health investigators and police found Chuck's body in his living room after approximately 30 minutes of searching, according to a public health inspection records.
Chuck Frary's remains were removed by the office of the medical examiner the next day.
"The whole thing was heartbreaking," said Chuck's daughter, Susan Frary. "But it did bring a little closure to everything because we had been searching for a year, and we're finally -- for me it was a big thing to finally put him to rest."
'I'd hate for a year to go by and someone discovers this guy is dead'
For more than a year, Chuck Frary's missing person's case remained open, finally converted to a homicide case when his remains were identified by the Office of the Medical Examiner in the days after his body was located.
For several more weeks, his death was investigated as a homicide. The homicide investigation is currently considered "inactive."
"Do you think this case was handled well?" 9Wants to Know reporter, Jeremy Jojola, asked Lee, of the Denver Department of Public Health and Environment.
"We are very proud of the job our team did," Lee said. "Unfortunately in a situation like this… Many of them can take much longer to resolve than this, and [we] ... took unprecedented action to try to reach some resolution in this case."
"How do you think this all happened?" Jojola asked Denver police Cmdr. Archer. "Where you know a guy died in his house, he was declared missing and took a whole year, it sounds like a perfect storm of just being forgotten about?"
"I don't know if it's forgotten about," Archer said. "It's somebody who lives a very isolated, very reclusive lifestyle, and their neighbors; people in the area who will typically who will call us and bring these situations forefront, saying 'hey something's not right here.'"
Which is why, neighbors and family said, they reached out to the city at multiple points throughout the last year, asking about the status of the investigation and the whereabouts of Chuck.
In Cheryl Lanaster's first 911 call, she said to dispatch: "I'd hate for a year to go by and someone discovers this guy is dead -- this guy died in his house."