From 2011 to 2017, Idaho saw nearly 1,600 gun deaths. Of those, 1,399, or 87% were suicides; another 131 were assault deaths.
The state is using a grant from the Centers for Disease Control and Prevention to launch a Violent Death Reporting System. The system will bring together more layers of detail about violent deaths than previously tracked.
Seeing the state's high suicide rate, with ranked fifth in the country in 2017, played a role in the Idaho Bureau of Vital Records and Health Statistics and the Department of Health and Welfare's decision to seek the CDC grant for the tracking program.
"Before this program, we could tell you the who, the what, the when, the where, but now with this program we're hoping to explain the why," said Chris Wilson, state program manager. The bureau will compile information from coroners and local law enforcement to better understand the trends behind violent deaths.
This deeper understanding could lead to policy and law changes, Wilson said.
In Colorado, for example, officials were able to track that most first responders who died by suicide were much more likely to be veterans.
The question was then raised about what needs veterans may have as they transition from jobs. The result was enhancing their ManTherapy.org website to include and promote resources focused on positive mental and physical health for veterans, active military personnel and their families.
Idaho's among the last 10 states to join the National Violent Death Reporting System, launched in 2003.
The violent deaths tracked in the system are not just caused by guns. But if a firearm was involved, the system will track which type of gun was used.
Idaho is one of 11 states in the U.S. that has not had a mass shooting in 2019, according to the Gun Violence Archive. Gun deaths still occur at high rates in Idaho, especially when it comes to suicides. Suicides by firearms was the third-leading cause of injury mortality for Idahoans from 2013 to 2017, following car wrecks and falls, according to the Division of Public Health's 2017 Mortality report.
With the new system, Idaho will track 600 data fields, including general circumstances; mental health diagnoses; intimate partner problems; and homicide-specific circumstances, such as drug involvement or a hate crime.
The level of detail in the data will be dependent on what law enforcement and coroners report to the state.
"The limit of the program is we only know what we're told," Wilson said. "I take the data that's already existing and put it into the system. We're really dependent on coroners and law enforcement for the program."
Death certificates and reports from police and coroners will be analyzed for trends and information that could point to why a death occurred.
This year the state is doing a pilot program of the data with Ada and Canyon counties. In 2020, Wilson said they will begin tracking in all 44 counties.
The process of getting reports to the office has been easy, according to Canyon County Coroner Jennifer Crawford, who said there is no additional steps or information-gathering needed on the coroner's office end. She thinks tracking violent deaths in-depth like this is important.
"With accurate statistics, (Idaho) can begin to look at what preventative measures or programs are needed or to be improved upon to help avoid these types of deaths in the future," she told the Idaho Press in an email.
In Idaho, six counties make up roughly 75% of the state's violent deaths, Wilson said. Those are Ada, Canyon, Twin Falls, Bannock, Kootenai and Bonneville counties.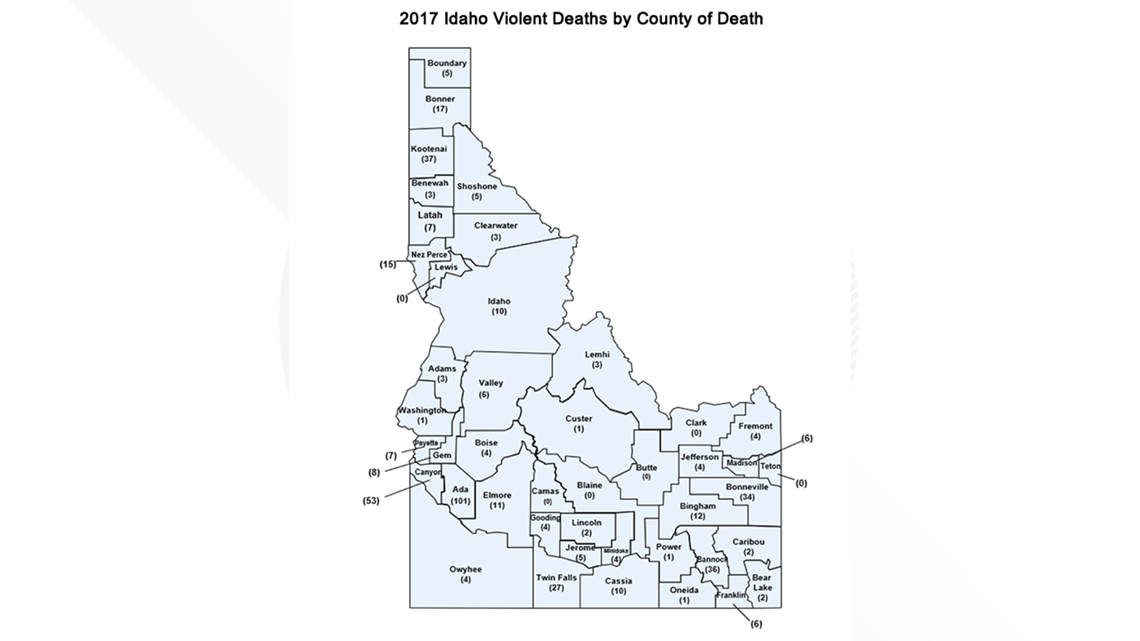 In 2017, there were just over 430 deaths throughout the state that qualified for violent death data. Wilson has been meeting with officers and coroners at their association meetings introducing himself and the tracking system so that they're on board come 2020.
Data from tracking the violent deaths will take a little longer to be available to the public though. Statewide data collected from 2020 will not be uploaded to the CDC's national tracking system until the summer of 2022.
If you or someone you know is in crisis or needs support, please reach out for help by calling or texting the Idaho Suicide Prevention Hotline at 208-398-4357. All calls are confidential and anonymous.
You can also contact the National Suicide Prevention Lifeline at 1-800-273-TALK.