BOISE, Idaho — Scroll down to see the latest daily updates.
Friday, April 23
5:21 p.m. - Idaho adds more than 200 total cases Friday
The Gem State added 165 new confirmed and 46 new probable cases of the coronavirus. Since the pandemic first began, Idaho has reported 149,486 confirmed cases of COVID-19.
Idaho has reported a total of 585,090 people in the Gem State have received a vaccine. Of those, 140,719 people have only received the first dose and 444,371 people have been fully vaccinated.
So far, only 179 breakthrough cases have been reported.
Idaho reported four new deaths, increasing the state's coronavirus-related death toll to 2,033. The death happened in the following counties:
Bannock (1)
Bonner (1)
Gem (1)
Kootenai (1)
4:28 p.m. - Health and Welfare waits to resume Johnson & Johnson vaccine use
The Idaho Department of Health and Welfare announced on Friday that officials are now reviewing the CDC's new guidelines regarding administering the Johnson & Johnson COVID-19 vaccine.
The Center for Disease Control and Prevention's Advisory Committee on Immunization Practices voted to end the pause on the use of the Janssen vaccine that started once six women developed blood clots after receiving the vaccine.
The state, according to officials, will review the CDC's recommendation and will release more information at a later time.
Thursday, April 22
5:35 p.m. - 224 total new COVID-19 cases reported on Thursday, no new deaths
Idaho health officials are reporting 163 new confirmed and 61 new probable cases on Thursday for a total of 224 new cases.
There have been 185,993 confirmed and probable cases since the pandemic began. Of those, 149,321 are confirmed cases.
There are no new deaths to report on Thursday.
A total of 105,510 people have recovered from the virus.
Here is a breakdown of the vaccine doses administered in Idaho:
581,574 people have received a vaccine
145,819 people have received only the first dose of the vaccine
435,755 people have been fully vaccinated
Ada County is the hotspot in the state with 55 new cases.
New statewide positivity rate numbers for the week of 4/11 - 4/17 put the PCR at
4.7%, which is the same as the previous week.
There were 21,780 tests performed, which is down from 24,530 the week before.
More positivity rate breakdown:
Ada – 4.8%
Canyon – 3.8%
Elmore – 9.6% (Highest in SW Idaho)
Wednesday, April 21
5:29 p.m. - Nearly 300 new cases reported in Idaho
Idaho is reporting 222 new confirmed and 76 new probable cases for a statewide total of 298 new cases on Wednesday.
There has been 185,759 confirmed and probable cases total. And of those, 149,158 are confirmed cases.
There are six more deaths to report bringing the overall total to 2,029. Deaths were reported in Ada, Canyon, Kootenai (2), Madison, and Owyhee counties.
104,969 people have recovered from COVID-19.
Here's a breakdown of the latest vaccination numbers:
577,163 people have received a vaccine
149,752 people have received only the first dose of the vaccine
427,411 people have been fully vaccinated
The hotspots are Ada (66), Kootenai (40), and Canyon (30) counties.
The latest hospital numbers as of Monday, April 29 show 143 hospitalized with COVID-19 and 44 in the ICU.


Tuesday, April 20
5:26 p.m. - More than 200 total cases reported
The Gem State reported 153 new confirmed and 61 new probable cases of the coronavirus pandemic. No new deaths were reported but one was removed from Bonner County, leaving the state's death toll at 2,023.
Since mid-December, 574,086 people in Idaho have received a COVID-19 vaccine, with 153,546 people only receiving one dose and 420,540 people being fully vaccinated.
Monday, April 19
5:23 p.m.- 321 new cases, 6 deaths reported between Sunday-Monday
290 new confirmed and 31 new probable COVID-19 cases were reported in Idaho between Sunday and Monday. Ada, Canyon and Kootenai counties reported the majority of the 321 new cases.
Since March 2020, the state has reported 185,227 confirmed and probable COVID-19 cases. Of that number, 148,783 have been confirmed.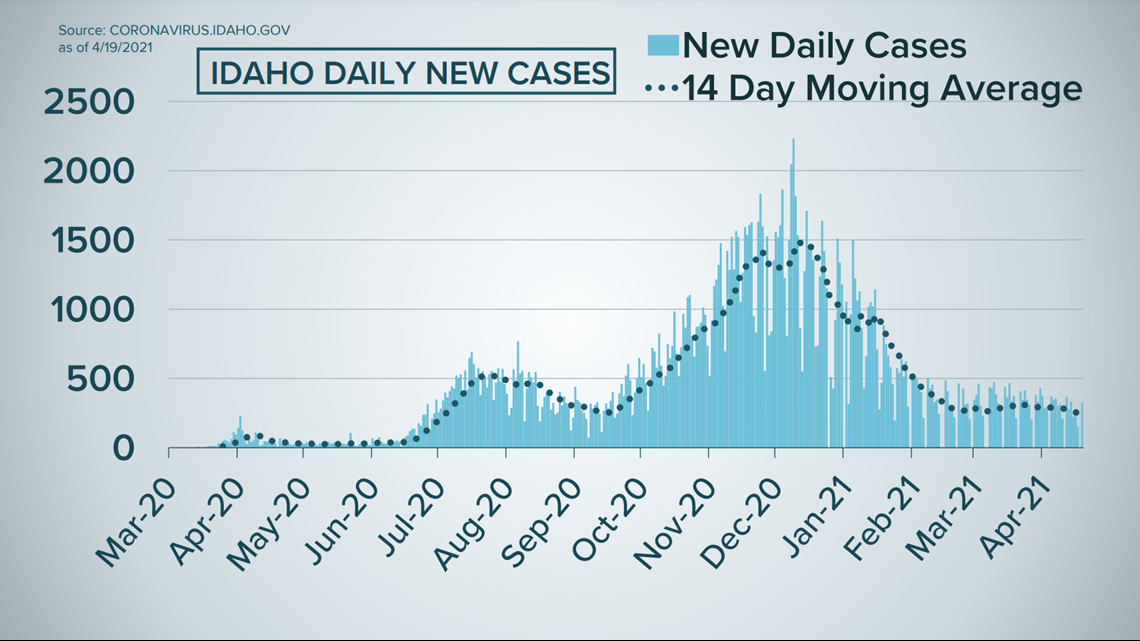 Six new deaths were reported Monday, bringing the statewide death toll to 2,024:
Ada- 1
Bannock- 1
Bonner- 1
Kootenai- 3
570,163 Idahoans have received at least one dose of the COVID-19 vaccine. Additionally:
155,035 people have received only the first dose of the vaccine
415,128 people have been fully vaccinated
156 vaccine breakthrough cases
An estimated 104,739 recoveries have been made.
How we track Idaho COVID-19 cases:
Every day, KTVB works diligently to ensure we are providing the most accurate, up-to-date information regarding COVID-19 cases in Idaho.
We track our numbers the same way the Idaho Dept. of Health and Welfare does. However, we update our total number more frequently, meaning our numbers may not always match with the state.
The state updates the number of total cases every day around 5 p.m.
"Recoveries" are tracked by the Idaho Department of Health and Welfare. The state says it "Is defined as the number of persons with a confirmed COVID-19 diagnosis who are alive 30 days post-onset (or referral date if onset is not available) based upon total cases, deaths, and any clinical info available."
"Confirmed" cases refer to a person who was tested for COVID-19 and tested positive.
"Probable" cases refer to a person who is exhibiting symptoms after coming in contact with a person who has a confirmed case. Though a probable case is not confirmed, the state will monitor the person for symptoms.
"Total cases" refers to the number of confirmed and probable cases combined. We will always clarify how many of the total cases are confirmed and how many are probable in our daily updates.
At KTVB, we're focusing our news coverage on the facts and not the fear around the virus. To see our full coverage, visit our coronavirus section, here: www.ktvb.com/coronavirus.