BOISE, Idaho — Scroll down to see the latest daily updates.
Friday, January 15
5:53 p.m.- 1,139 new cases reported Friday; State surpasses 1,600 virus-related deaths
1,139 confirmed and probable COVID-19 cases were reported in Idaho on Friday. 698 of the new cases are confirmed and 441 are probable. Since March 202, Idaho has reported 154,470 cases of COVID-19. Of that number, 126,578 are confirmed.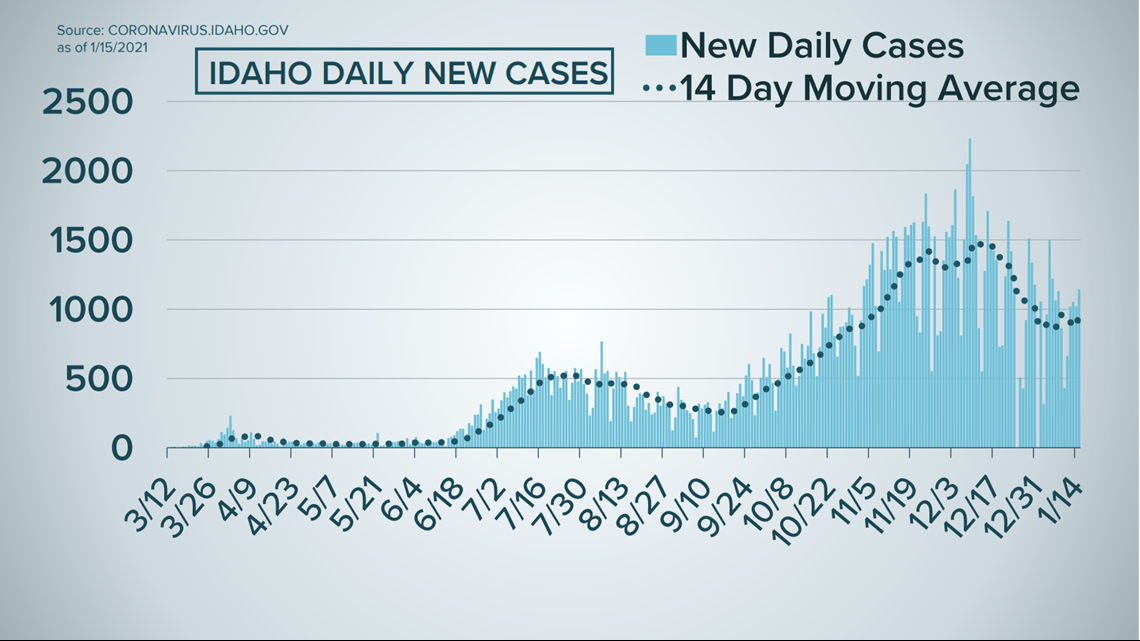 13 new deaths were reported Friday, bringing the total number of virus-related deaths to 1,606. Here's how the deaths break down by county:
Bonner- 3
Kootenai- 3
Bannock- 2
Bonneville- 2
Canyon- 2
Bingham- 1
The latest hospitalization data from Jan. 13 reported 345 Idahoans in the hospital with COVID-19, 90 of which are in the ICU.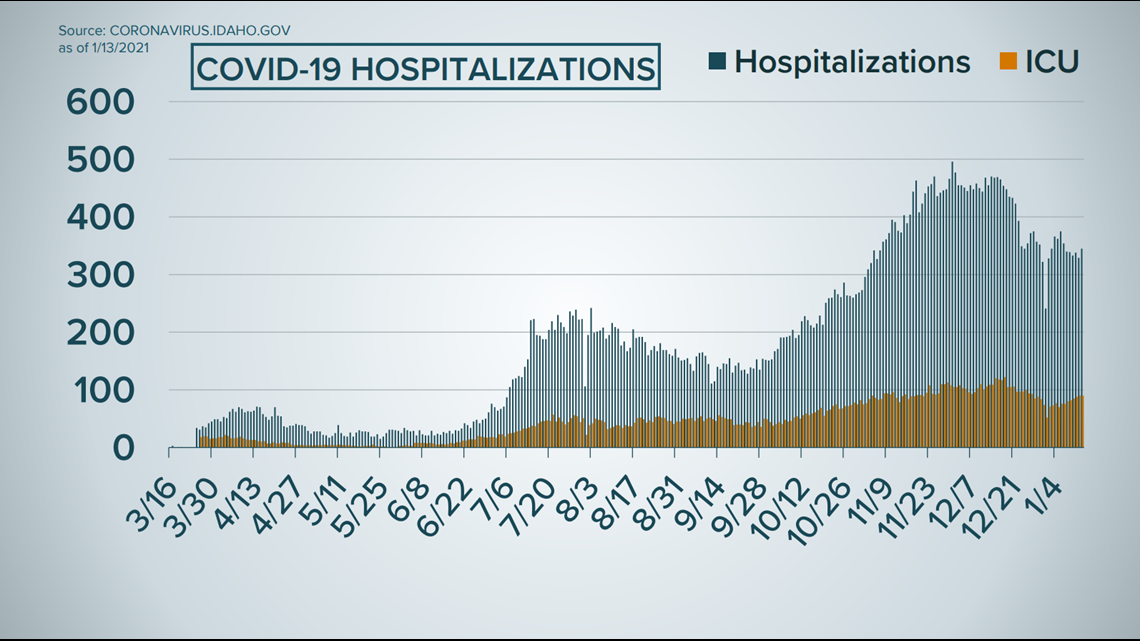 51,233 doses of the COVID-19 vaccine have been administered in Idaho. 41,424 people have received the vaccine. 31,685 people have received the first dose and 9,739 have received both doses.
An estimated 70,163 have recovered.
Thursday, January 14
6:01 p.m. - Over 1,000 new cases reported, nearly a quarter of them in Ada County
The Gem State reported 738 new confirmed and 279 new probable cases of COVID-19 on Thursday, bringing the state's total number of cases to 153,358, 125,880 of which were confirmed.
The number of estimated recoveries grew to 69,460. The state has also given 46,703 doses of the COVID-19 vaccine to 37,777 people.
The state's death toll grew to 1,593 after 17 new deaths were reported. The deaths happened in the following counties:
Ada (2)
Bannock (1)
Blaine (1)
Bonner (1)
Canyon (3)
Clearwater (2)
Gooding (1)
Jerome (1)
Minidoka (2)
Owyhee (1)
Power (1)
Washington (1)
Wednesday, January 13
7:14 p.m. - 1,049 new cases, 15 deaths reported on Wednesday
Idaho added 746 new confirmed and 303 new probable COVID-19 cases on Wednesday, according to data provided by the state as well as local health districts.
Ada, Kootenai and Canyon counties continue to be the hot spots for new cases in Idaho. Ada reported 186 cases on Wednesday, while Kootenai reported 152 and Canyon reported 132.
Fifteen new deaths were also added to the state's overall death toll, which now stands at 1,576.
Of the deaths reported on Wednesday, five occurred in Bannock County. Ada, Bonneville and Kootenai counties each had two deaths. And Benewah, Gem, Shoshone and Teton counties each reported a single death.
According to data released by the state, 35,296 Idahoans have received the COVID-19 vaccine, with 7,280 of them having received both doses.
The state also released the latest hospitalization data. As of Monday, Jan. 11, 338 people were hospitalized statewide with COVID-19, with 88 of them in the ICU.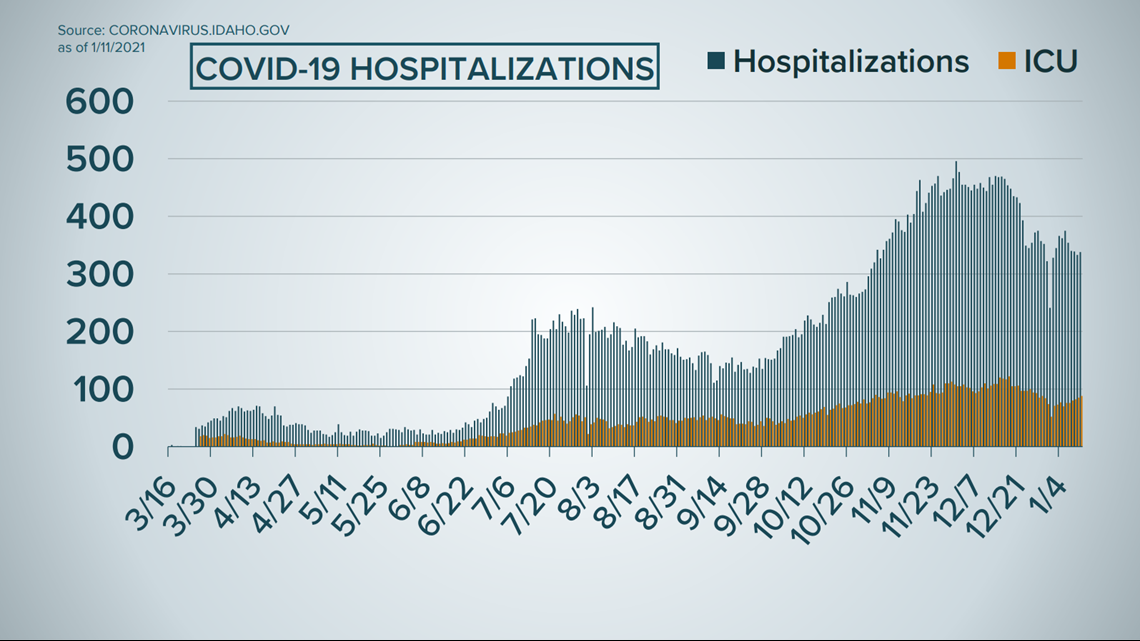 Tuesday, January 12
6:22 p.m. - 1,015 new cases, 11 deaths reported on Tuesday
State and local health officials reported 712 new confirmed and 303 new probable COVID-19 cases in Idaho on Tuesday.
Of the new confirmed cases, Ada County had the most with 174. Kootenai County in North Idaho had 157 and Canyon County had 80.
There have now been 124,396 confirmed coronavirus cases in Idaho since the pandemic reached the state last March.
Also on Tuesday, 11 new deaths were reported, bringing the statewide death toll to 1,563.
Three of the new deaths were in Ada County and two were in Canyon County, while Bingham, Franklin, Gem, Gooding, Oneida and Twin Falls counties each reported one death.
As of Tuesday afternoon, 33,168 people in Idaho had received the COVID-19 vaccine, including 5,692 who had received both doses.
As you can see in the graph below, the 14-day moving average of cases in Idaho has begun to tick upwards after dropping for several weeks.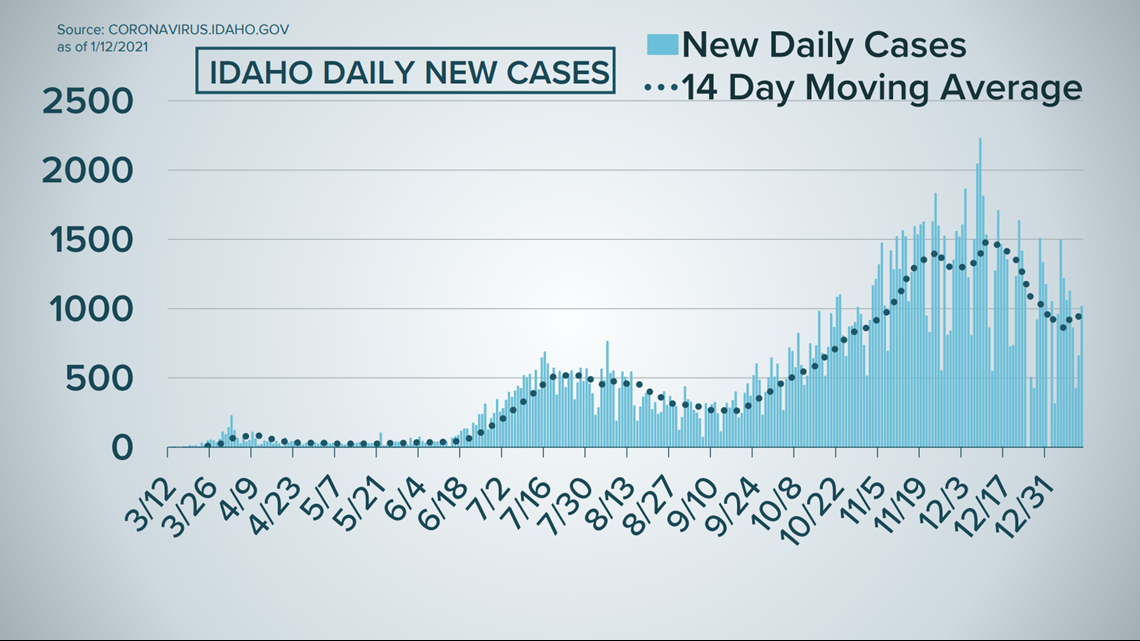 Monday, January 11
6:24 p.m. - 559 new confirmed cases reported Monday, 16 new deaths
The Gem State added 691 new COVID cases on Monday (559 new confirmed and 132 new probable cases). That's bring the total confirmed and probable cases to 150,239 (123,684 of those are confirmed cases) since last March.

The death total in Idaho now stands at 1,552. 16 more deaths were reported on Monday. Here is where they occurred: Ada (6), Bannock (1), Bonner (1), Bonneville (1), Gooding (1) Kootenai (4), Lewis (1), Nez Perce (1)
There have been 66,796 recoveries to date.
In Idaho, 31,487 people have received the vaccine. Of those, 27,152 have had one dose, while 4,335 people had gotten both doses.
The total number of vaccine doses administered statewide is 35,842.
The hotspots are Ada County with 133 new cases, Canyon County at 90, and Kootenai County with 132.
The latest hospital numbers as of Jan. 9 are 283 hospitalized with COVID-19. Only 38 facilities are reporting, as opposed to around 45-50 normally. 72 people are in the ICU.
Sunday, January 10
6:15 p.m.- 425 new cases, 6 new deaths reported Sunday
The Gem State added 425 new COVID-19 cases (334 confirmed and 91 probable) to the total number of cases. Since March, Idaho has reported 149,667 confirmed and probable cases of COVID-19. Of that number, 123,125 are confirmed.
Six new deaths were reported Sunday, all in Ada County. The statewide death toll now stands at 1,536.
Idaho has received 34,755 doses of the COVID-19 vaccine. 30,875 people have received the first shot and 3,865 have received both shots.
An estimated 66,012 have recovered.
How we track Idaho COVID-19 cases:
Every day, KTVB works diligently to ensure we are providing the most accurate, up-to-date information regarding COVID-19 cases in Idaho.
We track our numbers the same way the Idaho Dept. of Health and Welfare does. However, we update our total number more frequently, meaning our numbers may not always match with the state.
The state updates the number of total cases every day around 5 p.m.
"Recoveries" are tracked by the Idaho Department of Health and Welfare. The state says it "Is defined as the number of persons with a confirmed COVID-19 diagnosis who are alive 30 days post-onset (or referral date if onset is not available) based upon total cases, deaths, and any clinical info available."
"Confirmed" cases refer to a person who was tested for COVID-19 and tested positive.
"Probable" cases refer to a person who is exhibiting symptoms after coming in contact with a person who has a confirmed case. Though a probable case is not confirmed, the state will monitor the person for symptoms.
"Total cases" refers to the number of confirmed and probable cases combined. We will always clarify how many of the total cases are confirmed and how many are probable in our daily updates.
At KTVB, we're focusing our news coverage on the facts and not the fear around the virus. To see our full coverage, visit our coronavirus section, here: www.ktvb.com/coronavirus.