Sunday, November 22
5:45 p.m. - Idaho adds 828 total cases of the coronavirus, bringing the state closer to 92,000 cases
Based on data released by the state and its public health districts, Idaho added 188 probable and 640 confirmed cases on Sunday. The Gem State has reported 91,653 total and 78,311 confirmed cases of covid.
One new death was reported in Bonneville County, bringing the state's death toll to 851 since the pandemic began in March.
The state's two-week average of daily new cases reported increased to 1,358.214.
Saturday, November 21
6:09 p.m. - Idaho adds 946 total cases and two deaths on Saturday
The Gem State added 108 probable and 838 confirmed cases of covid, which pushes Idaho over 90,000 total cases since the pandemic began. Idaho has reported 77,671 confirmed cases.
One person died in Canyon County and another died in Bonneville County. Idaho's death toll from the virus is now 851.
This week, ending today, Canyon County has reported the most cases in the state with 1,020. Ada County reported the second most with 971, followed by Kootenai County's 806.
Estimated recoveries increases to 37,504.
Friday, November 20
5:55 p.m. - Idaho reports 1,624 total new cases, over 425 reported in Ada County
The Gem State added 1,324 new confirmed and 300 new probable cases of COVID-19 on Friday. Idaho has reported 76,833 confirmed and 89,764 total cases since the pandemic began in Idaho back in March.
Ada County reported the most cases with 437, followed by Canyon County's 124 new cases and Bonneville County's 93.
A record-high 404 people are currently hospitalized and 89 people with the virus are in the ICU, down from the record of 68 on Nov. 11.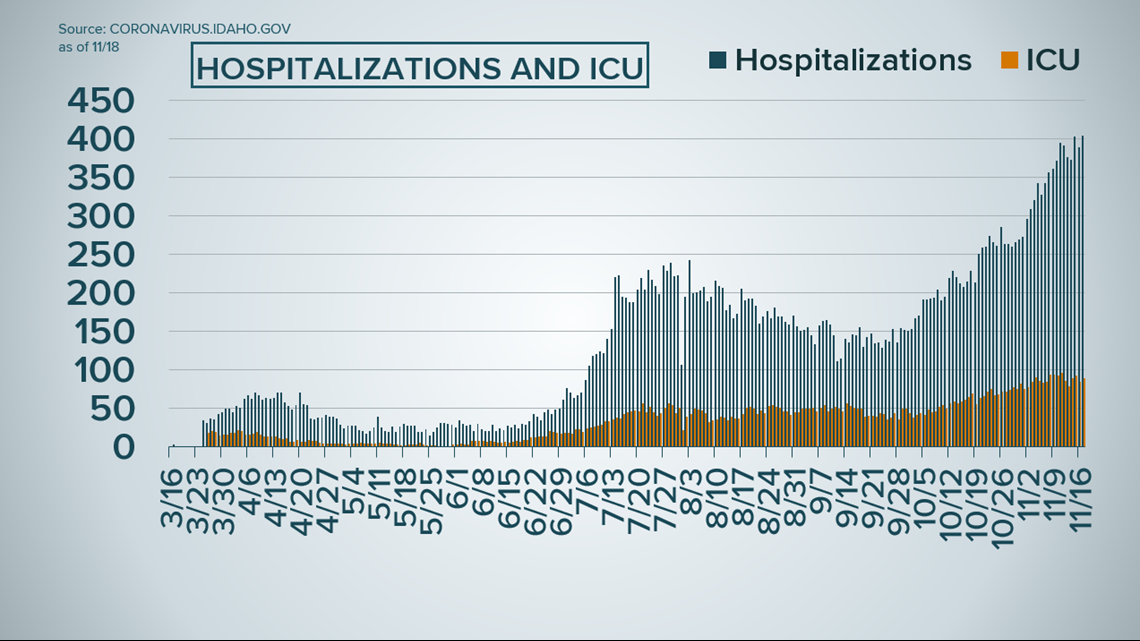 11 more COVID-19-related deaths were reported, bring the state's toll from the pandemic to 849. Those deaths happened in the following counties:
Ada (2)
Bannock (1)
Canyon (1)
Caribou (1)
Cassia (2)
Gooding (1)
Jerome (1)
Kootenai (2)
3:34 p.m. - Southwest District Health issues new health advisory, urging people to follow Stage 2 guidelines
Southwest District Health, the public health department which oversees those counties, issued the advisory after a continued spike in COVID-19 cases in communities in those counties. The surge of cases is straining the healthcare system of rural southwest Idaho, which has led to a growing backlog of cases that public health workers and contract tracers have to prioritize.
Officials said in a press release Friday that based on data since Oct. 23, the top five sources of COVID-19 exposure were:
Small living spaces like college dorms, senior care facilities and correctional facilities
Typical family dwellings or spaces shared with roommates
Traveling, particularly people traveling the state in a car
Large gatherings like sporting events or religious services
social events like family get-togethers and parties
The public health district emphasized that this not a public health order, saying that is "an advisement to the community regarding a significant public health risk, and includes associated strong recommendations for action."
11:00 - Boise State University reports highest number of COVID-19 cases
Just before students are about to go on Thanksgiving break, Boise State is reporting 121 new COVID-19 cases for the week of 11/13-11/19. That's the highest number BSU has reported since they began keeping track in August.
There 19 faculty and staff, 14 residential students and 88 off-campus students that have tested positive for the virus during the past week. That represents less than 1 percent of the entire campus population.
BSU has 153 isolation beds available for campus residents who test positive for the virus, and those who are symptomatic and waiting for test results. Only six beds are currently in use.
Thursday, November 19
8:53 p.m. - Nampa City Hall to close to the public starting on Friday
The city of Nampa has announced that City Hall will be closed to the public beginning on Friday, Nov. 20.
The city said in a news release that the closure will last at least two weeks and reopening will depend on the status of COVID-19 in the community.
City Hall staff will still be available by appointment only.
All departments will continue to serve residents and customers through online services, phone and email communication.
• Clerk's Office (208) 468-5415 | clerks@cityofnampa.us
• Human Resources (208) 468-4412 | hrstaff@cityofnampa.us
• Mayor's Office (208) 468-5401 | mayor@cityofnampa.us
For more information, call the mayor's office at (208) 468-5401, email mayor@cityofnampa.us or visit cityofnampa.us.
6:32 p.m. - 1,605 new cases, 23 deaths reported in Idaho on Thursday
Idaho health officials reported 1,306 new confirmed and 299 new probable COVID-19 cases on Thursday, for a total of 1,605 total cases. The state has now topped 1,000 daily cases in 13 of the last 14 days and the two-week daily average is more than 1,300 cases.
Of the new cases, Canyon County had the most with 238. Ada County was close behind with 220. Kootenai County had 137.
More than 75,000 people in Idaho have tested positive for the virus since the pandemic reached the state in March.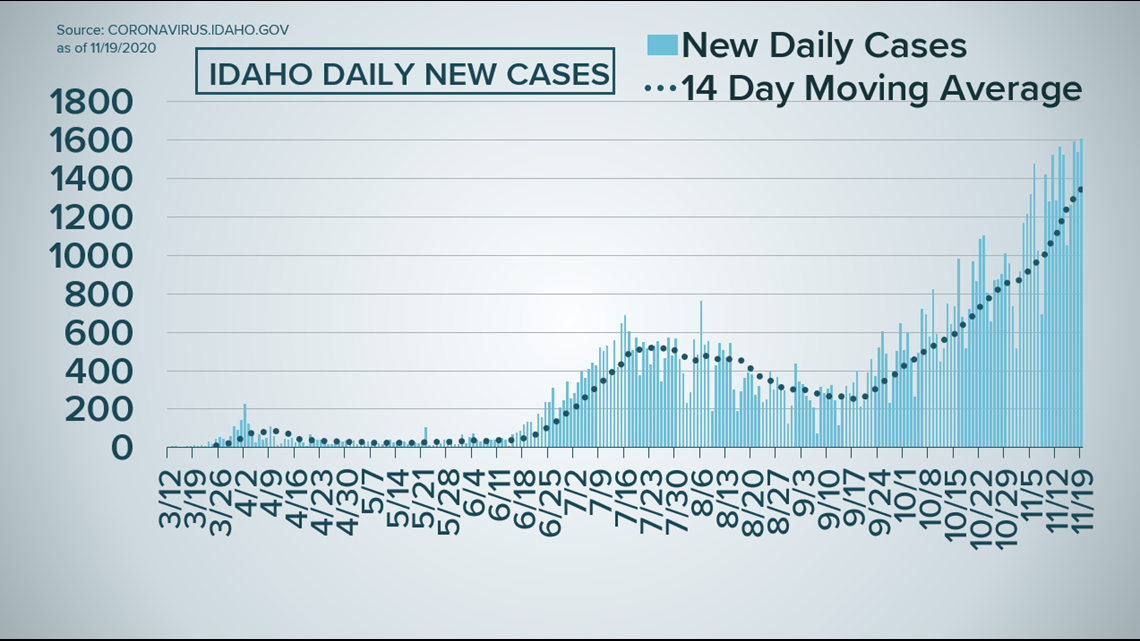 Also on Thursday, health officials reported 23 additional deaths due to coronavirus-related illnesses. Eight of the deaths occurred in Ada County, while Twin Falls County reported three deaths. Bannock, Canyon and Kootenai counties each reported two deaths, while Bonneville, Caribou, Elmore, Fremont, Jerome and Minidoka counties each reported one.
The statewide death toll now stands at 838.
The Idaho Department of Health and Welfare also released new data on the state's positivity rate - that is, the percentage of tests coming back positive for the virus. The new data shows Idaho's positivity rate continues to increase; as of last week, the rate was 18.8%, up from 16.7% the week before. The rate has steadily risen in recent weeks.
According to the state, a record number of tests - 37,507 - were performed statewide last week.
11:05 p.m. - Caldwell schools to shift to remote learning on Nov. 30
After Thanksgiving vacation (Nov. 23-27), schools in the Caldwell School District will shift to remote learning through December. Students should bring their Chromebooks home this week so they will have them to use when school resumes online only on Monday, Nov. 30.
Wednesday, November 18
6:16 p.m. - Idaho adds nearly 1,300 confirmed cases, Ada County reports 263 new cases
The Gem State added another 1,297 confirmed and 235 new probable cases of COVID-19, bringing the total number of cases to 86,435. Of those, 74,203 are confirmed.
Twelve new deaths were reported, putting Idaho's death toll from the pandemic at 815. Those deaths occurred in these counties:
Idaho (1)
Jefferson (4)
Kootenai (3)
Lemhi (1)
Power (1)
Washington (1)
Bonner (1)
With 75,203 confirmed cases and 815 deaths in Idaho since the pandemic, one person dies from COVID-19-related illnesses for every 91.05 confirmed cases.
The state's biggest hotspots of new cases were Ada County (263), Canyon County (173), Bonneville County (130) and Twin Falls County (114).
As of Nov. 16, 389 people were hospitalized with COVID-19 and 84 people were in the ICU.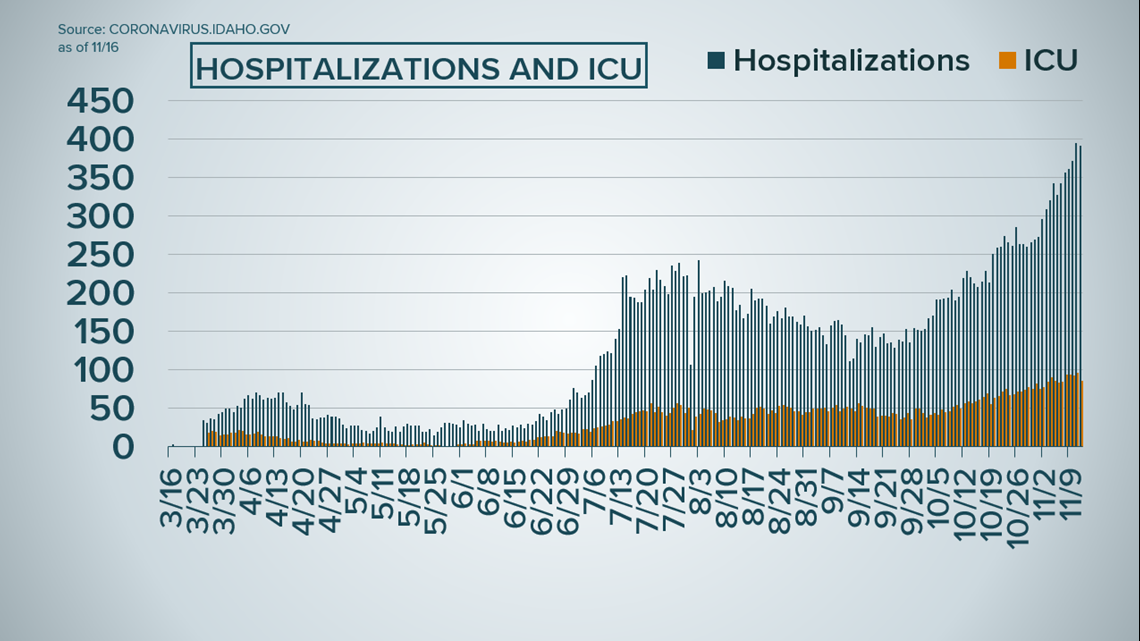 The estimated number of recoveries grew to 36,339.
11:45 a.m. -- Elmore County closes county offices, courthouse to public
Elmore County announced Wednesday that the courthouse and county offices will be closed to the public, beginning immediately.
Courts hearings will continue to be held remotely, and the county departments affected will continue to function.
"You are asked to utilize phone, email or internet services to conduct business," officials wrote. "Some offices may be able to set appointments on a limited basis."
The county has seen 538 confirmed cases of coronavirus and five deaths.
Tuesday, November 17
6:43 p.m.- Nearly 1600 new cases, over 30 deaths reported on Tuesday, shattering previous case and death records
Tuesday was a record-breaking day for COVID-19 in the Gem State. 1,590 new cases were reported, 1,215 confirmed and 375 new probable cases. Ada County added 278 cases to its total, while both Canyon and Kootenai counties added over 100 new cases.
There are now 85,125 total cases in Idaho. Of that number, 72,906 are confirmed.
31 deaths were reported in Idaho, the highest number of deaths reported in a single day since the pandemic began in May. Six were in Ada County, five were in both Bonneville and Twin Falls counties, three were in Bannock County, and one death each was reported in Bingham, Canyon, Caribou, Cassia, Elmore, Jerome, Kootenai, Lemhi, Lincoln, Minidoka, Power and Shoshone counties.
Additionally, the second death in the 18-29 age range was reported Tuesday. It is not known where that death occurred.
Southwest District Health reduced the number of deaths in Gem County by one. KTVB has reached out to SWDH for clarification. There are now 803 deaths in the Gem State.
An estimated 35,948 recoveries have been made.
2:45 p.m. - NNU to return to in-person learning on Wednesday, Nov. 18
Northwest Nazarene University announced that its students and faculty will return to in-person classes on Wednesday.
This after a week-long "stay-in-place" directive was put into place that is set to expire Tuesday night.
New safety measures will carry over from the directive including saliva screening four times a week, grab-and-go meal service, and continued restrictions for campus visitors and vendors.
Face-to-face classes will start Wednesday and go through next wednesday before Thanksgiving break.
1:53 p.m. - Eagle High School to close for the rest of the week due to COVID-19 impacts on staff, teachers
A letter has been sent home to parents providing details of the situation. Below is copy of that letter.
Dear Parents/Guardians and Students at Eagle High School,
West Ada School District takes the health of our students and staff seriously. We know that during this pandemic we have and will need to make decisions quickly based on data. Over the past few days, we have been monitoring case numbers, absences and other data to determine when and if a school needs to be closed and moved to remote learning. We have discovered that at Eagle High School we are unable to sustain operations with the current amount of absences in our office and teaching staff. We are also seeing a continued trend of positive cases and quarantine numbers at EHS. For these reasons, we will go to remote learning at Eagle High School for the rest of the week beginning tomorrow. Students will be logging on and following their daily schedule November 18-20. Thanksgiving break begins November 23.


Monday, November 16
7:17 a.m. - Boise mayor to hold COVID-19 presser at 9 a.m.
Boise Mayor Lauren McLean is set to hold a briefing on the state of the COVID-19 pandemic at 9 a.m. The mayor will be joined by officials from St. Luke's, Saint Alphonsus and Primary Health.
The event comes after Idaho Gov. Brad Little ordered the state to move back to Stage 2 of the coronavirus reopening plan and activated the National Gaurd in response to rising case numbers. Unlike governors in some surrounding states, Little has not ordered a mask mandate, travel restrictions, or told businesses to close.
Monday, November 16
6:55 p.m. -- 1,260 new and probable cases reported in Idaho on Monday
71,691 confirmed cases (1,085 new confirmed, 175 new probable, 1,260 new total)
83,344 confirmed and probable cases
Deaths: 773 – 10 new – Ada (1), Bingham (1), Canyon (1), Caribou (2), Kootenai (1), Bonneville (3), Jefferson (1)
Note: Over the weekend, South Central reduced Twin Falls County's deaths by 1
Recoveries: 35,530 Hotspots: Ada (150), Canyon (89), Nez Perce (126), Kootenai (130)
Latest hospital numbers as of 11/13
376 hospitalized with COVID-19 (Down from record high of 395 on 11/11)
79 in ICU (Down from record high of 96 on 11/11)
On 11/11 (the record day), 50 facilities reported numbers.
For 11/13 (Friday), 45 facilities reported. The number of facilities fluctuates on every report from the state usually somewhere between 40-50. The state doesn't break down which facilities are reporting, and which aren't.
2:20 p.m.- Central District Health updates school color categories, no change from previous week
Central District Health (CDH), the public health district that oversees Ada, Boise, Elmore, and Valley counties, updated its school categories on Monday afternoon.
The categories did not change; Boise County is in the "yellow" category, meaning community spread is present but not severe. Ada, Elmore, and Valley counties are in the "red" category, meaning community spread within the districts is high.
Sunday, November 15
6:00 p.m.- Idaho surpasses 70,000 confirmed cases as nearly 1,100 cases are reported Sunday
1,099 new cases were added to Idaho's total on Sunday. 1,049 of those cases are confirmed while the other 50 were considered probable. There are now 82,245 confirmed and probable cases in Idaho. Of that number, 70,606 are confirmed.
Six deaths were reported Sunday, four in Ada County and two in Canyon County. Bonneville County removed one death from its total. The death toll in Idaho is now 764.
An estimated 35,215 have recovered.
At KTVB, we're focusing our news coverage on the facts and not the fear around the virus. To see our full coverage, visit our coronavirus section, here: www.ktvb.com/coronavirus.