BOISE, Idaho — Scroll down to see the latest daily updates.
Every day, KTVB works diligently to ensure we are providing the most accurate, up-to-date information regarding COVID-19 cases in Idaho. We track our numbers the same way the Idaho Dept. of Health and Welfare does. However, we update our total number more frequently, meaning our numbers may not always match with the state.
The state updates the number of total cases every day around 5 p.m.
"Recoveries" are tracked by the Idaho Department of Health and Welfare. The state says it "Is defined as the number of persons with a confirmed COVID-19 diagnosis who are alive 30 days post-onset (or referral date if onset is not available) based upon total cases, deaths, and any clinical info available."
"Confirmed" cases refer to a person who was tested for COVID-19 and tested positive.
"Probable" cases refer to a person who is exhibiting symptoms after coming in contact with a person who has a confirmed case. Though a probable case is not confirmed, the state will monitor the person for symptoms.
"Total cases" refers to the number of confirmed and probable cases combined. We will always clarify how many of the total cases are confirmed and how many are probable in our daily updates.
Saturday, September 26
7:13 p.m. - Over 425 confirmed cases and two new deaths reported
Idaho added 434 confirmed and 50 probable cases of the coronavirus on Saturday, bringing the state's total number of cases to 40,296 with 36,911 confirmed cases.
Two new deaths, one in Boise and Payette counties, were reported by the Idaho Department of Health and Welfare. The Gem State's death toll is now 460.
The state now estimates that 21,468 cases have recovered since the pandemic began and 1,811 people have been hospitalized since then.
Friday, September 25
5:35 p.m. - Man at Snake River Correctional Insitute dies from COVID-19
The Oregon Department of Corrections announced an inmate at Snake River Correctional Insitute passed away on Friday due to COVID-19, the eighth inmate to die from the coronavirus.
The man was between the ages of 65 and 75 and died at a local hospital, according to officials.
Further details of the man were withheld due to privacy concerns.
5:19 p.m. - Idaho reports most confirmed cases since early August
The Gem State added 546 confirmed and 55 probable cases on Friday, the single-highest daily total of new cases since Aug. 6 when 719 cases were reported. Idaho has reported 36,477 confirmed cases and 39,757 probable and confirmed cases since the pandemic began in March.
Two new deaths were reported, one in Jefferson and Twin Falls counties, bringing the state's death toll to 458.
Ada County reported the most cases with 107, followed by Madison and Kootenai counties' 48 new cases each.
An estimated 21,291 cases have recovered.
Thursday, September 24
5:29 p.m. - New confirmed cases hit 6-week daily high
Idaho reported 431 new confirmed cases on Thursday, the highest daily total since August 14 when the state reported 514 confirmed cases. In addition to the confirmed cases, there were also 90 new probable cases reported on Thursday. Since the beginning of the pandemic, Idaho has had 35,931 confirmed cases statewide.
Of the new cases, Canyon County and Ada County had the most with 51 and 50 cases reported, respectively. Kootenai County and Twin Falls County were close behind with 44 and 42 new cases, respectively.
Also on Thursday, the state reported 3 new deaths - one each in Adams, Canyon and Twin Falls counties. The statewide death toll now stands at 457.
As you can see in the graph below, Idaho coronavirus cases have been trending upwards over the last several days.

11:30 a.m. -- Emmett High School to shut down Friday
The closure, which will only last a day, will allow for classrooms to be cleaned and disinfected, officials say.
Athletic events will proceed as scheduled Friday. No other schools in the district are set to close.
Students and staff who have had contact with the infected students will be contacted by Southwest District Health with quarantine instructions.
Wednesday, September 23
5:35 p.m. - 369 new confirmed and probable cases reported on Wednesday
The state of Idaho and local health districts are reporting 231 confirmed and 138 probable COVID-19 cases on Wednesday. The statewide count of confirmed cases since the beginning of the pandemic now stands at 35,500.
Of the new cases 33 were in Ada County, 24 were in Kootenai County, 23 were in Canyon County and 21 were in Bonneville County.
Also on Wednesday, two additional deaths related to the coronavirus were reported - one in Minidoka County and one in Washington County - bringing the statewide death toll to 454.

Tuesday, September 22
5:34 p.m.- Idaho surpasses 35,000 total cases; five deaths reported Tuesday
376 new confirmed cases were added to the state's total. Tuesday's reported numbers brought Idaho's total confirmed cases since the beginning of the pandemic to 35,269. There are now 38,347 confirmed and probable cases.
Twin Falls is the state's hotspot for Tuesday, adding 49 confirmed cases. Canyon County added 34 confirmed cases followed closely by Bonneville and Madison counties, which each added 33 confirmed cases. Ada County added 29 new confirmed cases.
Five deaths were reported Tuesday - two in Ada County and one each in Bonneville, Canyon and Payette counties. The statewide death toll is now 452.
An estimated 20,674 people have recovered.

1:57 p.m.- Fear of coronavirus, long-term quarantine negatively affects mental health, University of Idaho study finds
A recent study conducted by the University of Idaho found that fear of the coronavirus and extended periods of quarantine can result in depression and other psychological effects.
A series of surveys conducted among 300 participants nationwide explored negative feelings respondents may have been experiencing and if they felt they were receiving the social support they needed.
Results showed that those who spent longer periods of time in quarantine also reported more feelings of depression and, in some cases, symptoms of PTSD.
Read the full story here.
12:55 p.m. - Boise public libraries to reopen on limited basis
All Boise Public Library locations will reopen with new hours and limited capacity later this month.
The reopening starts on Monday, Sept. 28. Curbside pickup options will remain available, and readers are encouraged to use the contactless option if possible.
Face masks and physical distancing will be required at all locations.
Monday, September 21
5:34 p.m.- Idaho County confirmed cases double in one day; first COVID-19 related deaths reported in Bear Lake, Custer counties
Two weeks after Labor Day weekend, Idaho is now reporting 34,893 confirmed cases, an increase of 352 cases. The number of total cases is now 37,901.
Idaho County's number of confirmed cases doubled over the last 24 hours, jumping from 88 to 176. Ada County followed with 56 new confirmed cases.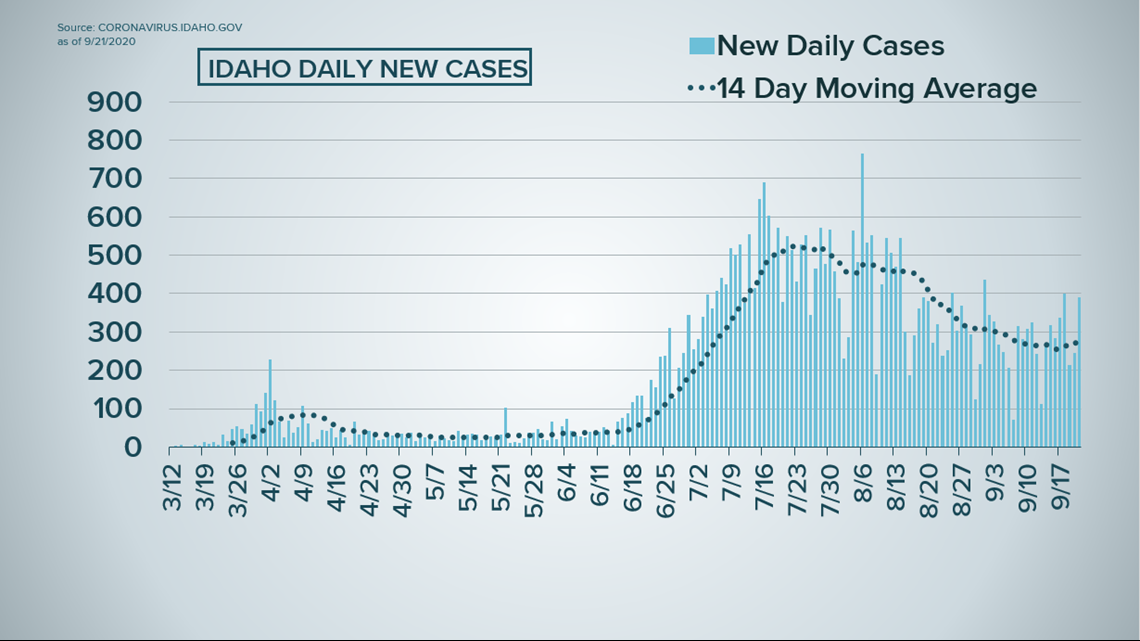 Four deaths were reported Monday. Two were in Kootenai County while Bear Lake and Custer counties reported their first COVID-19 related deaths.
20,485 estimated recoveries have been made.
At KTVB, we're focusing our news coverage on the facts and not the fear around the virus. To see our full coverage, visit our coronavirus section, here: www.ktvb.com/coronavirus.