BOISE, Idaho — Scroll down to see the latest daily updates.
Every day, KTVB works diligently to ensure we are providing the most accurate, up-to-date information regarding COVID-19 cases in Idaho. We track our numbers the same way the Idaho Dept. of Health and Welfare does. However, we update our total number more frequently, meaning our numbers may not always match with the state.
The state updates the number of total cases every day around 5 p.m.
"Recoveries" are tracked by the Idaho Department of Health and Welfare. The state says it "Is defined as the number of persons with a confirmed COVID-19 diagnosis who are alive 30 days post-onset (or referral date if onset is not available) based upon total cases, deaths, and any clinical info available."
"Confirmed" cases refer to a person who was tested for COVID-19 and tested positive.
"Probable" cases refer to a person who is exhibiting symptoms after coming in contact with a person who has a confirmed case. Though a probable case is not confirmed, the state will monitor the person for symptoms.
"Total cases" refers to the number of confirmed and probable cases combined. We will always clarify how many of the total cases are confirmed and how many are probable in our daily updates.
Saturday, November 7
5:05 p.m. - Idaho adds just shy of 1,000 total cases on Saturday
The Gem State added 735 confirmed and 285 probable cases on Saturday, 1,020 in total. No new deaths were reported. The death toll stands at 685.
The Idaho Department of Health and Welfare reports there are 72,312 total cases in Idaho. Based on KTVB's tracking, 62,283 of those are confirmed.
This week, Ada County added 1,491 cases, while Canyon County added 888 and Twin Falls County added 697 cases this week.
The state estimates about 32,330 people have recovered from the coronavirus.
Friday, November 6
6:31 p.m.- State exceeds 70,000 coronavirus cases as record numbers reported for fourth consecutive day
For the fourth day in a row, the Gem State has reported record-high numbers of new COVID-19 cases. Today, 1,188 new confirmed cases and 285 probable cases were reported, totaling 1,473 new cases.
Ada County added 243 new cases, followed by nearly 100 less in Kootenai County, which reported 148 new cases. In addition, Canyon County reported 115 new cases and Twin Falls County added 93 cases.
There are now 70,909 confirmed and probable cases of COVID-19 in Idaho. Of that number, 61,548 are confirmed.
12 deaths were reported today. Ada County tragically reported five deaths while Kootenai County reported two. One death was reported in Bonneville, Canyon, Franklin, Nez Perce and Twin Falls counties. The statewide death toll now sits at 685.
The latest hospitalization data as of Nov. 4 showed record-high hospitalizations. 320 people are currently hospitalized with COVID-19, 90 of which are in the ICU.
An estimated 31,574 have recovered.

Thursday, November 5
6:10 p.m. - State reports record number of daily cases for third consecutive day
For the third day in a row, Idaho has broken its record for the number of daily COVID-19 cases. The state reported late Thursday afternoon 936 new confirmed and 380 new probable cases. The 1,316 total cases top the record set on Wednesday of 1,211 total cases.
More than 60,000 people in Idaho have now tested positive for the virus since the outbreak began in March.
Of the new cases, 191 of them were in Ada County, 121 were in Canyon County and 95 were in Twin Falls County. Those three counties - the most populous in Southwest Idaho - have consistently been the state's coronavirus hot spots in recent months.
An additional eight coronavirus-related deaths were also announced on Thursday. Lemhi County reported three deaths, Canyon County had two, while Ada, Madison and Twin Falls counties each had one death. The statewide death toll now stands at 673.
Idaho health officials have also released new data on the state's coronavirus positivity rate. As of last week, the statewide positivity rate was at 14.7%, an increase from 13.9% the week before. A total of 28,509 people were tested last week, down from 31,378 the week before.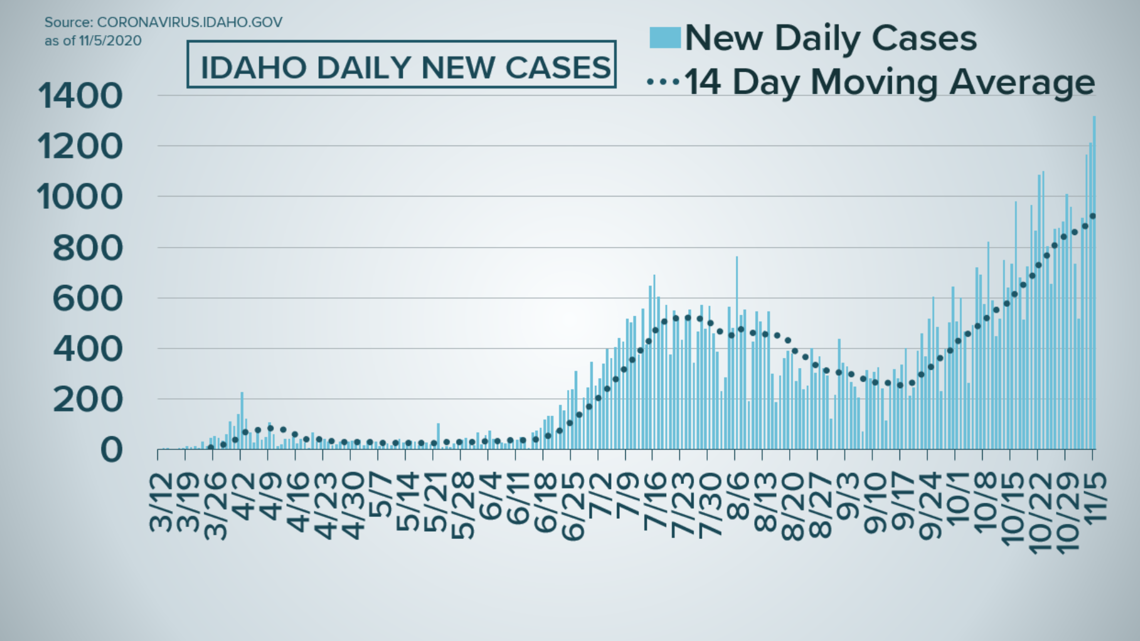 2:45 p.m. - Payette County moved out of the red category
Some good news regarding COVID-19.
Southwest District Health reports there are no counties in the red category.
The health district moved Payette County down to the orange from the red Thursday morning.
But it also moved Owyhee and Adams counties up from the yellow category.
The colors represent the severity of community spread, with red being the most severe.
The only county not in the orange is Gem County, which is in the yellow.
Wednesday, November 4
6:22 p.m. - Idaho reports 1,211 new confirmed and probable cases on Wednesday, breaking record for second consecutive day
The state of Idaho and local health districts on Wednesday reported 878 new confirmed and 333 new probable cases - a total of 1,211 new cases - which breaks the record for daily cases in Idaho. The previous record of 1,165 was set on Tuesday.
The Treasure Valley remains a primary hot spot for the virus. Of the new cases, 166 were in Ada County, 142 were in Canyon County, 113 were in Twin Falls County and 82 were in Bonneville County.
Also on Wednesday, the state reported 16 new deaths related to COVID-19. Bannock, Canyon, Cassia and Twin Falls counties each reported two deaths, while Ada, Bingham, Bonneville, Caribou, Jefferson, Lincoln, Madison and Minidoka counties each reported one death. The statewide death toll since the beginning of the pandemic now stands at 665.
In addition to breaking the record for new daily cases, the state is also seeing a record number of hospitalizations. According to the state, a new record 296 people were hospitalized with COVID-19 as of Monday. Of those hospitalized, 77 were in the ICU, down from a high of 82 on Saturday.


Tuesday, November 3
6:27 p.m.- Record high of new cases reported as Idaho adds over 1,100 new cases
Idaho reported the highest number of new cases since the beginning of the pandemic on Tuesday. 812 new confirmed and 353 new probable cases were reported, a total of 1,165 new cases.
Ada County added 233 new cases to its total on Tuesday. In Twin Falls County, 95 new cases were reported followed closely by 68 new cases in Canyon County.
There are now 67,024 confirmed and probable cases in the Gem State, 58,546 of which are confirmed.
11 new deaths were reported. Two were in Kootenai County, while Bannock, Bingham, Bonner, Bonneville, Canyon, Fremont, Lincoln, Madison and Payette counties reported one each.
An estimated 30,844 recoveries have been made.
Monday, November 2
6:20 p.m.- 915 new cases, 7 deaths reported Monday
915 new cases were reported in the Gem State on Monday. Of that number, 799 are confirmed while the other 116 cases are considered probable. Ada County added 111 new cases to the county-wide total, followed closely by Twin Falls County with 95 new cases and Canyon County with 94 new cases.
There are now 65,845 confirmed and probable cases in Idaho. Of those cases, 57,734 are confirmed.

Seven deaths were reported Friday. Three deaths were in Ada County, two were in Canyon County and one was in Lincoln and Twin Falls counties.
An estimated 30,525 recoveries have been made.
2:22 p.m. - City of Caldwell closes building to the public
Effective Monday, Nov. 2, Caldwell city buildings will close due to a recent increase in the state's coronavirus case numbers, as well as the governor's order to revert back to Stage 3 of Idaho's Stay Healthy Order.
Closures will be in effect until Jan. 4. They will be re-evaluated on that date based on the public health situation and consultation from Southwest District Health.

City service departments will remain fully staffed and operational. Department representatives will be available to the public via appointment, phone or email.
The following City buildings are affected: City Hall, the Caldwell Airport, Fire Department, Caldwell Event Center offices (with the exception of elections), Parks and Rec offices, Planning and Zoning, Building, Engineering, Water, Waste Water Treatment Plant, Cemetery, and Street Department offices.

The Library will maintain modified services. The Caldwell Senior Center, Caldwell Veteran's Memorial Hall and the Caldwell Police Department will remain open.
Golf courses will remain open, as well as parks and playgrounds.
1:55 p.m. - Meridian Food Bank closed through November 12
This message was posted on their Facebook page:
Due to Covid-19 exposure of one of our staff members, and following CDC guidelines, the Meridian Food Bank will be closed through Nov. 12. We apologize for the inconvenience.
The usual hours of operation are Monday, Wednesday and Thursday from noon to 4 p.m.

12:20 p.m. - City of Meridian adjusting operating hours
Due to the recent increase in COVID-19 cases throughout the Treasure Valley, and reports from local hospitals showing increased concern for capacities, slight changes will be made to hours of operations for city facilities.
Meridian facilities will be open to the public from 9 a.m. – 4 p.m., Monday through Friday. The adjusted hours of operation take effect Monday, Nov. 2 and remain in effect until further notice.
City employees will use the hour at the beginning and end of their work day when facilities are closed to the public to focus on cleaning workspaces and equipment in an effort to help prevent the spread of COVID-19.
11:58 a.m. - Albertsons and Safeway pharmacies in Idaho to offer free at-home COVID-19 tests to state residents
This partnership with the Idaho State Board of Pharmacy offers convenience of saliva tests free of charge; no appointment, no line, no uncomfortable nasal swab.

The test can be shipped directly to patients' homes after they complete a quick registration form that is shared with their local pharmacy.
The saliva tests typically return results in 72 hours or less from the time the lab receives the sample.
The process for obtaining a test is simple. From their home, patients complete a short online questionnaire at scheduletest.com that is reviewed by their local Albertsons or Safeway pharmacist. The patient is then contacted by the pharmacy to schedule a pickup or delivery.

10:55 a.m. - McCall Winter Carnival announced changs for 2021 festival
Organizers say the focus will be on ice sculptures, family fun, and outdoor-recreation activities.
The Children's Torchlight Parade, Mardi Gras Parade, firework shows, beer garden, and Main Stage music will all be put on hold due to COVID-19.
Sunday, November 1
5:49 p.m.- Over 500 new cases, one death reported Sunday; Over 65,000 total cases in Idaho
391 new confirmed cases were reported on Sunday, as well as 123 new probable cases. Sunday's numbers bring Idaho's confirmed COVID-19 cases to 56,935.
Idaho also reached 65,088 confirmed and probable cases.
One death was reported in Ada County. The statewide death toll is now 631.
An estimated 30,218 recoveries have been made.
Saturday, October 31
5:50 p.m.- Over 700 new cases, 3 deaths reported Saturday
734 new cases were reported on Saturday, 501 of which are confirmed and 233 of which are probable. The number of total cases in Idaho now stands at 64,608. Of that number, 56,544 are confirmed.
Three deaths were reported, two in Ada County and one in Bonneville County. There have been 630 deaths in Idaho due to COVID-19.
An estimated 29,867 have recovered.
At KTVB, we're focusing our news coverage on the facts and not the fear around the virus. To see our full coverage, visit our coronavirus section, here: www.ktvb.com/coronavirus.