We're closely tracking Idaho's number of deaths and cases of the novel coronavirus, COVID-19, as well as what's happening as Idaho reopens. Scroll down to see our live updates from each day.
Saturday, August 15
5:17 p.m. - Idaho adds 299 total cases and 3 new COVID-related deaths
Based on data released from the state, Idaho added 271 confirmed cases and 27 probable cases of the coronavirus on Saturday.
KTVB's tracking of the coronavirus pandemic shows 25,717 confirmed cases of the virus in the Gem State since the pandemic began.
The Idaho Department of Health and Welfare also reported one new death in Ada County and two more coronavirus-related deaths in Bonneville County. Idaho's death toll is now at 269.
Friday, August 14
5:25p.m.- 11 new deaths confirmed Friday, 514 additional cases confirmed
The Gem State added 514 new confirmed cases of COVID-19, which brings the total of confirmed cases to 25,446. Idaho is now reporting 27,173 probable and confirmed cases.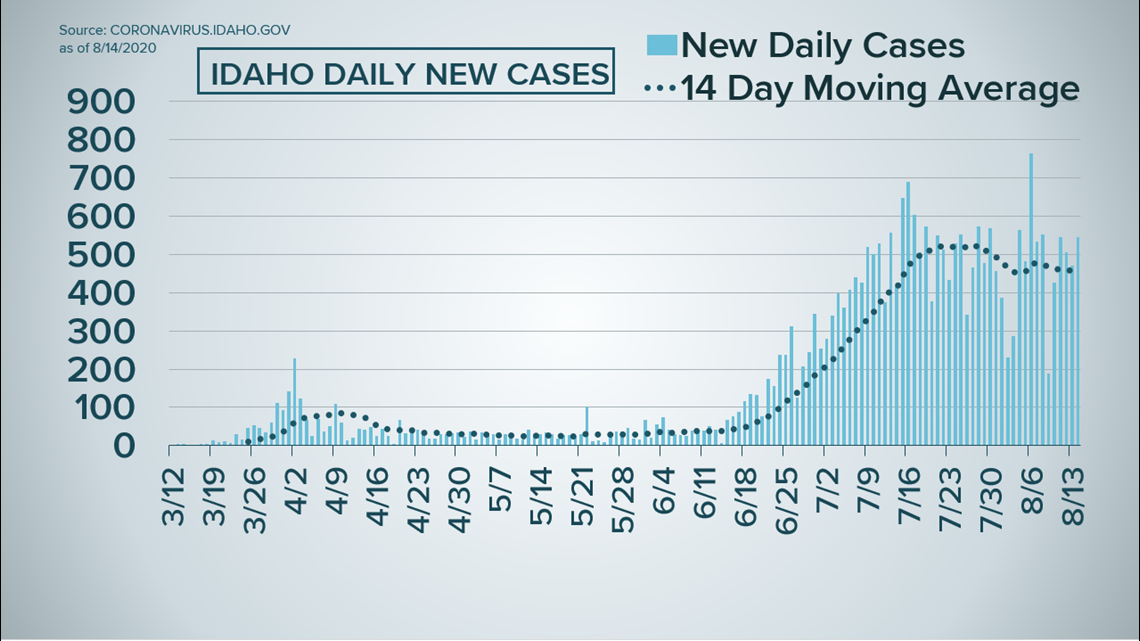 Ada County is back as the state's hotspot, adding 145 cases to its total today. Canyon County closely followed adding 120 cases.
11 new deaths were confirmed today, bringing the statewide death toll to 266. Five of those deaths were in Canyon County. Just in the month of August, there have been 70 deaths in Idaho.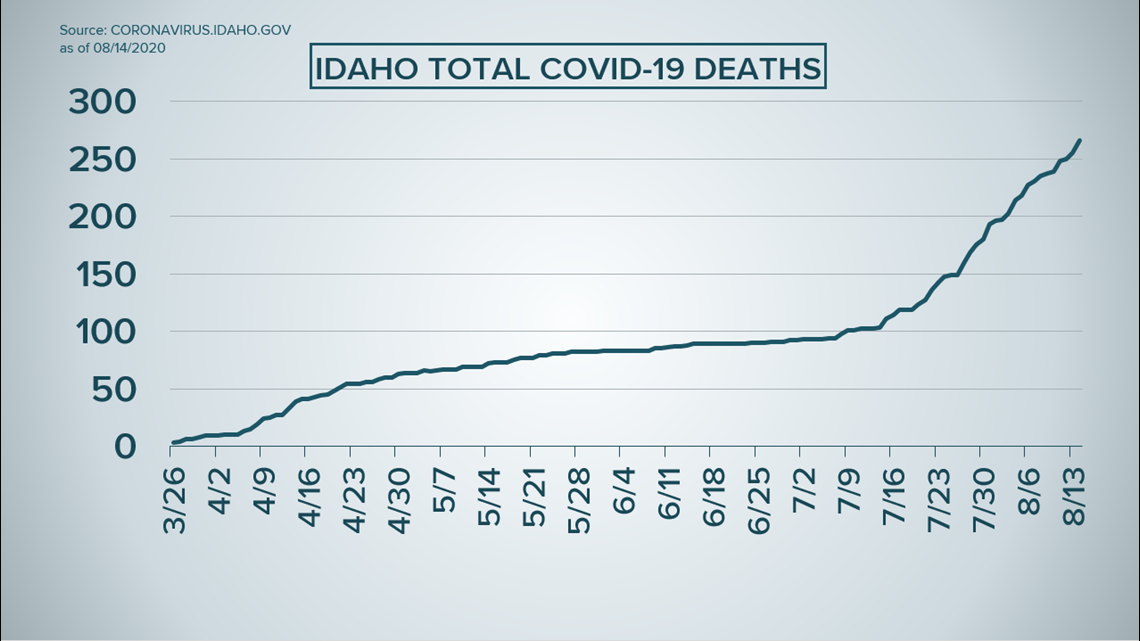 The latest hospitalization data from August 12 reported 206 people in the hospital due to COVID-19. Of that group, 38 are in the ICU.
Approximately 10,369 people have recovered.
2:22 p.m.- Boise Art Museum's Art in the Park moves online
The annual Art in the Park event put on by the Boise Art Museum (BAM) will be held virtually this year. The online shopping event will be held from Sept. 10-18, 2020. 75% of the proceeds made will support local artists.
Thursday, August 13
6:02 p.m. - 468 new confirmed and probable cases; 5 additional deaths reported in Ada County
The state of Idaho and local health districts on Thursday reported 435 new confirmed and 33 new probable COVID-19 cases, bringing the statewide total of confirmed and probable cases to 26,631.
Ada and Canyon counties remain the state's hotspots for new coronavirus infections. Of the new cases, 155 were in Ada County and 69 were in Canyon County.
Five additional deaths - all in Ada County - were also reported on Thursday. The statewide death toll now stands at 255.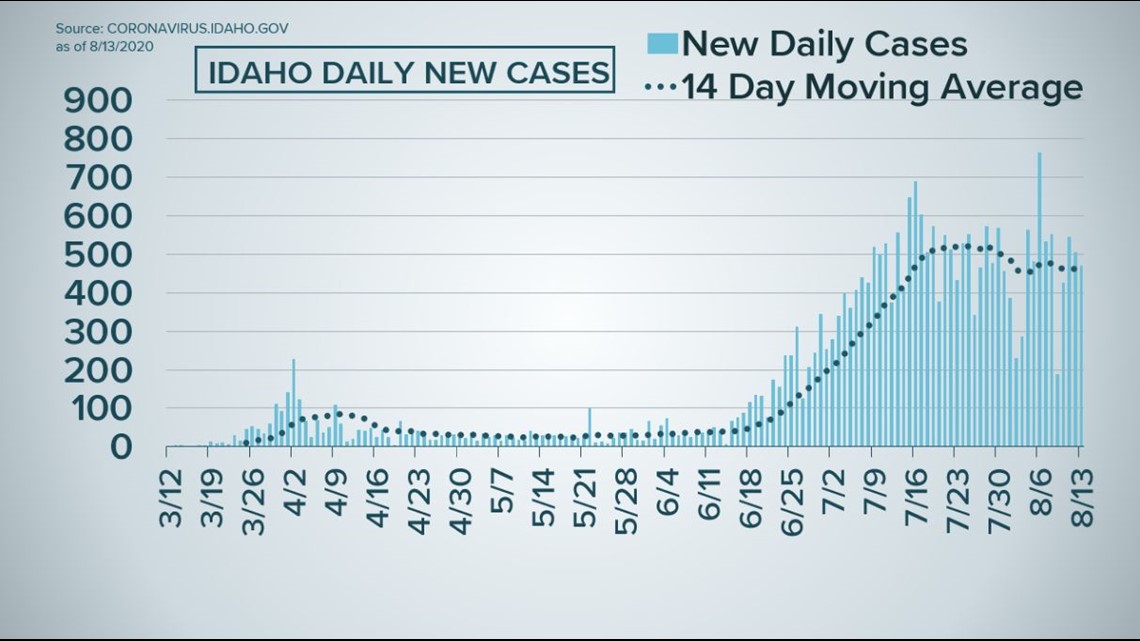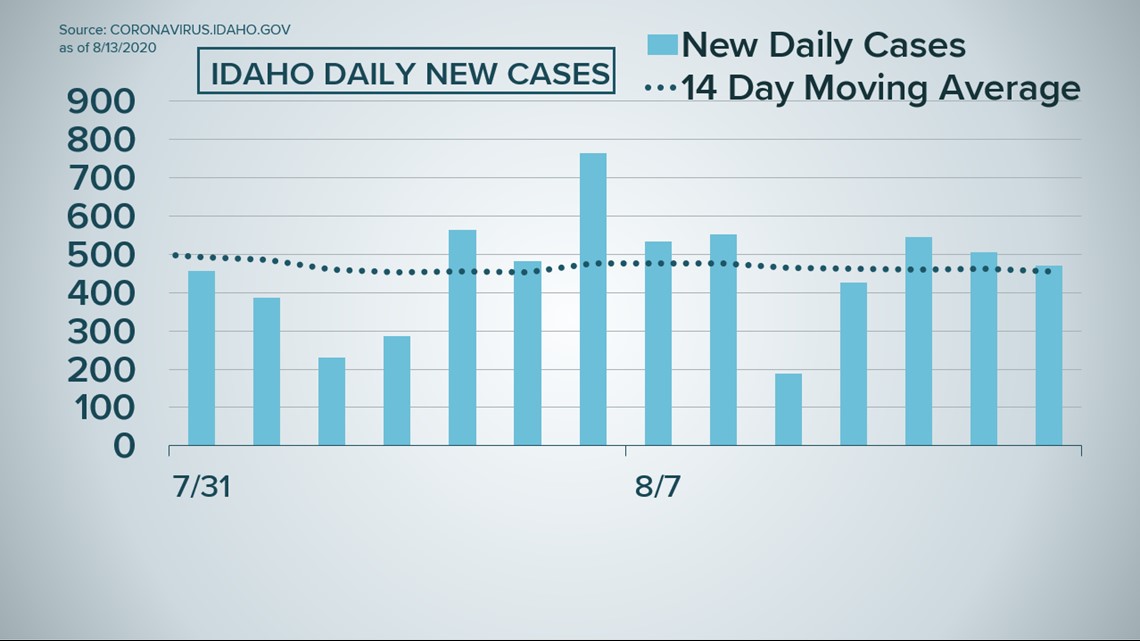 Wednesday, August 12
5:25 p.m. - 505 new confirmed and probable cases on Wednesday
The state of Idaho and local health districts are reporting 435 new confirmed and 70 new probable cases on Wednesday.
Of those new cases, 103 of them were in Ada County and 90 were in Canyon County, which remain the state's primary hot spots for community spread of COVID-19. Kootenai County had 66 new cases.
The statewide total of confirmed cases since the beginning of the pandemic now stands at 24,497. When combined with probable cases, the total is 26,133.
Also on Wednesday, two additional deaths were reported, both in Kootenai County, bringing the statewide death toll 250.
The state has released new hospitalization data showing that, as of Monday, 216 people were hospitalized throughout the state with COVID-19. Of those hospitalizations, 36 were in the ICU.
Idaho Health and Welfare officials estimate that 9,850 people have recovered from the virus so far.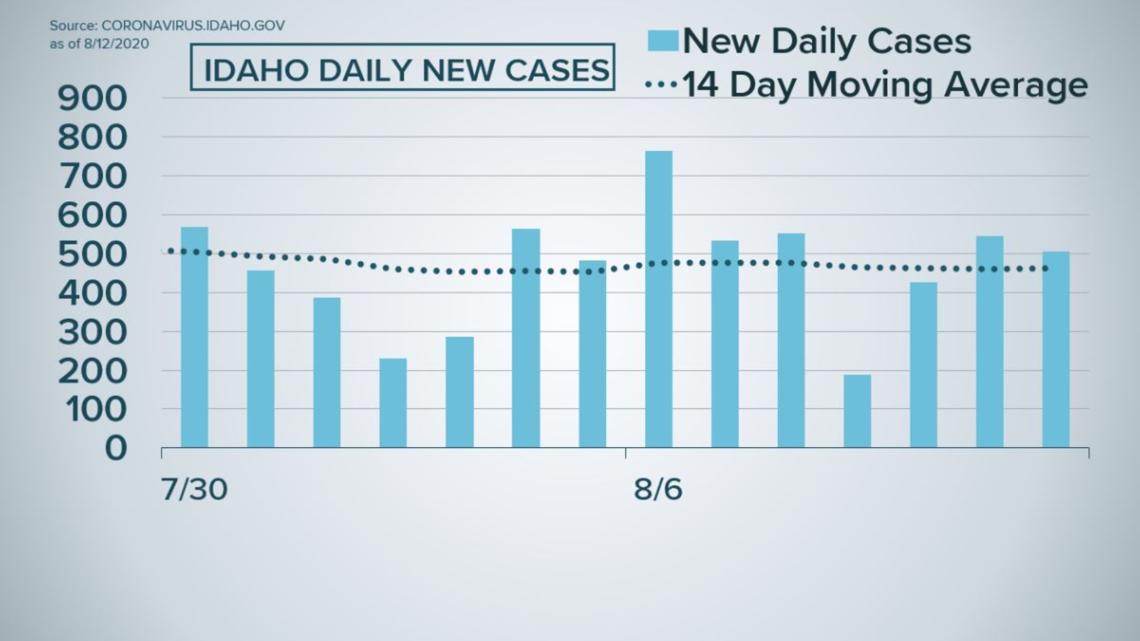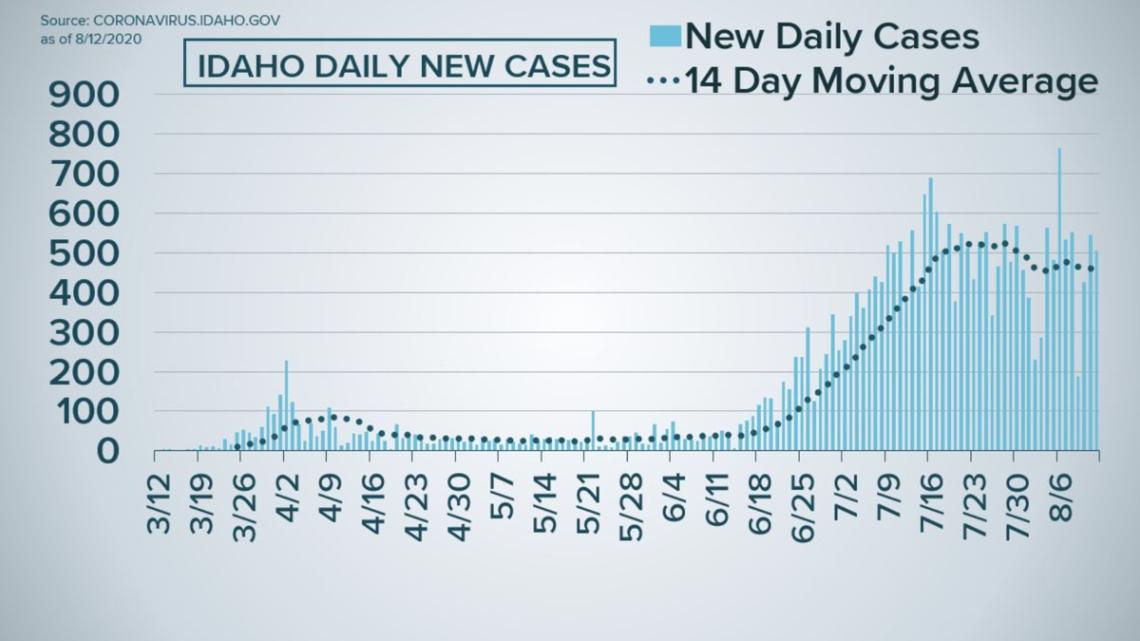 5:08 p.m. - Ada County Jail reports 130 coronavirus cases
In the last two weeks, 130 inmates at the Ada County Jail have tested positive for COVID-19, according to jail officials.
The first positive test came back on July 28 after a female inmate complained about a loss of taste and smell. Officials have since tested hundreds of inmates, both male and female, with positive tests coming back for 130 of them.
Every inmate in the jail has been provided face coverings, which they are supposed to wear at all times unless they are in their bunks.
Jail officials said in a news release that they are working closely with Central District Health on how to respond to the outbreak. They noted that the vast majority of cases appear to be asymptomatic or showing mild symptoms.
3:28 p.m. - Southwest District Health responds to comments regarding hydroxychloroquine as COVID-19 treatment
During Tuesday morning's Southwest District Health meeting, a debate broke out over the use of hydroxychloroquine to treat COVID-19 patients.
During a discussion surrounding COVID-19 affecting minorities, Adams County commissioner and Southwest District Health board member Viki Purdy promoted several debunked claims and told KTVB in an email that "Pharma" is to blame for the lack of credible evidence on the malaria drug's use.
Southwest District Health Medical Director Clay Roscoe issued a statement regarding evidence on hydroxychloroquine use for the treatment of COVID-19:
"In summary, hydroxychloroquine is a relatively well-tolerated drug, based on clinical data from many years of use with malaria prophylaxis and management of rheumatologic conditions. When using hydroxychloroquine for treatment with COVID-19, there is a very small chance that the person being treated may have an increased risk of dying, and other adverse effects can occur. Based on the review of the available evidence, as of August 11, 2020, there is not enough quality evidence to demonstrate that hydroxychloroquine has a clear benefit with treating COVID-19, and there is evidence of at least moderate harm. Science is an ever-learning, ever-developing process. More trials will be completed on the use of this and other medications for possible use with treating COVID-19, and it will be necessary to evaluate these results using an unbiased, scientific, logical approach in order to continue to make the best decisions about the best treatment approaches for COVID-19."

3:24 p.m.- Lewis County confirms first COVID-19 case; all 44 counties in Idaho have confirmed cases
North Central Health District is reporting a positive case in Lewis County today, which means all 44 Idaho counties now have a confirmed case.
At KTVB, we're focusing our news coverage on the facts and not the fear around the virus. To see our full coverage, visit our coronavirus section here: www.ktvb.com/coronavirus.