Every day, KTVB works diligently to ensure we are providing the most accurate, up-to-date information regarding COVID-19 cases in Idaho. We track our numbers the same way the Idaho Dept. of Health and Welfare does. However, we update our total number more frequently, meaning our numbers may not always match with the state.
The state updates the number of total cases every day around 5 p.m.
Sunday, August 30
5:34 p.m.- 29,556 confirmed cases, 359 deaths, 14,712 estimated recoveries
Idaho is currently reporting 29,556 confirmed cases of COVID-19. 182 cases were confirmed as well as eight probable. The state total now sits at 31,867.
Only one new death was reported today in Canyon County. The state's death toll now sits at 359.
Saturday, August 29
4:59 p.m.-29,374 confirmed cases, 358 deaths, 14,490 estimated recoveries
Idaho reported 29,374 confirmed cases of COVID-19 on Saturday. 286 confirmed cases were added to the total, as well as seven probable cases. Total new cases added Saturday total 293, bringing the number of total cases statewide to 31,677.
Five new deaths were reported today, two in Canyon County and one in Bonneville, Fremont and Shoshone counties. The death toll now sits at 358.
It is estimated that 14,490 people have recovered.
Friday, August 28
5:11 p.m.- Idaho surpasses 29,000 confirmed cases; 11 deaths reported Friday
Idaho added 304 confirmed COVID-19 cases to the running total on Friday, bringing the statewide total to 29,241. 15 probable cases were also reported. The number of total cases now stands at 31,384.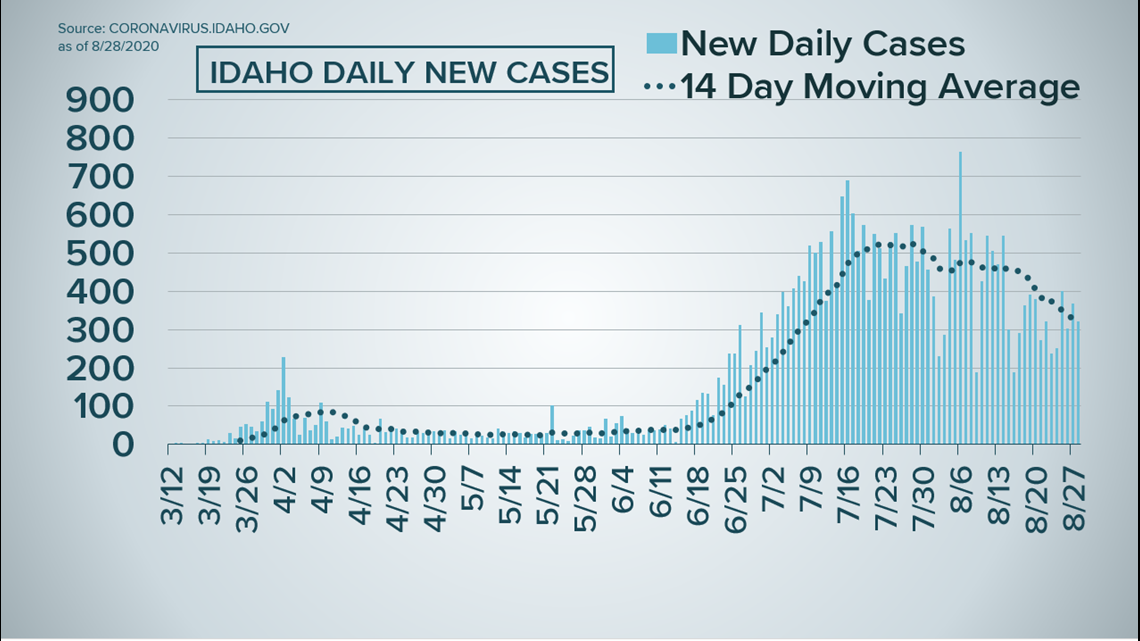 The death toll surpassed 350 today as 11 new deaths were reported. Seven of those deaths were in Ada County. Shoshone reported two deaths, and Bingham and Cassia reported one.
The statewide death toll is now 353.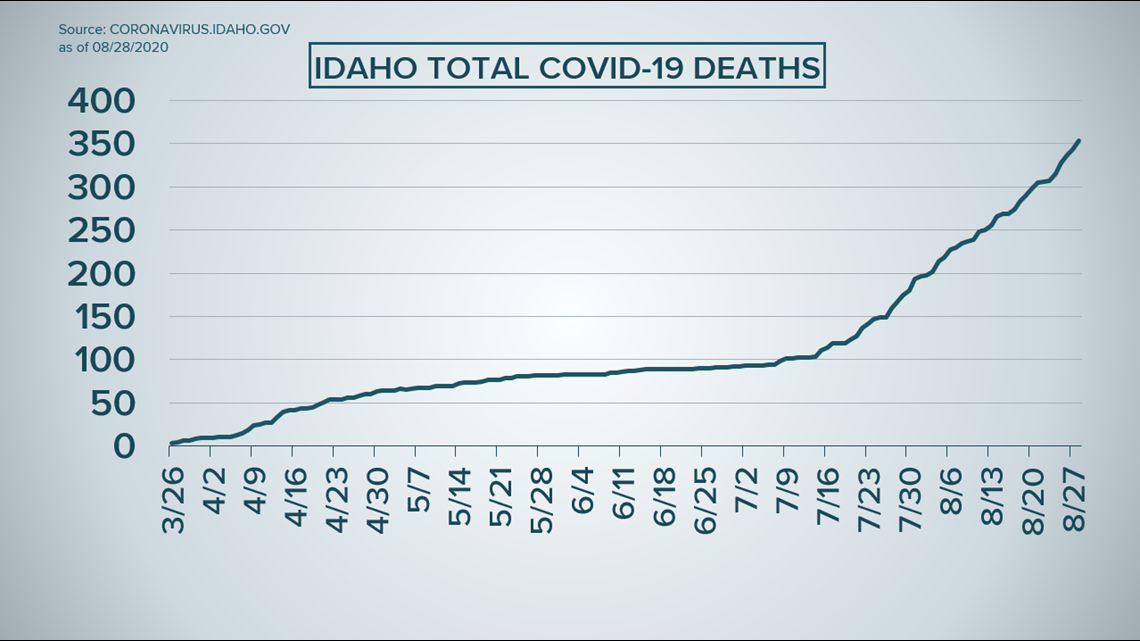 The latest hospitalization data from August 26 reported 181 COVID-19 related hospitalizations. Of that number, 51 have been admitted to the ICU.
An estimated 14,175 have recovered.
Thursday, August 27
5:11 p.m.- 28,937 confirmed cases, six new deaths reported Thursday; positivity rate down nearly 1%
Idaho is currently reporting 31,122 total cases of COVID-19. The number of confirmed cases now sits at 28,937, up 310 from Wednesday. 57 probable cases were added to the total as well.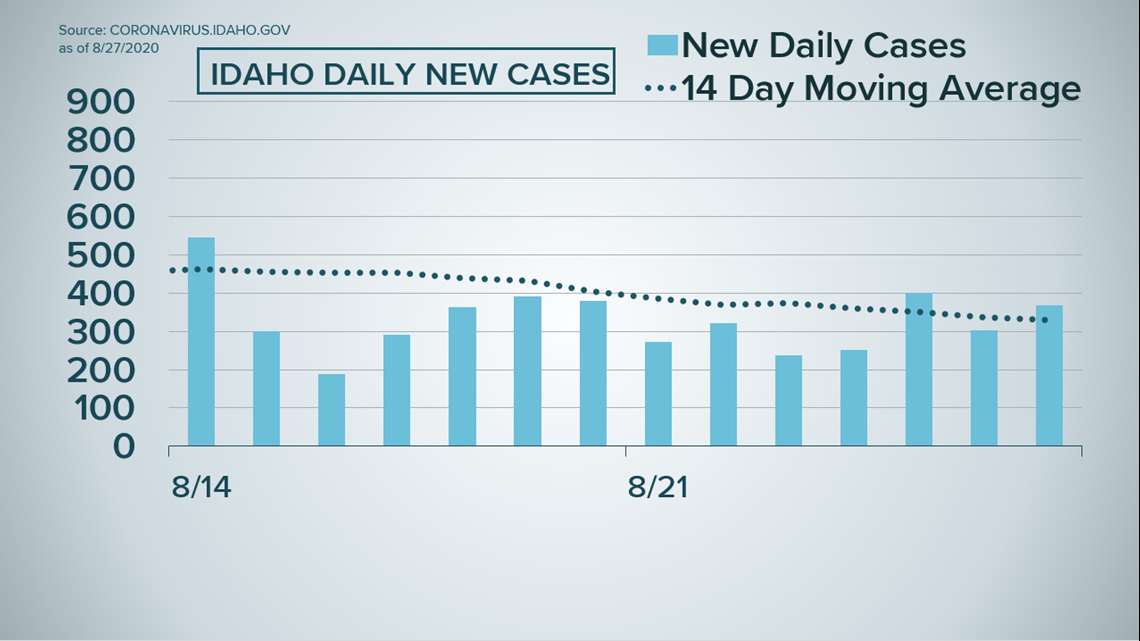 Ada and Canyon Counties remain hotspots in the state. Ada County added 52 confirmed cases to its total while Canyon County added 38.
Six new deaths were reported on Thursday. Ada and Canyon Counties both reported two deaths. Bonneville and Owyhee Counties reported one new death.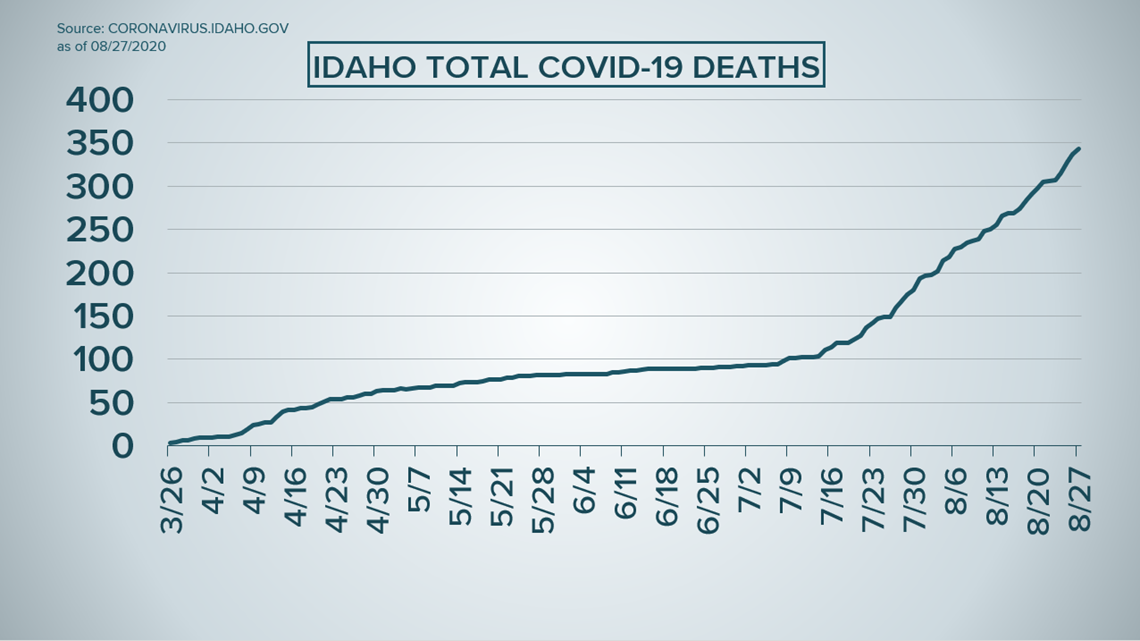 New testing and positivity rate data from August 16-22 shows the state's positivity rate dropped from 9.2% to 8.3%, nearly 1% lower.
Testing also dropped to 18,231 performed last week. 21,709 were performed the week before.
It is estimated that 13,928 recoveries have been made.
Wednesday, August 26
5:12 p.m. - 9 new deaths reported; 302 new confirmed and probable cases
The state of Idaho and local health districts are reporting 221 new confirmed cases on Wednesday, in addition to an additional 81 new probable cases. There have now been 28,627 confirmed cases statewide since the pandemic reached Idaho in March. In total, there have been 30,780 confirmed and probable cases.
Of the new cases, 76 were in Ada County, 31 were in Canyon County and 16 were in Kootenai County.
Nine new coronavirus-related deaths were also reported on Wednesday, bringing the death toll to 337.
Three of the deaths reported on Wednesday occurred in Ada County and two were in Kootenai County. Canyon, Shoshone, Washington and Boundary counties each had one death. The death reported in Boundary County was its first coronavirus-related death.
The state also announced new hospitalization data. As of Monday, August 24, 176 people were hospitalized statewide with COVID-19. 53 of those patients were in the ICU.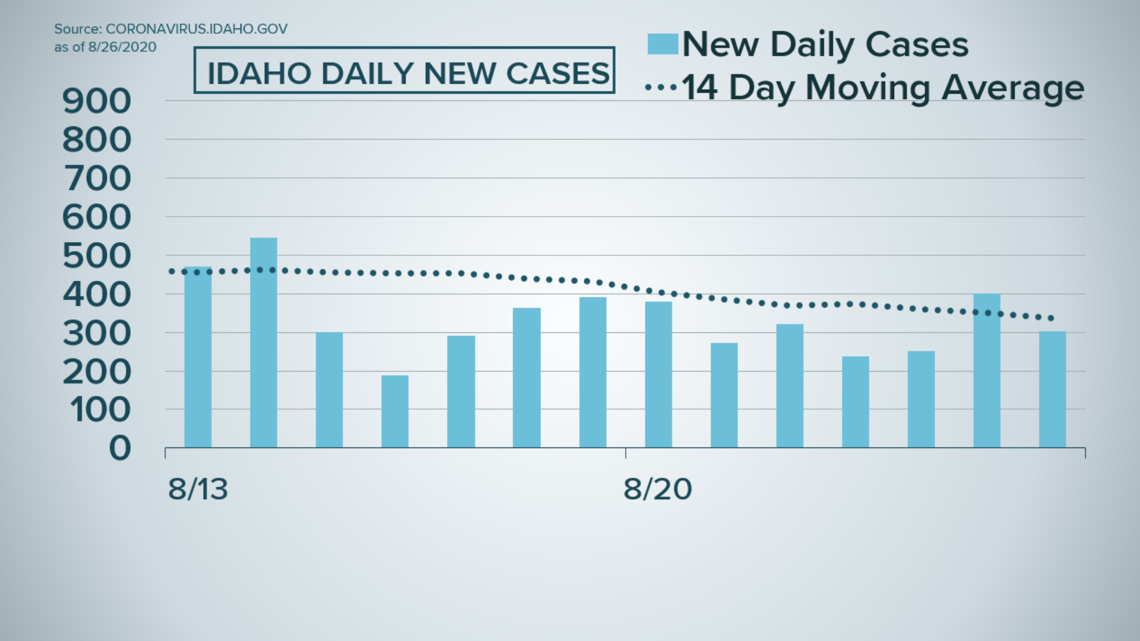 At KTVB, we're focusing our news coverage on the facts and not the fear around the virus. To see our full coverage, visit our coronavirus section, here: www.ktvb.com/coronavirus.