BOISE, Idaho — The Boise School Board voted unanimously to approve a plan to return all students to the classroom for full-time in-person learning next month.
The board made the decision during a special meeting Thursday afternoon after hearing recommendations on four different options for returning students to school five days a week.
Ultimately the board voted to approve the second option in which kindergarten through 6th-grade students - as well as K-12 special education students - will return for full-time in-person learning starting on March 9. Secondary students (grades 7 - 12) will return to the classroom full-time on March 29.
Board President Dave Wagers and Superintendant Coby Dennis both emphasized that the district and the board will continue to monitor the spread of COVID-19 within the community and the district in order to make changes to the plan, if necessary.
"I want to assure the board that this organization, if nothing else, has learned to adapt as quickly as we can adapt, given the fact that we're talking about 85,000 kids, 5,000 employees, and a community of over 200,000 people," Dennis said. "So our impact is large and we will work as quickly and as fast as we can.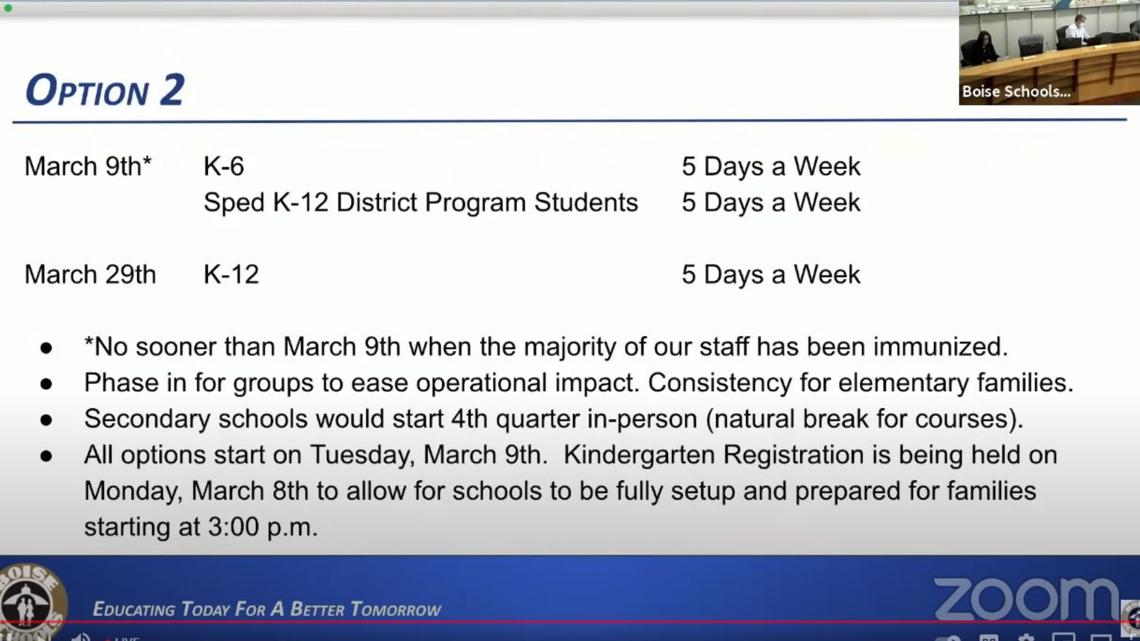 In a letter to the board, health professionals representing Central District Health, St. Luke's and Saint Alphonsus, recommended remaining in the current hybrid model until more can be learned about the new COVID-19 variants that were recently detected in Boise-area wastewater. But they acknowledged that it's important to get kids back into classrooms. To that end, the health professionals strongly urged several safety measures, including strict quarantining protocols, universal mask-wearing, physical distancing whenever possible, and a focus on cleaning and sanitization.
Dennis said that all four options include the safety recommendations outlined by the health professionals.
One of the primary considerations for returning students to classrooms full-time was that a majority of teachers and staff be vaccinated against COVID-19. That is expected to happen in the next few weeks.
The exploratory committee that came up with the four options consisted of teachers, parents, principals and school nurses from different areas of the district's elementary and secondary schools.
The board also took into consideration the results of a school survey that was sent to students, parents and staff earlier this month.
Watch the full meeting in the YouTube video player below: