According to a release from the Department of Education, DeVos was there to learn about the Forsyth County School District's "localized approach to safely reopening schools."
The education secretary has been a vocal advocate for students to head back to school in person.
Forsyth County's schools have offered an option of in-person or online learning for students.
The school system delayed the start of school by a week, to Aug. 13, in order to give staff additional time to prepare for the combination of in-person and online learning.
Photos: US Education Secretary Betsy DeVos visits Forsyth County school district
In comparison, neighboring Cherokee County opened schools fully for in-person classes and saw dozens of new student infections within the first two weeks of school.
By the second week of school, more than 1,000 exposed students were quarantined along with more than a dozen staff members. In addition, two high schools in Cherokee County were forced to close until Aug. 31.
As of Tuesday, Aug. 25, Forsyth County has reported a total of 2,884 cases of COVID-19, which is comparatively low when compared to Cherokee County, with 4,459 cases. However, Forsyth County did mark the second-highest day for the number of new cases - 70 - on the same day as the secretary's visit.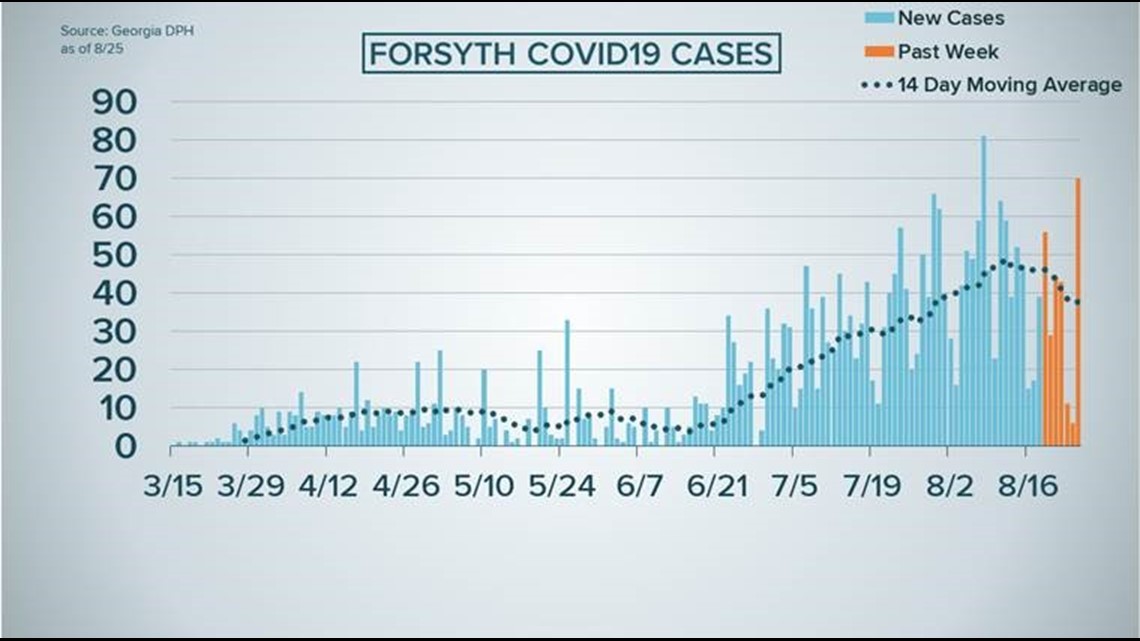 But across the metro - in another district that decided to welcome students back to in-person learning - former Paulding County school nurse and mother Amy Westmoreland rebuked the secretary's stance.
"I really don't think she has a right to even be here considering that she was part of the problem. She was with the agreement of opening schools," Westmoreland said.
The nurse resigned from her position with the Paulding County School District over the summer because she said she was concerned about the safety for students and staff, something she said was made backed up in now-viral photos from inside one of the district's high-schools showing students crowded in a hallway.
"So, as a nurse, do you think it's safe to return to school in Georgia?" 11Alive asked.
"No, absolutely not," Westmoreland said.
"When (Paulding County) decided to open schools back up, it was just horrifying to me," she added. "And then those pictures circulated and it kind of confirmed my worst fears in terms of seeing those children so close to one another."
Despite that, DeVos insists the best place for students right now is in the classroom, like the ones she visited at Forsyth Central High School, Tuesday.
Editor's note: This story has been updated to include the latest available COVID-19 data for Forsyth County.