PORTLAND, Ore. – A jury found six men and one woman who occupied a federal wildlife refuge in Oregon not guilty of conspiracy to keep federal workers from doing their jobs.
Some of the defendants were also charged with possession of firearms at a federal facility, but they were acquitted on those counts as well.
"We came to Oregon, to Harney County seeking justice and we found it today," said defendant Neil Wampler.
"I wept," defendant Shawna Cox said when she heard the words not guilty. "I don't know if the government heard us but I know the jurors knew it and they felt it, and that's why were acquitted."
Supporters outside the courthouse celebrated with glee when word reached the street the verdict was not guilty.
"People still care about our country. People still care about the Constitution and upholding the Constitution," said supporter Maureen Valdez. "This is what it's about. This is what these men are fighting for. They're fighting for your right."
However, it wasn't all celebration after the verdict was read. Marcus Mumford, who is Ammon Bundy's attorney, was tackled by U.S. Marshals as he was arguing with the judge. Mumford was yelling that his client was free to go. He was in U.S. Marshals custody before released a couple hours later.
Mumford said he was shocked with a Taser.
"I just turned to [the marshals] and said show me what papers you have. Then, the next thing I know they surrounded me, took ahold of me, and they were talking about I was resisting arrest," Mumford said. "They twisted my legs, put me to the ground, then tased me."
"There was like eight of them on him and they tased him," Cox said. "It's unreal. How can they do that? This is not justice."
Ammon Bundy will remain in custody because the U.S. government has a hold on him. The Bundys are still facing charges in Nevada stemming from a high-profile 2014 standoff with federal agents trying to round up their father Cliven Bundy's cattle.
Jurors announced on Thursday that they reached an agreement on all but one charge, which was a theft count against Ryan Bundy. The jury made the announcement after deliberating for more than a week.
The trial centered on felony charges of conspiracy, with federal prosecutors arguing that all of the defendants, Ammon Bundy, Ryan Bundy Shawna Cox, David Lee Fry, Jeff Wayne Banta, Kenneth Medenbach and Neil Wampler kept federal employees from doing their jobs when the defendants and at least 19 others occupied the Malheur National Wildlife Refuge in January and early February.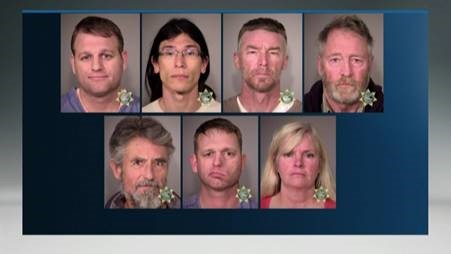 Harney County Sheriff Dave Ward, the law enforcement official at the center of the 40-day occupation, and the FBI also voiced their disappointment in the outcome of the trial.
"While I am disappointed in the outcome, I believe our form of government and justice system to be the best in the world," Ward said. "These folks were tried in a court of law and found not guilty by a jury of their peers. This is our system and I stand by it."
"While we had hoped for a different outcome, we respect the verdict of the jury and thank them for their dedicated service during this long and difficult trial," said Billy J. Williams, United States Attorney for the District of Oregon. "We strongly believe that this case needed to be brought before a Court, publicly tried, and decided by a jury."
Some defendants also faced felony charges of theft of government property and possession of firearms at a federal facility.
Defendants included brothers Ammon and Ryan Bundy, the leaders of the standoff, and David Fry, the last occupier to remain at the refuge. Fry made headlines for live-streaming a phone call where here hysterically yelled at an FBI negotiator, "You're going to hell. Kill me," before surrendering.
Other defendants included Neil Wampler, who was previously convicted and served prison time for murdering his father, Kenneth Medenbach, who has already been found guilty in another federal occupation case, Jeff Wayne Banta, one of the last four holdouts, and Shawna Cox, one of the first arrested occupiers to be released.
Photos: Occupation at Malheur refuge
Eleven occupiers had taken plea deals and seven are scheduled to stand trial on Feb. 14, 2017. A 26th occupier, Robert "LaVoy" Finnicum, was shot and killed by Oregon State Police during the occupation.
Those who took plea deals have either agreed to or will likely face between six months of home detention and 3 ½ years in prison.
The occupation and subsequent trial drew national attention. On Jan. 2, a group of people protesting federal land use policy stormed the wildlife refuge in remote Eastern Oregon, which was empty at the time due to the holiday, took over the facility and demanded the release of two ranchers convicted of arson on federal land. It ended Feb. 11 when the last four holdouts at the refuge surrendered.
The Associated Press contributed to this story.