BOISE -- The refugee community and loved ones are shocked, heartbroken and devastated after a horrific stabbing that happened over the weekend in Boise - as are community members all over the Treasure Valley.
Three-year-old Ruya Kadir was killed and eight others were injured. Many are still in the hospital with stab wounds. The attack happened after the 3-year-old's birthday party at a Boise apartment complex where many refugees live.
KTVB has been talking to victims, witnesses, family and friends over the past few days and went to the hospital to speak with some loved ones visiting one of the victims, 6 year-old Teba Mutlak. Teba was one of six children hurt in the stabbing and is in the intensive care unit at St. Luke's Children's Hospital right now. One of Teba's older brothers, Zine, and her mom are also among the injured; Zine was released and is recovering well physically, while they say their mother is being treated at Saint Alphonsus.
MORE: 8-year-old Boise mass stabbing victim: 'He just came to me and stabbed me in my belly'
"She's awake and always kind of crying. I always try to make a joke with her, talk to her, make her feel better, safe. Like she's safe always, like we be with her," Teba's cousin, Anmar Lafta, told KTVB. "She can speak. When we [are] with her she [doesn't] feel like anything but when we leave or when we start coming to see her she tell[s] us that she start[s] getting pain a little bit in her chest and stomach."
"When I saw her today she just seemed sad. And I'm used to her always smiling. She's just got a good heart, all the kids loved her," Teba's kindergarten teacher, Doreen Prohaska, said.
Mrs. Prohaska is close with Mutlak family.
"It just breaks my heart," she said. "Wonderful, committed family."
"It's hard to explain but I just knew in my heart that something was wrong with Teba. I have their phone number and I kept trying to call and no answer," Prohaska added.
Family says Teba was stabbed outside her home, as she was running with her mother toward a family member who'd been attacked. Lafta and Teba and Zine's dad, Mustafa, feel the need to stay close to her while she's in the hospital, and when she's released.
"She always asks for her daddy to be with her," Lafta added.
"To see that she's OK - because I didn't know if she was OK - that was huge. She's going to be OK. Physically, she's got a way to go," Prohaska said. "I can see that it's going to be hard for her."
MORE: Thousands show support for Boise stabbing victims at vigil: 'Boise is here for them'
Prohaska says some fellow staff visited the apartments and the hospital this week.
"We really try hard to help our kids feel safe and this has kind of shattered that. We hope that they will come back to school and know that it's a safe place. And that's why some of our staff went there today. We want them to know we are there for them," Prohaska told KTVB.
Vigil for victims of mass stabbing in Boise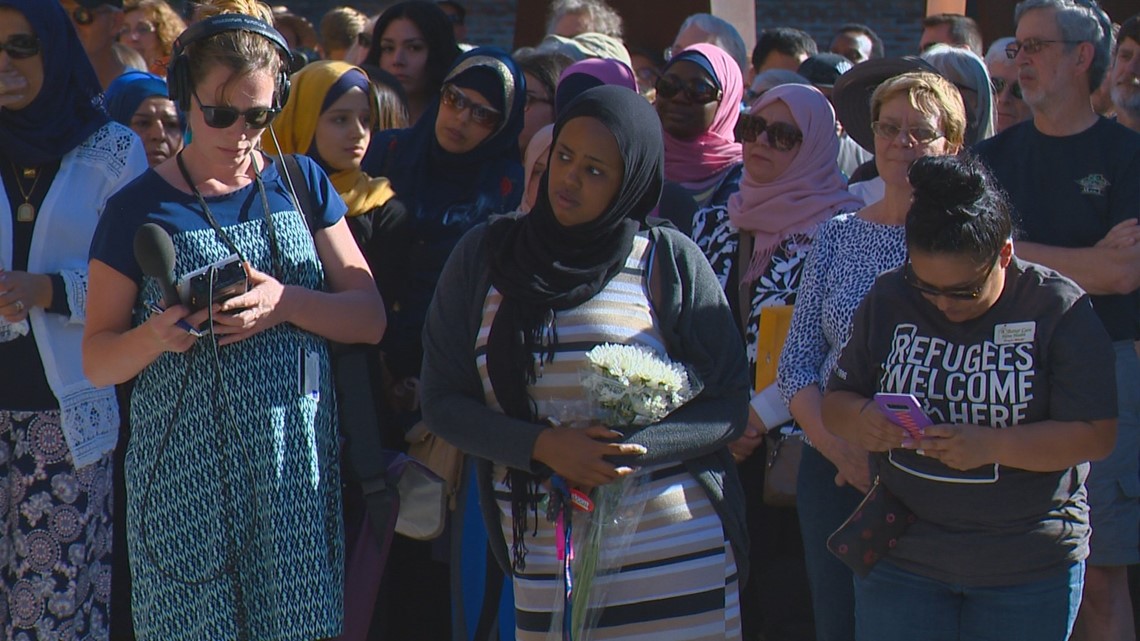 The Taft Elementary School family, she says, wants to be there for the victims and their families.
"We want them to know that we love them, that we're there for them. Whatever we can do to help them. They're our kids, too. We are very tight community at Taft. This has touched all of our lives," Prohaska added.