BOISE - A man accused of stabbing nine people, including six children, at a Boise apartment complex targeted a 3-year-old girl's birthday party, police said in a news conference Sunday afternoon.
Boise Police Chief Bill Bones said the 3-year-old girl was one of those seriously injured in the attack. The other victims, who are all from Syria, Iraq and Ethiopia, include two 4-year-olds, a 6-year-old, a 12-year-old, and three adults who stepped in to try and stop the attack.
Visibly emotional, Bones described the crime as an act of "pure evil."
"This was a brutal crime, not just against the individuals involved, but against the families and the very fabric of our community," he said.
Boise children among 9 victims in mass stabbing at State Street apartments
Timmy Earl Kinner, 30, was arrested at 8:50 p.m. Saturday, just minutes after police were called to Wylie Street Station Apartment Complex near West State Street and Wylie Lane.
Police say that a resident of the complex gave Kinner, who is from Los Angeles, a place to stay for a few days, but due to his behavior, was asked to leave on Friday.
He returned Saturday evening to "exact vengeance," Bones said. "Not just on those (he had stayed with)... but on any target which was available."
"The tragedy was that a three-year-old little girl was having a birthday party just a few doors down from where Kinner had been staying," Bones said. "Kinner attacked, targeting the children initially."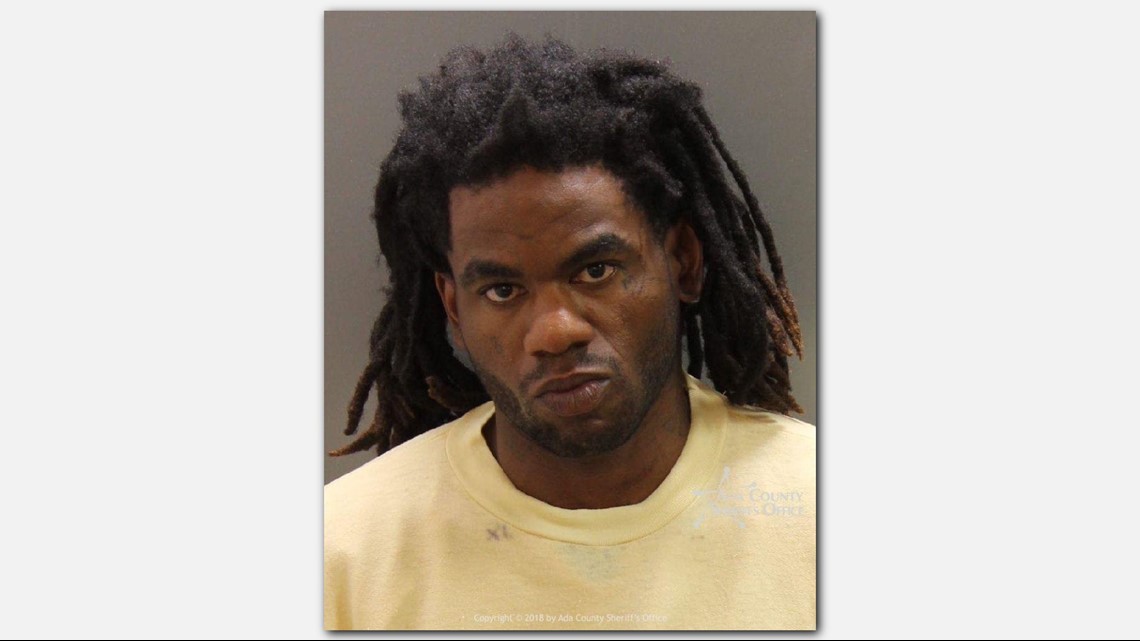 "Our victims are some of the newest members of our community. They're victims from their past homes who fled violence from Syria, Iraq, and Ethiopia," Bones said.
Officers found all nine victims inside the apartment complex and in the parking lot. Although no one was killed, four of the victims were critically injured, authorities say, including a girl who needed to be airlifted to Salt Lake City for treatment.
Police immediately located Kinner, who had taken off on foot. He surrendered without incident. Later, officers scoured a nearby canal and found the weapon Kinner allegedly used in the attack.
"The crime scene, the faces of those parents struggling, the tears coming down their faces, the faces of the children in the hospital beds will be something that I'll carry with me for the rest of my life," he said.
"We saw a killer. We didn't want to get stabbed," said 12-year-old Esrom Habte.
According to police, Kinner has an extensive criminal history spanning several states and spent time in prison for crimes including violence against others.
He does not have a criminal record in Idaho.
Kinner, who is not a refugee, is charged with a total of 15 felonies: nine counts of aggravated battery and six counts of injury to a child. He is expected to make his first court appearance on Monday.
Police say there is no evidence that the attack was a hate crime.State Street was closed in the area of the crime scene overnight, and motorists were told to expect delays and avoid the area. Bones said the area surrounding the apartment complex will be impacted through at least Sunday night.
Investigators searched a nearby canal for evidence, possibly a knife that was used by the suspect. Bones said he believes investigators have recovered the weapon from the canal.
Sunday morning, Boise Mayor Dave Bieter released a statement condemning the attack:
"Last night's horrific attack does not represent Boise. I ask all Boiseans to join me in sending thoughts and prayers for the injured and their families at this terrible time. Our city has long stood as a welcoming city – a place of safety and kindness for those fleeing violence and oppression in their homelands. The senseless acts of one disturbed person does not change that. As Boiseans, we come together not only to condemn this vile act, but also to embrace those among us seeking refuge from tyranny, suffering and war. It is who we are and who we will continue to be."
Julianne D. Tzul, executive director of the International Rescue Committee, also released a statement that reads, in part:
"It is heartbreaking to know that people and children who fled horror of war and conflict to find safety in America and the Boise Community had to experience violence all over again."
Tzul added that IRC is working with local partners to provide counseling and support to refugees and other members of the community affected by the incident. The group is also providing temporary housing and travel logistics for those needing medical care out of state.
A community vigil is scheduled for Monday night at the Boise City Hall steps at 6 p.m.
More Boise mass stabbing coverage: