MERIDIAN, Idaho — No one suspected what was going to happen.
Not social workers and domestic violence advocates, who strive to identify and help people dealing with a violent family member or partner.
Not police, who had never been called out to the well-kept gray home on East Chateau Drive, and had no reason to think that someone inside was in danger.
Even the children in the house - the couple's 4-year-old son and a 17-year-old foreign exchange student - assumed when they got home from school and daycare that 41-year-old Christine Steiner wasn't feeling well, and had gone to bed early.
Instead, police say, she was lying dead in the master bathroom.
"It was out of the blue," Meridian Police Deputy Chief Tracy Basterrechea said. "It was literally out of the blue for us."
Police say 42-year-old Eric James Steiner shot his wife in the head at about 3:30 Tuesday afternoon, after mulling the murder over for several days. Nearly six hours later, he dialed 911 to tell dispatchers what he had done.
"What's uncommon for us or unusual for us was how calm he was," Basterrechea said. "I mean, it was very matter of fact. The entire conversation with him, that we had with him, was really devoid of any emotion or any remorse."

Steiner was waiting for the officers when they pulled up to his house at about 9:15 p.m., and made no attempts to get away. Police found Christine's body in the bathroom. Both children were asleep in their rooms.
"They had no idea that Mrs. Steiner had been killed, or that she was deceased," Basterrechea said. "We had to get them out of bed, we had to ultimately explain to them what had occurred."
The 4-year-old is now with relatives, the deputy chief said, and the teenage girl has been placed with an exchange program coordinator while she and her family decide whether she should remain in Idaho or return to her home country.
Detectives worked the scene through the night, collecting evidence and conducting interviews. Even with Steiner's confession, Basterrechea said, there is still a considerable amount of work to be done to build the case.
None of the neighbors heard a gunshot, although one recalled speaking to Steiner before police came to the house - an ordinary converation, Basterrechea said.
Police have not released any motive in the case, and it's not clear whether Steiner had ever been physically violent with his wife before the shooting. If there was abuse in the home, it seems to have gone unreported: before his arrest on murder charges, the entirety of Steiner's criminal history in Idaho consisted of two minor vehicle infractions.
"We've never dealt with either one of these people in any type of criminal behavior, any type of act of violence, nothing like that," Basterrechea said.
Murder investigation on East Chateau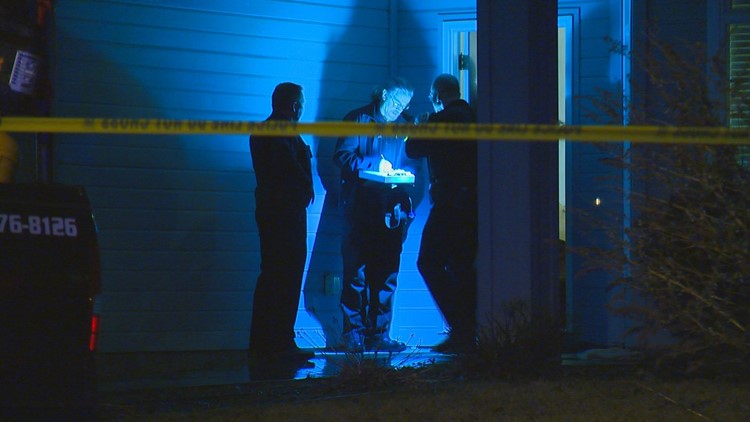 But the shooting follows an alarming pattern of domestic violence slayings and murder-suicides across the Treasure Valley in recent months. Although Steiner did not take his own life, prosecutors at his arraignment Wednesday afternoon noted that he told police after being taken into custody that he was a a risk to himself.
Prosecutors had asked that Steiner be held without bond, guaranteeing that he would remain behind bars until his trial. Judge David Manweiler ultimately set bond at $2 million, and scheduled Steiner for a preliminary hearing March 18.
If convicted of first-degree murder, he will face up to life in prison or the death penalty.
Basterrechea urged anyone who is dealing with domestic violence or knows someone in an abusive relationship to get help.
"You need to reach out to us if they won't," he said. "If you know somebody who is involved in any type of domestic violence relation, try to get them to reach out for the help they need. Try to be that support network for them."
Faces of Hope is open 24/7 and provides completely free services. Help is also available through the Women's and Children's Alliance hotline at 208-343-7025 or the National Domestic Violence hotline at 1-800-799-7233.