SPOKANE VALLEY, Wash. — A 15-year-old girl was arrested for attempted murder and arson early Monday morning after she allegedly attempted to burn her home down with her family inside, according to the Spokane County Sheriff's Office.
According to a search warrant filed on Tuesday, the girl admitted to investigators that she started the fire and she was "sorry."
The fire started around 4 a.m. Monday at East 14th Street and Dartmouth Road in Spokane Valley, according to Spokane Valley Fire. The teen girl was arrested by Spokane County Sheriff's Office around 4:40 a.m.
According to the sheriff's office, the teen was charged with four counts of attempted first-degree murder and first-degree arson. She was booked into the Spokane County Juvenile Detention Center.
When deputies arrived on scene, they learned the four adults living at the location escaped but a 15-year-old girl's location was unknown.
According to court documents, the girl's father, Morgan, told a deputy something similar to, "I think my daughter tried to kill me, I think she started the fire." He told investigators five people were living in the two story home, including his wife, mother and another man, documents said.
The adult victims told investigators they woke up to fire alarms, which gave them time to escape, according to a press release from the sheriff's office. They also reported smelling gasoline and seeing a path or trail of fire. A gas can was also seen in the area of the living room and there was a large area of fire on the couch, documents say.
A few minutes later, the teen appeared, walking toward the home. The teen told deputies that she was "sorry" several times and said "I started the fire," documents say.
A deputy said they could smell gasoline on the teen and her clothes were collected as evidence, documents say. No source of ignition was found on ther, according to documents.
The teen's mother spoke with KREM and said her husband is currently in the ICU at Sacred Heart with burns on his legs.
"His fight or flight reaction was to stomp out the fire," said Karol, the teen's mother.
Karol said her husband initially woke everyone up Monday morning after discovering the fire in the hallway of their split-level home. The family had to escape using their bedroom windows.
"My husband woke up saying there was a fire and everybody get out, and he opened up our bedroom door and everything was on fire," Karol said. "So we all hopped out our windows, my in-laws were in the bedroom next to ours and they were able to get out, my father-in-law is on oxygen though so it was difficult for him to get out because he's on a concentrator."
According to the sheriff's office, her husband suffered non-life threatening burns and cuts to his feet, legs and hands.
Karol said the family tried to put out the fire with extinguishers but they were unsuccessful.
"There was no way, it was too much," she said.
Teen arrested for arson, attempted murder after trying to burn down family's home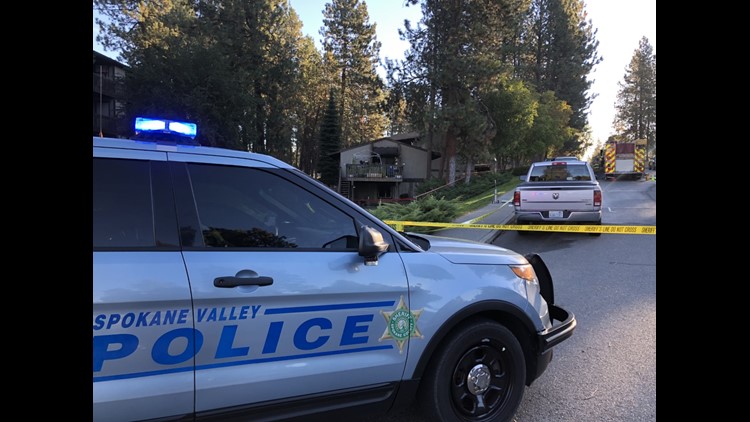 Karol said she couldn't think of a reason why her teen daughter would have started the fire. Police later told KREM they believe there was a dispute over discipline which caused the teen to set the fire.
"We all just said good night after we ate dinner and went to bed," Karol said, talking about the previous night.
Crews told Karol their home is a total loss.
"It's a shell, that's what the firefighters pretty much told us," Karol said. "That there wasn't much of anything to see."
Karol said she has no idea what the family's next step is. She's been unemployed due to the coronavirus and her unemployment money has been stalled for months.
"Hopefully this will be enough of an emergency to push me through," she said. "I have about $12 in my bank account."
Karol said a neighbor was letting her family stay in their house for the time being.