BOISE, Idaho — A Boise woman was arrested Wednesday in connection to the Jan. 6 riot at the United States Capitol Building. She was later released on Friday and spoke with KTVB about why she went to the Capitol.
Yvonne St Cyr, 53, was "taken into custody without incident" by agents with Homeland Security Investigations, officers with the Boise Police Department, and members of the FBI's Joint Terrorism Task Force.
According to the FBI, an arrest warrant was issued for St Cyr in Washington, D.C. in connection to alleged crimes during the riot. St Cyr is charged with knowingly entering or remaining in any restricted building or grounds without lawful authority and violent entry and disorderly conduct on Capitol grounds. Both charges are misdemeanors and carry a penalty of up to a year and up to six months incarceration, respectively.
Prosecutors said in a Friday afternoon hearing that they would not oppose St Cyr's release from jail ahead of trial, provided that she follow pretrial restrictions, including not leaving Idaho without the court's permission. Judge Ronald Bush agreed, and St Cyr was released from the Ada County Jail Friday.
In a criminal complaint, FBI Special Agent Matthew Gano wrote that St Cyr went into the Capitol during the riot sometime between 2 p.m. and 4 p.m. on Jan. 6. Gano wrote that St Cyr live-streamed video from inside the Capitol and was photographed inside ST2M, commonly known as the Senators Hideaway Office.
"In the live-streamed video, St Cyr filmed the destruction of an office window from within the Capitol and continued to record herself standing in the window and shouting at the crowd located on the west side of the Capitol grounds," he wrote.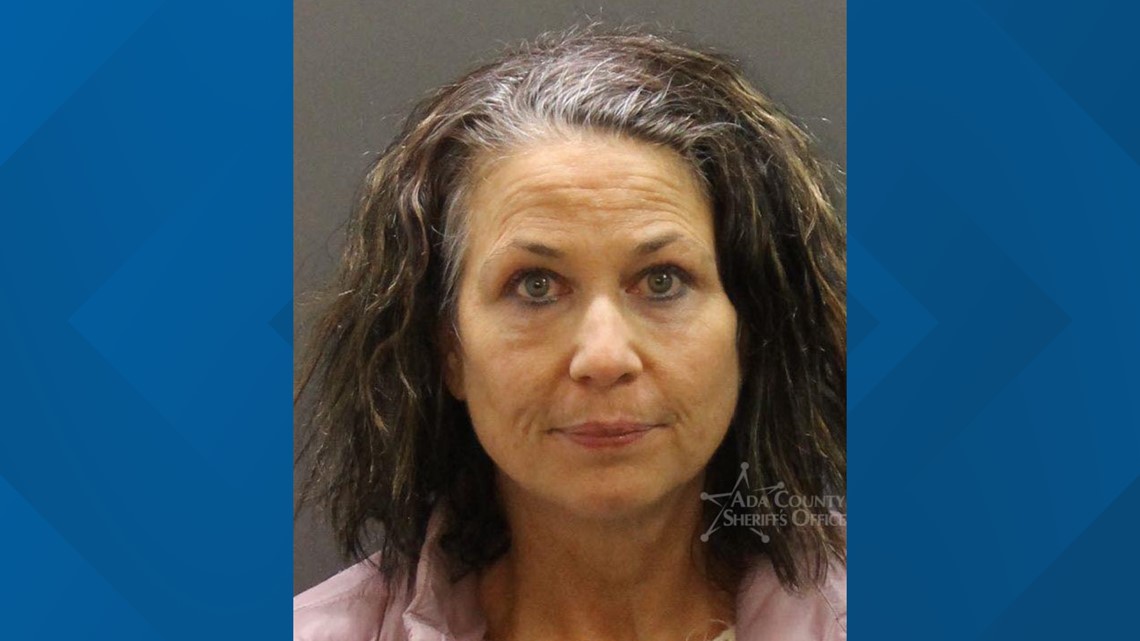 The defendant's husband, who has not been charged, also uploaded a 38-minute video on Jan. 7 in which St Cyr "describes her activities on Jan. 6th, including entering the Capitol Building and 'going live' on social media with video the defendant claims was later broadcast on major news outlets," according to the complaint.
The FBI also interviewed a "long-time friend and associate" of St. Cyr, who confirmed that the defendant was the woman pictured in the videos and photos taken inside the Capitol, and that the Facebook account where they were uploaded belonged to her.
In a live video that appears to have been taken in St Cyr's hotel room following the riot, she talks about breaching the Capitol and references the QAnon conspiracy theory, which claims that the government is controlled by a secret cabal of Satan-worshiping Democrats and elites who sexually assault children and drink their blood.
St Cyr also repeated unfounded claims that President Joe Biden's victory was the result of fraud.
"That election was stolen,100%, without a doubt. There's tons of evidence," she said. "That's why we stormed the Capitol, because we didn't lose, they stole this election. And if we don't fight then we lose everything."
During her interview with KTVB, she reiterated that she went to the Capitol as part of Stop the Steal.
"I went to support Stop the Steal I wanted our voices to be heard," she said. "I didn't think I honestly thought they were gonna arrest somebody. Truthfully, I mean, I think there are a lot of people that need to be arrested in our government and I thought that's what was gonna happen."
In reality, Biden beat his opponent, former President Donald Trump, by more than 7 million individual votes and 74 Electoral College votes. Multiple investigations have found no evidence of widespread voter fraud.
In the video, St Cyr says she is a Marine Corps veteran but adds that she received a bad-conduct discharge from the service for using cocaine. KTVB was not able to independently confirm her military service.
St Cyr also talked about getting pepper-sprayed by police in the melee in her live streams, saying that she was not intentionally trying to make her way inside the Capitol as the crowd surged forward.
"I wasn't trying to push in, but I wasn't going to move out either," she said. "I wasn't going to go away."
She told KTVB in her interview following her release from jail that she believes God has a plan for her.
"I was there for a reason and I still feel like I did the right thing, and I still feel like God is in control, and he's got a plan. I don't know what it is and I'm a part of it," she said.
St Cyr added that she went to the U.S. Capitol to see President Trump's speech and to have her voice heard. She didn't anticipate that she would actively be part of an insurrection.
"I just wanted our voices to be heard, we have a right to protest and we, and I believe we were doing the right way I think it got out of hand. I mean, the whole thing was bizarre," she said.
St Cyr was previously arrested in December after police say she entered the Central District Health building in Boise during a meeting about a revised public health order for the city, then refused to leave.
She was charged with misdemeanor trespassing in connection to that incident and has pleaded not guilty.
St Cyr is the third Idahoan charged in connection to the Capitol breach, which happened when a group of Trump supporters overwhelmed police and forced their way into the building in an attempt to stop Congress from certifying Biden's electoral victory. Five people died in the riot, including a Capitol Police officer.
Several hundred people across the U.S. have been charged with crimes connected to the riot.
St. Cyr is currently being held in the Ada County Jail on a federal marshal's hold. She is due to appear in court Friday afternoon.