STAR, Idaho — A proposed housing development project that would have nearly doubled the size of Star is no longer happening after developers backed out.
Willowbrook Development had plans to annex, rezone and develop 1,550 acres of land, increasing the size of Star by nearly 40 percent.
The acreage included land north of town in the Purple Sage Road and Kingsbury Road corridor, as well as several hundred acres of land near the Hillsdale Estates neighborhood. It spanned parts of Ada County and Canyon County.
Willowbrook planned to build low-density housing, which would have added around 3,000 new homes to the area. According to Star Mayor Chad Bell, the project would have been completed in several phases and taken between 25 to 40 years to fully implement.
"It was a very nice development, in our opinion, for our city," Bell said.
The project has been in the works since early 2017. But many homeowners in Star, including many who live in Hillsdale Estates, had concerns over the development, which the City Council heard in various public hearings about the project.
"The same concerns with any time we develop something new – they're concerned about traffic, they're concerned about schools, they're concerned about police and fire protections – which, we are very concerned about also," Bell said. "But we felt the applicant, even on those issues, had done a very good job of planning for all that."
Bell said members of the Hillsdale Homeowner's Association filed a motion for a judicial review of the project and not long after Bell got a letter from Willowbrook saying it was withdrawing its applications for the project because of potential legal costs.
The letter reads in part: "Recognizing that the City will incur significant legal cost to fight the Hillsdale Homeowner's Association's continued frivolous pursuit to delay and obstruct the City's process I believe it is in our collective best interest to withdraw all applications pertinent to this case."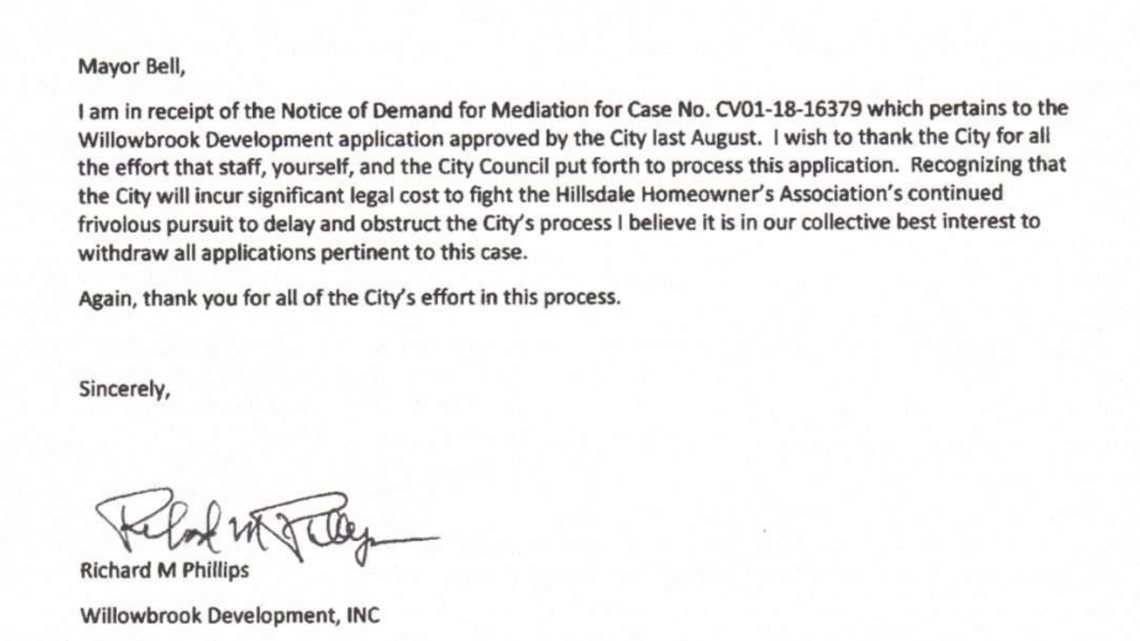 Bell said he's disappointed to see Willowbrook withdraw because the council felt the project would be a good thing for the city - and he felt the developer went above and beyond city ordinance requirements on the project.
"We felt like this was a very beneficial project for our city just because it would give a different housing element than a lot of the other subdivisions that we have," he said. "And quite frankly, it gives our city a pathway to growth in the future."
Star continues to grow quickly like the rest of the state, Bell said, and so projects like Willowbrook will likely be needed in the future to accommodate the growth.
"Star's growing as fast, possibly even a little bit faster, than everybody else here in the valley – we're not unique in that sense," he said. "It's a very attractive place to live."
He added he hopes Willowbrook will consider coming back to Star and try again for a development.
"We hope they haven't given up and walked away and we would love to have them as a part of our city," Bell said.
According to Bell, this particular development project is dead but that doesn't mean others can't happen down the road.