BOISE - Join KTVB on Saturday, December 9 for 7Cares Idaho Shares. Cash and food donations will be accepted to help ten local charities provide much-needed resources to the needy in our communities. The need is great, and KTVB wants to help build a stronger community safety net for basic human needs as well as foster a community spirit of neighbor helping neighbor.
Donations will be accepted from 7 a.m. to 1 p.m. on December 9 at 29 Albertsons locations, eight Fred Meyer stores, and Albertsons Stadium parking lot at Boise State University.
A phone bank will also be open during that time, call (208) 327-7777 to donate.
Spirit of giving shines on 7Cares Idaho Shares day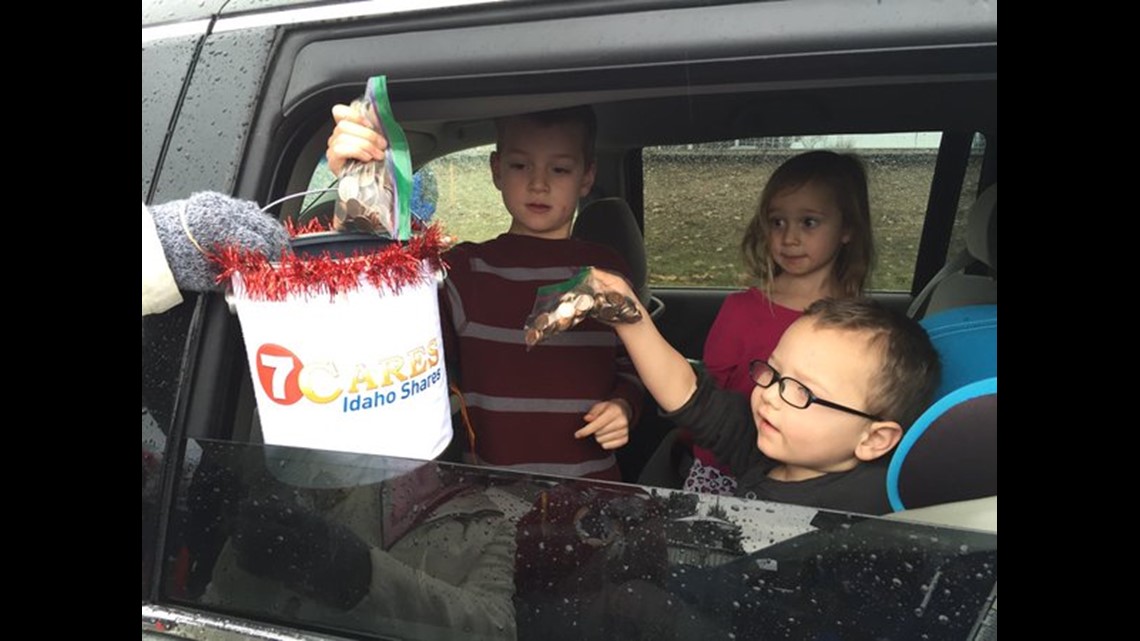 Donations will benefit the following charities:
River of Life Homeless Shelter
Lighthouse Rescue Mission of Nampa,
Valley Women and Children's Shelter of Nampa
38 Locations:
Boise
Albertsons Stadium parking lot - 1400 Bronco Lane
Albertsons - 1650 W. State St.
Albertsons - 1219 Broadway Ave.
Albertsons - 1520 N. Cole Rd.
Albertsons - 7100 W. State St.
Albertsons - 10500 Overland Rd.
Albertsons - 10700 Ustick Rd.
Albertsons - 5100 Overland Rd.
Albertsons - 909 E. Parkcenter Blvd.
Albertsons - 4700 North Eagle Rd.
Albertsons - 6560 S Federal Way
Albertsons - 3614 W. State St.
Albertsons - 1653 S. Vista Ave.
Albertsons - 10565 W. Lake Hazel Rd.
Fred Meyer - 10751 W. Overland Rd.
Fred Meyer - 3527 S. Federal Way
Fred Meyer - 5230 W. Franklin St.
Caldwell
Albertsons - 2500 Blaine St.
Albertsons - 415 Cleveland Blvd.
Eagle
Albertsons - 250 S. Eagle Rd.
Emmett
Albertsons - 640 Highway 16
Garden City
Fred Meyer - 5425 W. Chinden Blvd.
Hailey
Albertsons - 911 Main Street North
Homedale
Albertsons - 20 E. Wyoming Ave.
Kuna
Albertsons - 700 E. Avalon St.
McCall
Albertsons - 132 E. Lake St.
Meridian
Albertsons - 3301 W. Cherry Lane
Albertsons - 20 E. Fairview
Fred Meyer - 1400 W. Chinden Blvd.
Fred Meyer - 1850 E. Fairview Ave.
Mountain Home
Albertsons - 528 N. Main St.
Nampa
Albertsons - 2400 12th Avenue Rd.
Albertsons - 715-12th Avenue South
Fred Meyer - 50 2nd St. S.
Ontario
Albertsons - 1410 West Park Plaza
Payette
Albertsons - 405 South 8th
Twin Falls
Fred Meyer - 705 Blue Lakes Blvd. N.
Albertsons - 1221 Addison Ave.
KTVB will broadcast live from several of the locations in Boise and Twin Falls from 7 a.m. to 1 p.m. on December 9. Be sure to tune in and watch the generosity of our community. It's heartwarming to see children donate the contents of their piggy banks as well as the generosity shown from businesses who hold employee food drives or make significant donations on behalf of their companies. Last year's 7Cares Idaho Shares collected enough cash and food to provide over 1.2 million meals.
KTVB is proud to showcase these local businesses who are stepping up in a big way.
Companies that care