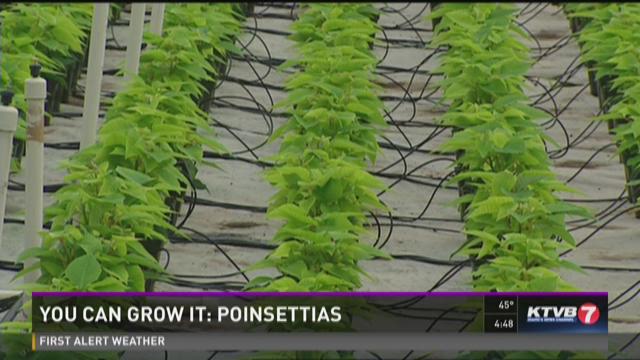 BOISE -- Thanksgiving is only a few days away, but we're already seeing the decorations going up for Christmas. And a favorite holiday symbol is starting to show up in stores right now, those beautiful poinsettia plants.
Our meteorologist and master gardener, Jim Duthie, shows how they get those plants to bloom just in time for the holidays, and you might be surprised to find out that many of them are grown right in our own backyard.
They're not something that most of us grow for ourselves, but almost all of us have them in our homes during the holidays.
Poinsettias are an iconic symbol of Christmas, with their showy flowers in different colors, against a dark green leafy background.
But have you ever wondered where they come from? Idaho's climate is too cold to grow these tropical plants outside this time of year, but in some greenhouses here in southwest Idaho, like Ward's Greenhouse in Garden Valley, they've been growing for months to be ready for your holiday decorating.
"We start the first planting in mid-July," said Doug Ward. "So we want something that's ready around the middle of November. But we also want something that's ready in mid-December, like ten days or so before Christmas."
Each poinsettia plant starts from a small cutting, or plug, and are set out with their own separate irrigation tube.
"This is the four-inch. Now this is a ten-inch," said Ward. "You can see it's bigger. It's got three plugs in it as opposed to one in the six-inch, six-and-a-half inch. And these will be big, big plants. They'll be two feet in diameter and, I don't know, maybe two feet tall."
In warmer climates, poinsettia plants can grow outdoors into a shrub up to 15 feet high.
"And they're all basically the same shade of red, but they just finish at a different time so we've got a finished plant," said Ward.
By finished, he means a plant that has completely changed color and is ready to be packaged and shipped to a store near you.
But how do they get them to change color?
"They change color based on the length of the day," he said. "So as the days grow shorter, they begin to color."
The colorful parts of the poinsettia that we think of as flowers, are actually colored leaves, called bracts.
Here's how the plants looked in late September.
"Third week of October you'll start seeing red," said Ward. "Tenth or so of November they're going to be, some of these that finish first, are going to be dark red, ready to go."
And here's the final product, ready to be wrapped up and made available for you in time for the holidays.
Poinsettias come in many different shades of red, as well as in pink, white, mauve, salmon, and yellow shades.
There are even some mottled and variegated varieties known as novelties.
"All the week before Thanksgiving, we've pretty much got everything available and that's when the stores are getting ready for Thanksgiving, and we sell some of our biggest orders there in the week before Thanksgiving and the week after," said Ward.
All in time for you to decorate with and enjoy right through the holiday season.
Poinsettias were first introduced to the United States from Mexico by Joel Poinsett, a botanist, and the first U.S. ambassador to Mexico. Since then, poinsettias have become a favorite symbol of Christmas throughout the world.
Poinsettias come in nearly 100 different colors, shades and shapes.
They like a somewhat cool location in bright, indirect light.
Water them regularly, and your poinsettias will look good right on through the holiday season.