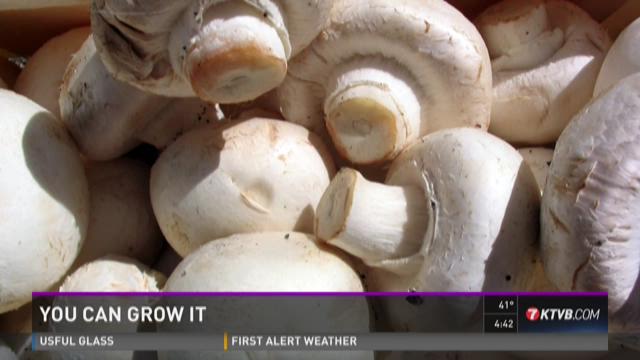 BOISE -- Colder weather has arrived, with snow in the mountains and frost in the valleys. The garden growing season has come to an end.
But as our meteorologist and master gardener Jim Duthie tells us on "You Can Grow It," it doesn't mean you can't keep growing things indoors. And what he's growing today may surprise you.
Now that we've had our first hard freeze of the season, any outdoor gardening is pretty much done until next spring. But that doesn't mean that you can't keep your green thumb in shape by doing some indoor gardening through the cold months of winter.
We've all seen those indoor herb gardens that you can grow on your window sill. They're preplanted, either in little pots or trays, and you can harvest herbs or micro-greens all year long. But have you ever thought of growing your own mushrooms?
I love mushrooms in salads, sauces, omelets and stir-fry, but I never really considered growing my own, until I saw this indoor mushroom farm. There are several of this type of thing on the market – this one is called an organic mushroom mini farm, and is sold by a company called "Back to the Roots." So, I thought I would give it a try. This is even something the kids will have fun doing.
Mushrooms are a type of fungus. There are thousands of varieties. Several kinds are edible, but many others are very poisonous, and it takes someone with a lot of experience to identify which is which. All the mushrooms need to grow are moisture, air and a little indirect light.
The types of mushrooms in this kit are called white oysters, a common edible kind you find in the grocery store. The kit is self-contained in this recyclable cardboard carton, and it has easy to follow instructions on the package. The "soil" is actually a block of recycled coffee grounds, vacuum-packed in plastic.
According to the instructions, all you do is remove the tab on the box and expose the bag. Carefully slice the bag open from top to bottom, and from side to side. That lets the air in.
Remove the bag and soak it in clean water for about eight hours to completely moisten the growing medium. The bag will float, so place it cut side down.
Now that I've soaked the bag for several hours, I'll shake the excess water off, then replace the bag in the box, with the cut side showing through the opening. Then I'll set it in a light place, like the kitchen counter, but not in direct sunlight.
Spray or sprinkle some water on the cuts in the bag a couple of times a day, so it stays moist. Then just let the mushrooms start to grow. Within about seven days, I should start seeing mushrooms forming, and in about 10 days, they should be ready to harvest.
After that, it says I can do the same thing on the other side of the package.
I'm going to take a picture every day and see how it comes along. Then next week I'll show you the results. If all goes well, I should have some fresh, homegrown mushrooms for dinner. So stayed tuned until next week.
Another thing I want to show you is my huckleberry harvest. Several weeks ago I showed you the garden huckleberries I planted in my backyard. They're a special annual garden variety that grows well in the hotter climate here in the valley. These are the same ones that won several ribbons at the Western Idaho Fair this summer. Many of you have been asking me how you can grow them, too. You can order the seeds online from seedsavers.org.
I had quite an abundant harvest of beautiful huckleberries, all ready for making jam, jelly, syrup, and other goodies. They freeze well, so I can use them whenever I'm ready.
When we check the mushrooms next week, I'll also show you what I'm going to make with these berries.
The bottom line is that just because colder weather has arrived and the growing season is over outside, it doesn't have to be over inside.
So whether it's herbs, sprouts, micro-greens, or even mushrooms.
Many garden centers have indoor gardening kits available for sale. Or you can do-it-yourself using small containers. All you need is a sunny, warm location.