BOISE, Idaho — Have you ever noticed at many garden centers there are some trees and shrubs in pots ready to plant, and others that aren't in any pots at all?
They look just like sticks with bare, exposed roots. In fact, they're called bare root trees and once planted, they will grow and flourish just like the potted ones.
It has been a long winter and a cold start to spring, but it will eventually start warming up. However, now is the best time to plant bare root trees – whether fruit trees or ornamentals – as well as bare root berry bushes.
According to Schramm, there are many advantages in planting bare root trees and differences between them and a potted tree.
"Well, this is not bare as in 'bear,' this is bare as in naked, and what we have are naked roots here. Often, when we find trees later on in the season, they're going to be in a big 15-gallon pot or more with lots of potting soil," Schramm said. "It takes a lot to transport them, it takes a lot to keep them alive, takes up space, all the things that cause more expense for your tree, where this is actually the healthier way for the tree to go into the ground."

"Ideally, what you want to do is set this guy into the soil before it breaks dormancy, and people are often worried about it being too cold to plant a tree, but if you can put a shovel into the ground, you can plant," Schramm continued. "It's great, it's ready to go. It's asleep, and it wants to wake up in its new home."
Bare root trees are easier to transport and move around, and they are less expensive, since you are not paying for a container, soil, labor and shipping.
This happens to be a peach tree, but you can get bare root trees in all different varieties of fruits and some ornamentals.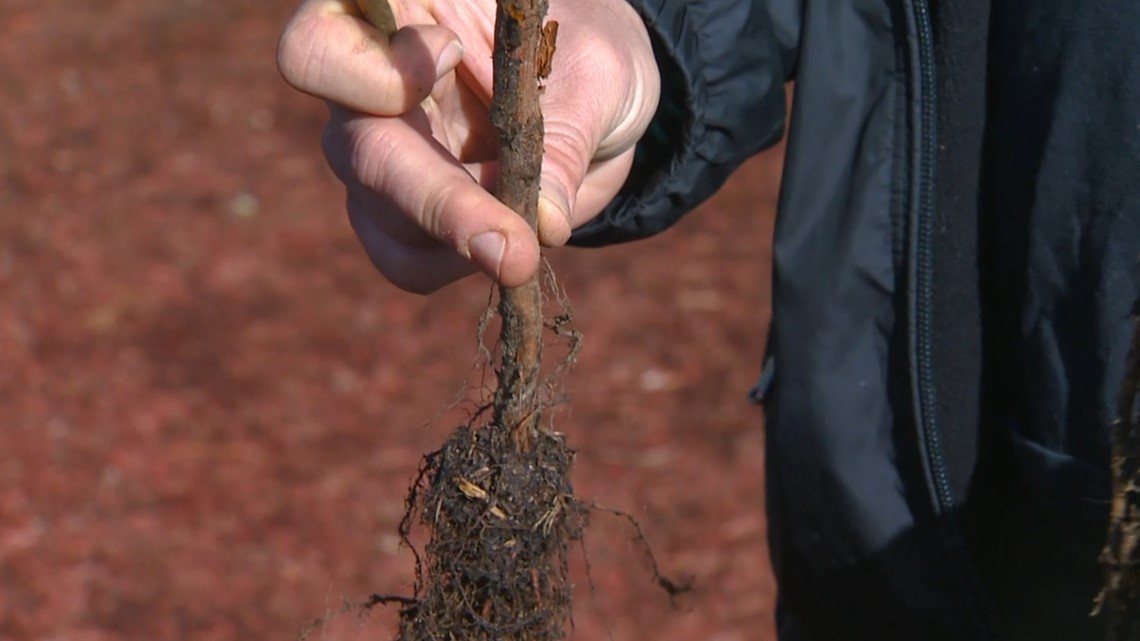 "In the end, the tree is going to flourish the same way a potted tree is going to do. You won't notice the difference after a couple of years. You won't notice the difference after a couple of years," Schramm said. "They are not any smaller or less mature because they're bare root. They've literally just been thrown in the ground, and instead of dug up and put into a pot, they've been dug up and sent to us."
New trees, bare root or potted, should be pruned when they are planted, particularly fruit trees, so that when they start producing, the fruit will be lower in the tree and easier to reach.
"I'm going to go down here, and I'm going to find some branches that are nice and low, hopefully around 3 feet. I've got branches growing in different directions, and I'm just going to make a clean cut here," Schramm said. "This is all the tree I want. This is going to give me fruiting down below so that when it's ready to be harvested I'm not up there fighting the squirrels and the birds for my fruit. I can compete well."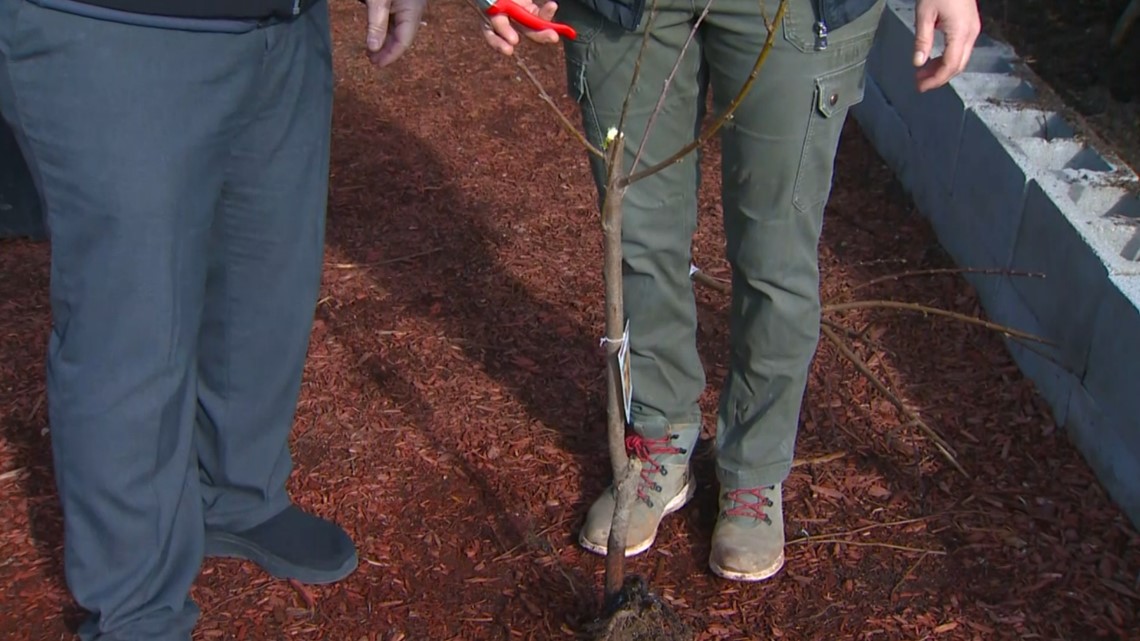 It also opens it up a little bit and lets the ventilation an sunlight through to ripen the fruit.
"That first cut is the most important cut of any prune when you are putting in your home orchard," Schramm said.
Before planting your tree, check the roots, you may need to clip off dead pieces and wayward long roots. Dig the planting hole about as wide as the root system.
"You want to put it in the ground right at that graft so that you see all the roots are going to be exposed, and then you fill it right at that line, fill it back up with native soil and native soil only," Schramm said. "If you want to amend the soil, do it on top. Add a nice layer of compost so that it holds the nutrients in. What happens is that if you put this in the ground with either potting soil or compost or any other kind of root soil, is that the tree will eventually have to get into the native soil, and when it hits the sides of that area where you've been planting it, it doesn't like it as much and it turns back around."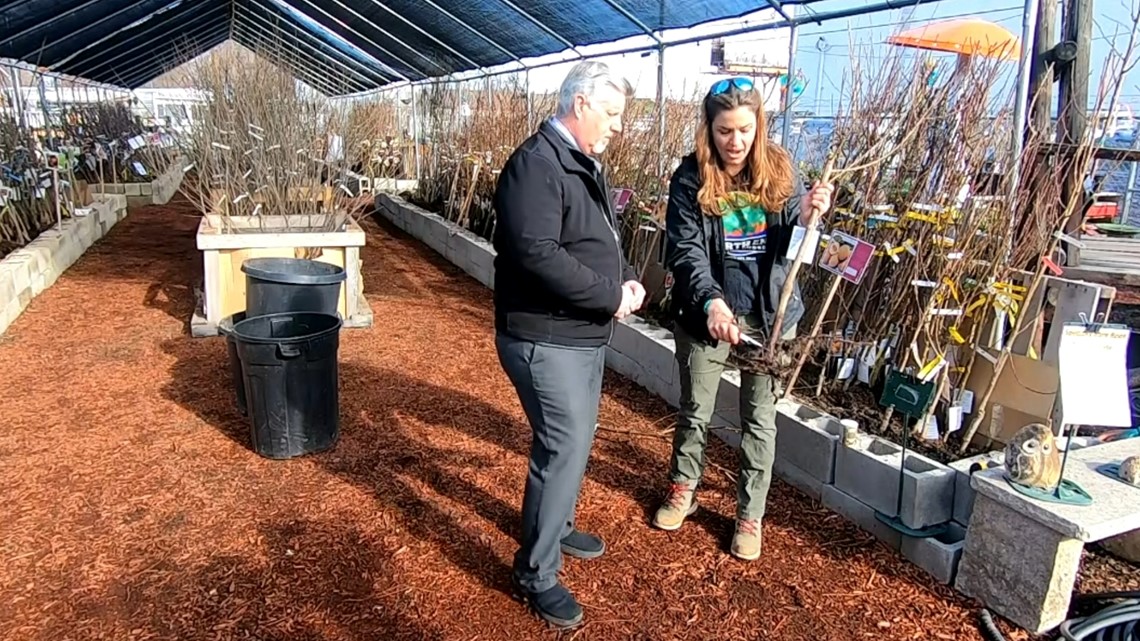 It's a shock to the system, and it wants to have that nutrient dense soil, so it starts circling on itself," Schramm continued.
The result is girdling of the roots, instead of the roots spreading out from the tree. It is not just trees you can plant bare root, but also different kinds of berry plants.
You can do berry plants, you can do horse radish, you can do asparagus. We've got asparagus crowns here, this is horseradish. Bare root strawberries is a great way to go," Schramm said. "A great selection of berries at a cheaper price again, and they're actually more mature than you're going to get in those six packs. You have a lot more root system there."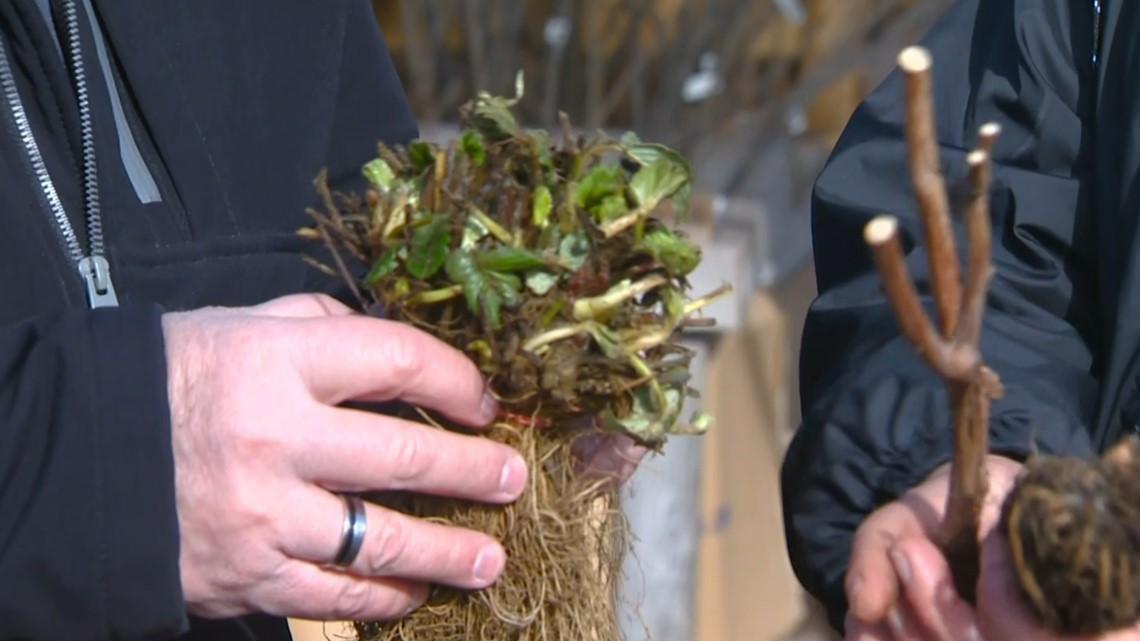 You will want to act quickly, because we will soon be seeing these plants come out of dormancy, and you need to get them planted right away. Most garden stores have a large selection of bare root trees and plants now, but they will not be dormant much longer as the weather warms up.
For some tips on planting and pruning fruit trees, watch the video below by Schramm.