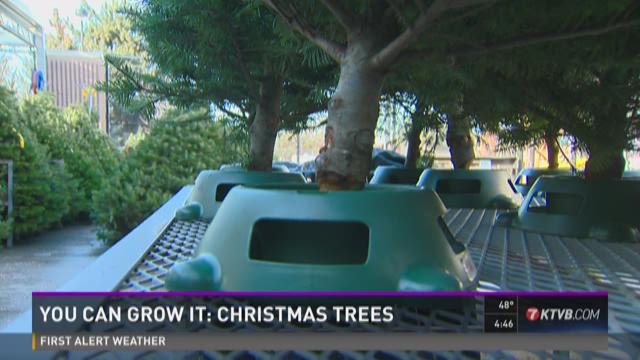 BOISE -- Have you got your Christmas tree up yet? Many of us have artificial trees that we use from year to year, but a lot of folks love having a real fresh-cut Christmas tree for the holidays.
If you're one of those people, and you're just getting ready to buy your tree, our master gardener Jim Duthie went to a local tree lot to find out what kinds of trees you can find, and he got some tips on how to keep your tree fresh and green through the holidays.
Christmas tree lots around Idaho, like this one at Fred Meyer, are starting to get pretty busy with everybody going out to get their fresh-cut Christmas trees. And so we want to tell you a little bit about what to look for in a cut tree, what kinds of trees are available, and how to care for them in the coming days of Christmas when we move those trees inside your warm home. Mike McIntyre is the director of the garden center at this Fred Meyer store.
"We carry a Grand Fir and a Noble Fir in a couple of different styles here," said McIntyre. "They're trimmed up from the tree farm for the customers, and anywhere from three to four feet up to seven to eight feet tall. A lot of people prefer the Noble, a little bit thicker needles on them and a fuller tree than the Grand Fir. But everybody has their own preference."
So something like the Noble Fir, as thick as it is, it might retain the moisture a little bit longer?
"Well, they both will, but you need to care for them properly and give the tree a fresh cut on the base, and getting it hydrated again and keeping it in water, and not let the base of it seal up again, is very important," he said.
A lot of folks don't realize that when you bring these trees inside your warm home, it's very dry inside and they can lose as much as a gallon of water a day, right?
"Yeah, they suggest that your tree stand hold a gallon, but it's hard to find one that large, but you want to water it three to four times a day and keep that water level even after it's originally hydrated again to maintain it, and that will keep it a little bit fresher and keep the needles on it longer," said McIntyre.
Some of these trees are pretty thick, but if you wanted a tree that is going to show off the ornaments a little bit better, what kind of a tree would you get?
"I prefer, in our lot, the Nobles. There's a little bit more space, but both of these trees will hold the ornaments out on the outside," he said.
So with these trees, for example, that are coming in from Oregon, where they're used to the moist weather, it's very dry in the winter quite often here, especially inside your house. So do you sell the stands, as well, that hold the water?
"We sell the stands, each stand adjusts to the height of the tree, but we also have a funnel system that you can feed your stand through the funnel and keep it hydrated. Not only keeping it hydrated, but check your lights and any bad connections on your lights that could cause a fire real easily, and it's important to be safe," said McIntyre."
Do you also have extra branches, if somebody wanted to take and have some boughs to make a wreath? I know you have some wreaths here, as well.
"We have some wreaths and some door swags, or if a consumer buys it they can trim off the bottom branches on their own tree and create their own swags or wreaths with the branches off the bottom, so they have room for all their presents," he said.
And that's what you want…plenty of room for the presents.
Like we said, it's time to get your fresh-cut Christmas trees, and you'll want to make sure you have them moist inside the house so you don't have a fire danger.
Most of the trees sold in the Treasure Valley come from tree farms in the Pacific Northwest, and were harvested around mid-November.
When you take your tree home, cut off about an inch from the bottom of the trunk so that it will draw up water into the tree. If you don't set up your tree right away, keep it in a cool, shady place with the base in a bucket of water.
After the first of the year, most Treasure Valley cities offer curbside pick-up of your Christmas trees on garbage collection days. They'll be turned into wood chips or compost. Just make sure you remove all the lights, ornaments and tinsel before you set them out.